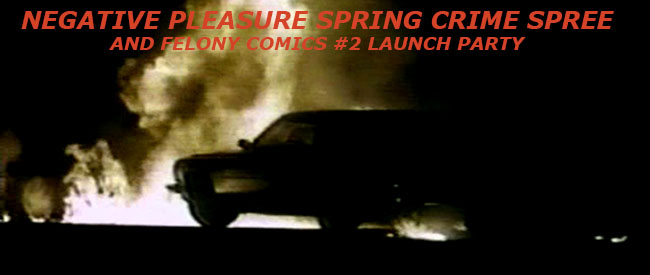 FRIDAY, MAY 8 – ONE NIGHT ONLY!
7:30 PM – WHO KILLED CAPTAIN ALEX?
10:00 PM – CRAZED COP
MIDNIGHT – REVOLT
Negative Pleasure returns to Spectacle Theater on Friday, May 8th to celebrate the release of their latest publication, Felony Comics #2, the follow-up to last year's critically lauded debut issue. Felony 2 features new crime comics by issue 1 contributors Pete Toms and Benjamin Urkowitz, a new installment of Kid Space Heater by Josh Burggraf and the beginning of an ongoing collaboration by Harris Smith and Thomas Slattery.
In true Felony tradition, we'll be invading Spectacle for a night of crime in action films, including the Brooklyn debut of internet sensation WHO KILLED CAPTAIN ALEX?, Uganda's first action movie.
---

WHO KILLED CAPTAIN ALEX?
Dir. Nabwana I.G.G., 2010
Uganda, 64 min.
English and Swahili
FRIDAY, MAY 8 – 7:30 PM
Uganda's first action film, produced by Wakaliwood. The murder of troop leader Captain Alex leads to all-out war between the army and the mafia. Produced on a budget of under $200 and filmed DIY-style on the streets of Nateete, Who Killed Captain Alex? is ambitious as it is energetic, and deservedly caused a stir when the trailer was first released on the internet. A recent Kickstarter campaign by the filmmakers brought even more attention, including major international media coverage, to the exciting emerging vision of Wakaliwood, who have provided trailers and other surprises to accompany this screening.
---

CRAZED COP
aka ONE WAY OUT
Dir. Paul Kyriazi, 1986
United States, 83 min.
English
FRIDAY, MAY 8 – 10:00 PM
Ivan Rogers (BALLBUSTER, KARATE COMMANDO: JUNGLE WOLF 3) wrote and stars in this Indianaoplis-lensed crime flick as Detective Joe Weeks, a suicidal cops reeling from the murder of his wife while trying to take down the drug dealers who killed her. CRAZED COP splits the balance between ultra-intense and moody psychological noir and off-the-wall insane 80's embellishments, including a gang of breakdancing assassins.
---

REVOLT
Dir. J. Shaybany, 1986
USA/Iran, 72 min.
FRIDAY, MAY 8 – MIDNIGHT
Written by the enigmatically named Shield, this US-Persian co-production features yet another cop-on-the-edge squaring off against yet another band of ruthless drug dealers, this time set against the racial tensions set off by the Iran hostage crisis.  Shot without sound and weirdly overdubbed, Revolt is a schizophrenic mess of a movie (i.e. perfect for a Spectacle midnight) that can't decide whether it's a hard-hitting, socially conscious crime drama or a goofy, lighthearted action comedy.  Fortunately, the filmmakers lacked the ability to appropriately orchestrate either, and the result is a near-hallucinatory mess of inscrutable plot developments and character flourishes.  Whatever the intent, Revolt is one of the most consistently entertaining hidden gems of 1980s action cinema!