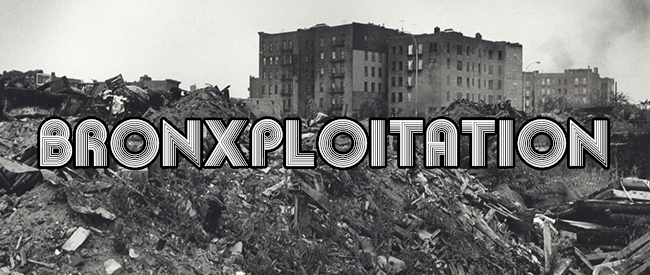 By the early 1970s, fallout from construction of Cross Bronx Expressway, misguided rent control policies leading to insurance fraud and arson, and economic stagnation drew international attention to the South Bronx as one of the most shocking instances of urban decay in United States history. As buildings blazed and lots turned to rubble, families struggled in tenement housing while police contended with an epidemic of gangs, drugs and prostitution; in the meantime, a revolution was happening with street art and the birth of hip hop.
BRONXPLOITATION takes a look at the northern borough as represented on film and video as an area of social, economic, cultural and commercial exploitation, but also one of enduring spirit and creative renewal. Through documentary and fiction alike, the series visits hip hop's origins in dance parties amid apocalyptic rubble, rides alongside police patrolling the country's most dangerous streets, sits inside gang hangouts, and examines the public perception of the Bronx crimewave, whether through a housing tenement under attack by vicious thugs or an Italian exploitation movie set in a sensationalized future Bronx.
---

80 BLOCKS FROM TIFFANY'S (BEST OF SPECTACLE)
Dir. Gary Weis, 1979
USA, 67 min.
SATURDAY, DECEMBER 9 – MIDNIGHT
SATURDAY, DECEMBER 17 – 10PM
SUNDAY, DECEMBER 18 – 5PM
FRIDAY, DECEMBER 24 – 7:30PM
Special thanks to Gary Weis
A legendary cult documentary equally infamous for its subject matter as well as its scarcity, director Gary Weis traveled uptown in 1979 to provide an unflinching, hilarious, and sometimes shocking depiction of the South Bronx neighborhood and, in particular, two African American and Puerto Rican gangs known as the "Savage Skulls" and the "Savage Nomads."
Facing severe sociopolitical decay throughout the 70s, the South Bronx is portrayed as a crime-infested, all out no-man's-land war zone where the battle lines are drawn between warring factions of youth street gangs.
Commonly referred to as the real life version of THE WARRIORS, the film is a brilliant snapshot of a bygone era and a stark reminder of the damage that had been wreaked on parts of New York throughout the 70s; the abandoned districts, burnt-out buildings and human waste serving as the end point for a decade of mismanagement and unaddressed social problems. Spectacle is proud to present this landmark work in a brand new remastered version.
---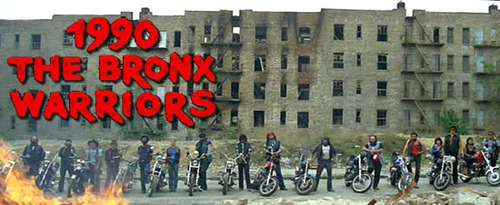 1990: THE BRONX WARRIORS

Dir. Enzo G. Castellari, 1982
Italy, 93 min.
FRIDAY, JULY 3 – 7:30 PM
THURSDAY, JULY 9 – 10:00 PM
FRIDAY, JULY 31 – 7:30 PM
Medieval in its brutality and psychedelic in its execution, 1990: THE BRONX WARRIORS is among the crowning achievements of exploitation master Enzo G. Castellari (THE INGLORIOUS BASTARDS, KEOMA, THE BIG RACKET). And at that, it's one of the most compellingly over-the-top, guttural pictures to capitalize on the 1970's South Bronx crime wave. Handily cribbing from both ESCAPE FROM NEW YORK and THE WARRIORS, it presents a dystopian future scenario in which the Bronx is quarantined as a mob-ruled No Man's Land lorded over by colorful gangs marked by their flamboyant dress and manneristic quirks. Into this anarchic world a young heiress flees her evil capitalist father, who employs a mercenary army to slaughter its way through the gangs who variously harbor and fight over her.
This is perhaps the most lavish, colorful and explosive production of both Castellari's career and the Italian post-apocalypse subgenre it inspired. Its highlights include epic slow-motion shootouts, sword-vs-hockey stick brawls, creepy mimes with nunchucks and a legion of mounted police officers strapped with flame throwers roasting out the gangs against the backdrop of the Manhattan skyline. The cast includes blaxploitation stalwart Fred Williamson alongside Vic Morrow in his penultimate role.
---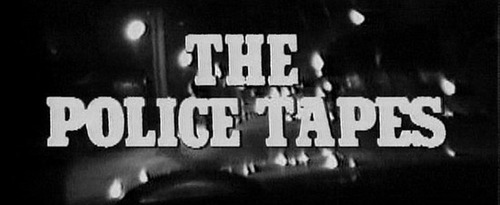 THE POLICE TAPES
Dir. Alan & Susan Raymond, 1977
USA, 88 min.
WEDNESDAY, JULY 1 – 10:00 PM
TUESDAY, JULY 7 – 7:30 PM
MONDAY, JULY 13 – 10:00 PM
SUNDAY, JULY 26 – 7:30 PM
Special thanks to Alan & Susan Raymond
An alarming and distressing look into the tumultuous work of the 44th Precinct police officers in the South Bronx (a one square mile area that, in 1976, had the highest crime rate in New York City), THE POLICE TAPES peels back the skin to reveal a city at war with the civil servants assigned to serve and protect them.
Utilizing some of the earliest Portapak video equipment available, filmmakers Alan and Susan Raymond capture raw scenes of domestic violence, crime, and murder as well as the officers who gallantly try to maintain a sense of order in a neighborhood coming unraveled. What emerges is an uncensored portrait of a community fighting the consequences of urban poverty and the law enforcers' difficult task of remaining righteous in a soul-crushing job.
A vital landmark in cinema vérité, THE POLICE TAPES influenced everything from HILL STREET BLUES to COPS and kickstarted the future Oscar-winning careers of Alan and Susan Raymond. To this day, the film maintains its striking power.
---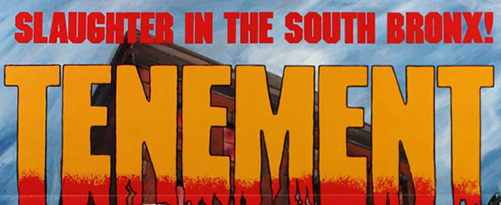 TENEMENT
aka GAME OF SURVIVAL aka SLAUGHTER IN THE SOUTH BRONX
Dir. Roberta Findlay, 1985
USA, 94 min.
WEDNESDAY, JULY 8 – 7:30 PM
THURSDAY, JULY 16 – 7:30 PM
MONDAY, JULY 27 – 7:30 PM
Special thanks to Roberta Findlay
Channeling NIGHT OF THE LIVING DEAD by way of DEATH WISH, this unabashedly sleazy thriller features a group of honest Bronx tenants fed up with the junkie punks squatting in their basement, who pass the time indiscriminately using rats as target practice and food alike. The residents call the police to remove the trespassers, but when the gang is released from booking that night, the vengeful siege begins. TENEMENT is a pat, fast-paced and action-packed thriller, but one of an uncommonly debased sensibility.
Director Roberta Findlay is best known for her sexploitation and hardcore films including ALTAR OF LUST and THE CLAMDIGGER'S DAUGHTER. Concurrently she and husband Michael created 1976's SNUFF, inspiring outrage and widespread protest for its allegedly featuring actual murders later revealed to be a marketing ploy. Following Michael's death, Roberta continued directing hardcore until becoming persona non grata among the industry for SHAUNA: EVERY MAN'S FANTASY, a hardcore documentary about drug addicted pornographic actress Shauna Grant's shotgun suicide cashing in the following year.
But if anything pushes Findlay's movies beyond the usual level of discomfort, it might be how shockingly well-made and entertaining they are despite an absolute disregard for taste and morality that makes LAST HOUSE ON THE LEFT and I SPIT ON YOUR GRAVE appear Puritanical in compare. Very clearly shot on location amid the rubble and decay of the decimated burrough, TENEMENT is a sleazy exploitation movie, to be sure, but one which by mere virtue of its existence is a bold, agitational indictment of a city squeezed through the bowels of Hell.