SATURDAY, AUGUST 1: AND GOD SAID TO CAIN
FRIDAY, AUGUST 7: TOXIC ZOMBIES
SATURDAY, AUGUST 8: TOXIC ZOMBIES
FRIDAY, AUGUST 14: THE EMBALMER
SATURDAY, AUGUST 15: THE EMBALMER
FRIDAY, AUGUST 21: LASER MISSION
SATURDAY, AUGUST 22: NINJA MISSION
FRIDAY, AUGUST 28: MY CHAUFFEUR
SATURDAY, AUGUST 29: THE HORROR OF PARTY BEACH
---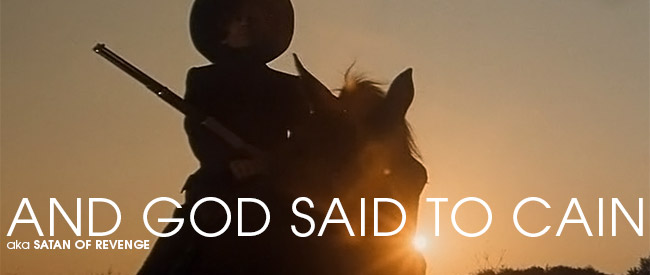 AND GOD SAID TO CAIN
Antonio Margheriti, 1970.
96 min. Italy/West Germany.
In German with English subtitles.
SATURDAY, AUGUST 1 – MIDNIGHT
In this macabre spaghetti western, the Duke of Delirium, Goth Kinski, gives a rare, heroic and unquestionably leading role as a man released after ten years of wrongful incarceration in a prison labor camp. Once sprung, he meanders his way back to town to get revenge on the men who framed him — one of whom has since become a wealthy and politically powerful land baron with dozens of hired guns on the payroll.
The plot may be traditional, but the movie is anything but: AND GOD SAID TO CAIN is notorious as of the darkest spaghettis ever made, and closer in tone to Italian horror films of the period than traditional westerns. It's the most accomplished picture of underrated director Antonio Margheriti, best known for gothic horror films like CASTLE OF BLOOD and THE LONG HAIR OF DEATH. CAIN is an effortless synthesis of the two genres: in a largely wordless performance, Kinski assumes an almost phantasmagorical aura, and eerie shootouts take place under moonlight and in churches and candlelit quarters. The film's baroque, blazing climax — think the of funhouse shootout of THE LADY FROM SHANGHAI restaged in Hell — validates the film's German title, SATAN DER RACHE — "Satan of Revenge."
Though AND GOD SAID TO CAIN frequently languishes in washed out transfers in YouTube and public domain purgatory, tonight we'll show a pristine digital transfer with the German-language soundtrack that preserves Kinski's original spoken dialog.
---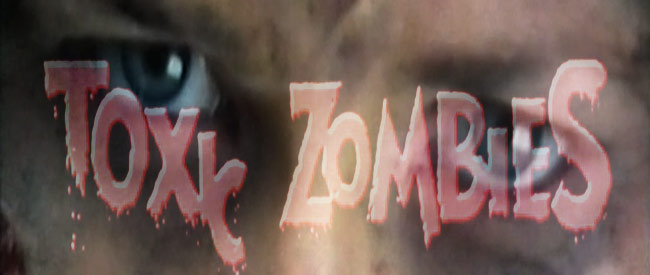 TOXIC ZOMBIES
aka Bloodeaters
Dir. Charles McCrann, 1980
USA, 89 min.
FRIDAY, AUGUST 7 – MIDNIGHT
SATURDAY, AUGUST 8 – MIDNIGHT
We return with the second examination of some of the lesser-know films to pop on on Mary Whitehouse's list of "sadist videos", criticized for their combination of sex. violence and cruelty. What the Nurse With Wound list was to experimental music weirdoes, the Video Nasty List became a must-see list for those lurking in dingy basement video stores. For contemporary viewers, it's easy to think of such a list as silly and tame, but it's worth keeping in mind this list wasn't really about gutmunching gore effects — for most of these films, it's the cavalier combination of giddy bloodshed and unrepentant deviancy sneaking into suburban homes any time little Janey and Johnny skipped down to the video rental store. Many of these films are now considered classics (POSSESSION, TENEBRAE, I SPIT ON YOUR GRAVE, THE LAST HOUSE ON YOUR LEFT) while others will still turn even lifetime Fangoria readers green (ANTHROPOPHAHOUS, LOVE CAMP 7, CANNIBAL HOLOCAUST), but with the Video Nasty Project we're taking a look at some of the lesser-known films to appear on the list. Do you dare to watch them all?
Deep in the forest, a group of pot farmers get into a Ruby Ridge situation with some corrupt US agents, who then spray the crops with some kinda psychedelic that turns the farmers into zombies. That's the setup, but director/writer/actor Charles McCrann (in his only film) isn't here to give you a ton of backstory: he's here for zombies in the woods, Romero-style anti-establishment rhetoric and a general vibe that'd sit nicely with BURIAL GROUND or THE LIVING DEAD AT MANCHESTER MORGUE. With all the washed-out grungy deep woods darkness and flanging score you'd expect, we're delighted to bring you TOXIC ZOMBIES!
---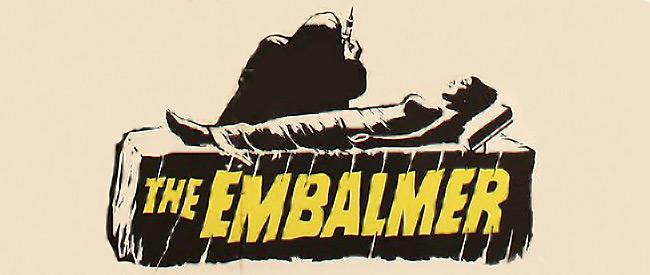 THE EMBALMER
aka Il mostro di Venezia
Dir. Dino Tavella, 1965
Italy, 77 min.
FRIDAY, AUGUST 14 – MIDNIGHT
SATURDAY, AUGUST 15 – MIDNIGHT
"How lovely you are! Like alabaster goddesses. No living woman possesses your mysterious fascination or your sweet repose."
Welcome to Venice! It is one of the most picturesque cities in the entire world with its beautiful architecture dotting the murky waters of the grand canal. Our story begins here with a series of disappearances. All of the disappearances have something in common, the missing are all young ladies who just happened to have disappeared close to a canal. The police suspect that the missing young ladies may have fallen into the water and drowned, but none of the bodies have been recovered. Meanwhile, a reporter from a local paper begins to suspect that the disappearances are the work of some fiend who is kidnapping young women and hiding their bodies deep in the Venetian canals. The city is in a state of panic! How many more girls can possibly disappear?! Well, about nine more because just around the corner is a group of lovely young ladies visiting from Rome and they are just dying to explore Venice. Which one of the girls will be the first victim of this fiend? Who is the mysterious fiend and what is this fiend doing to the bodies of these young ladies?
THE EMBALMER is an early Giallo film that reads like a travelogue film with a touch of gothic imagery. The city of Venice and its labyrinthian canals take the place of the ancient stately manor found in gothic tales. Macabre tinged scenes are scattered throughout the film like that of a pop musician emerging from a coffin to sing songs to an unsuspecting crowd and a crypt full of petrified monks a la Capuchin crypt. THE EMBALMER is a must see for all Giallo fans.
---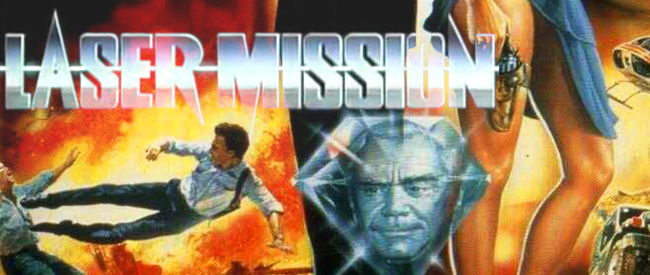 LASER MISSION
Dir. BJ Davis, 1989
USA, 84 min.
English.
FRIDAY, AUGUST 21 – MIDNIGHT
Before he was THE CROW (but definitely after his LEGACY OF RAGE), Brandon Lee was Michael Gold – a cocky, self-righteous asshole who upends his fully free agent status and chooses to accept a LASER MISSION on offer from the CIA (but, like, eschewing CASH MONEY USA in favor of action man SWAGGER ethics). There's something about the WORLD'S LARGEST DIAMOND gone missing, along with some LASER expert (expertly lazied by ERNEST BORGNINE) being held in Angola (or somewhere) by the KGB (or Cuban military or some Austrian madman or something). All this adds up to is TROUBLE and the potential END of the WESTERN WORLD as we KNOW IT. When not donning gross disguises to fool bumbling cartoon humans, Gold is totes in NEGGING WAR III with terminal television episoder DEBI MONAHAN (who may or may not be portraying a daughter or a double agent or whatever).
Even if you HAVE seen LASER MISSION, you won't want to MISS our special WIDESCREEN presentation, with all the EXPLOSIVE action (and sometimes admittedly great wide tracking shots) as NEVER BEFORE SEEN in domestic US BARGAIN BINS and FIFTY-FILM DVD collections.
If you HAVEN'T seen LASER MISSION, then grab your favorite brand of adult diapers and head the hell over here. Sounds appealing? Then make like an ORANGE and GET JUICED.
---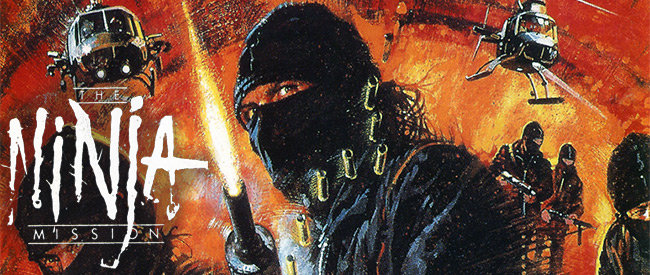 NINJA MISSION
Dir. Mats Helge Olsson, 1984
Sweden, 93 min.
In English.
SATURDAY, AUGUST 22 – MIDNIGHT
** Part of our "Lasers vs. Ninjas" Weekend Spectacular! **
---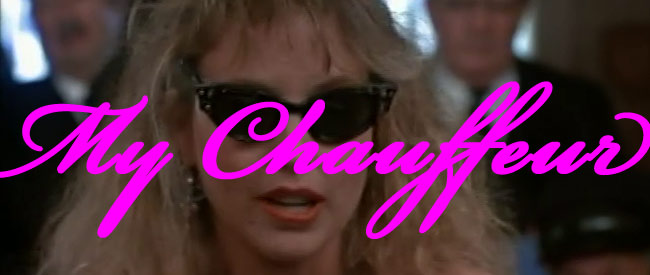 MY CHAUFFEUR
Dir. David Beaird, 1986
USA, 97 min.
In English
FRIDAY, AUGUST 28 – MIDNIGHT
"You ever give an Alka-Seltzer to a dog?"
Endless Bummer heads from the 70s to the 80s with our final film, MY CHAUFFEUR. Starring Deborah Foreman, who was *everywhere* in the eighties (Valley Girl, Real Genius, Waxwork, April Fool's Day), as Casey Meadows, a dishwasher who receives an invitation to work for the prestigious Brentwood chauffeur company directly from the company's owner (none other than the great E.G. Marshall!). Disliked by the all-male staff and barely tolerated by her boss (Howard Hesseman of WKRP/Rubin and Ed fame), Casey takes on a series of insane jobs, from lugging drunken rock band Cat Fight around LA to dealing with a spoiled stalker's heartbreak (if you suspect this may lead to love, you're right) and none other than Penn and Teller playing an sheik and a con-man attempting to lure him out of his money. Despite all odds, Casey's non-conformist streak leads her to triumph where the other stuffed-shirt drivers fail miserably. A staple of cable tv during the late eighties and one of the final Marimark Productions films, MY CHAUFFEUR hits all the rom-com notes while offering plenty of off-color comedy and topless hijinx for the midnight crowd. Drive off into the sun setting over the Pacific as Endless Bummer finishes up…FOR NOW!
---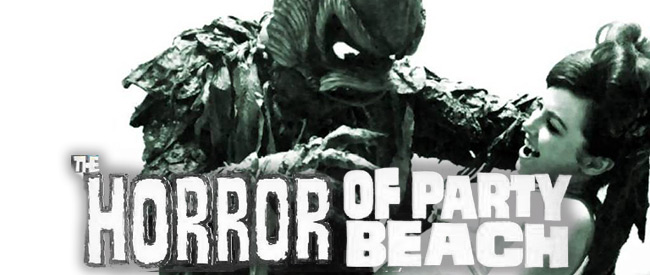 THE HORROR OF PARTY BEACH
Dir. Del Tenney, 1964
United States, 78 min.
SATURDAY, AUGUST 29 – MIDNIGHT
"Weird Atomic Beasts Who Live Off Human BLOOD!"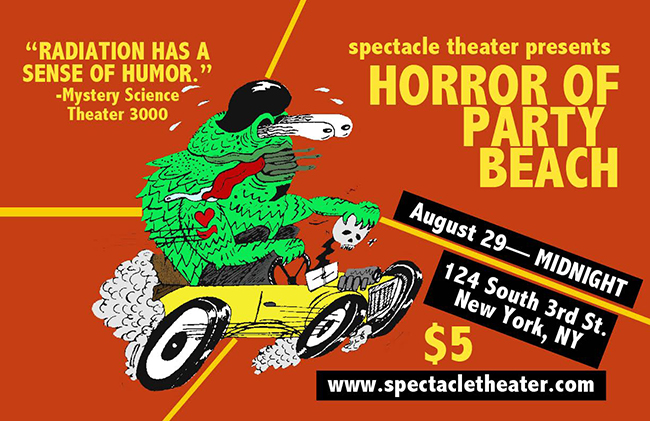 Let's go to the beach! What a wonderful place to get away with its sparkling blue water and radioactive monsters! Well, more like the radioactive living dead for you see radioactive waste is being dumped into the ocean and as a result the remains of the poor souls littering the ocean floor have been mutated into humanoid fish-like monsters! Monsters that have chosen to make their first appearance on the sunny shores of Connecticut! The monsters have decided to crash a happenin' beach party that is being presided over by none other than surf rock legends The Del-Aires! All the girls and boys were too busy doing the zombie stomp to notice the monsters crawling up on land and feasting on the blood of bikini clad beauties! Can the blood thirsty rampage of these monsters be stopped?
THE HORROR OF PARTY BEACH is one of the first, if not the first horror beach party film. Think of it as BEACH BLANKET BINGO, but filled with blood thirsty monsters whose mouths look like they have been stuffed with a pack of hotdogs. It is a refreshing freudian slap in the face to those "wholesome" beach party films. The film is beautifully shot and features some fantastic sequences like the creation of the monsters. It's funny, creepy, and the music of The Del-Aires will have you groovin' all night long. What are you waiting for? Let's go to the beach!