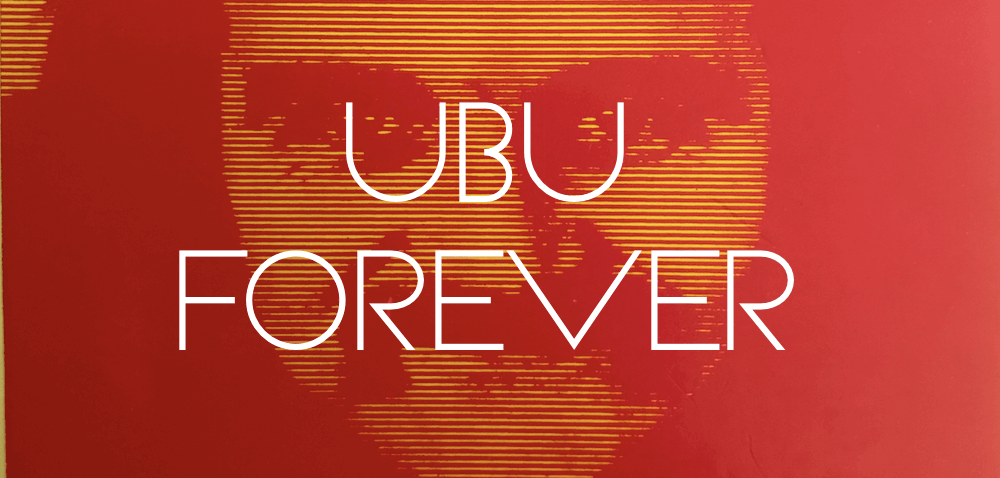 This fall, Spectacle is pleased to unveil a series celebrating Australian auteur Albie Thoms and what would become the Australian New Wave – featuring three seminal features by Thoms practically never exhibited in North America.
A multivalent filmmaker and theatre artist, Albie Thoms (1941-2012) was a hardcore avant-gardist, responsible for bringing the works of Arrabal to Australia and founding the Sydney Filmmakers Cooperative and the UBU collective, alongside Aggy Read, John Clark and David Perry. The restorations of his work made available by ArtFilms provide invaluable insight to a disjunction in Australian cinema that dominated the 1960s and 70s – between state-subsidized works (some of whose makers would indeed eventually migrate to Los Angeles) and a relentless, drugged-out underground community, which drew as much from Artaud and Beckett as it did from Thoms' more lauded contemporaries in Europe and New York City. As ever, crossover between these spheres happened early and often; to cite just one example, Thoms codirected his short film …IT DROPPETH AS THE GENTLE RAIN with Bruce Beresford, who would go on to direct Hollywood productions like TENDER MERCIES and DOUBLE JEOPARDY.
This trio – each title made with grants on low budgets, heavily improvised and deeply influential within the Sydney experimental scene – are Thoms' only three features. Each betrays his signature interest in using juxtaposition and particularly sound montage to push the narrative envelope, collapsing conventional narrative cinematic tropes into a new language that's as trangressive now as it was in the 1970s.
Special thanks to Jesse Pires (International House Philadelphia), Kriszta Doczy (ArtFilms), soda_jerk and Sukhdev Sandhu (New York University Colloquium for Unpopular Culture).
---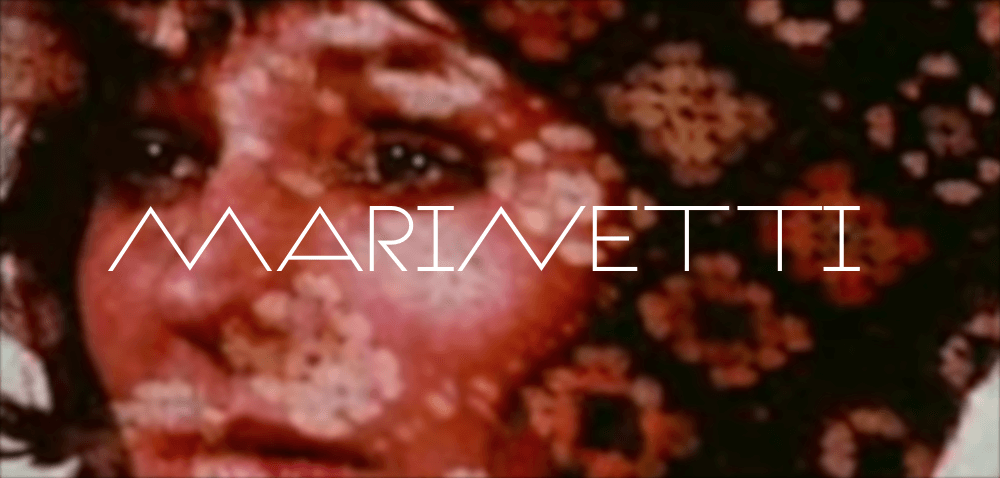 MARINETTI
dir. Albie Thoms, 1969
85 mins. Australia.
FRIDAY, OCTOBER 6 – 7:30 PM
MONDAY, OCTOBER 9 – 10 PM
THURSDAY, OCTOBER 19 – 7:30 PM
TUESDAY, OCTOBER 24 – 10 PM
SUNDAY, OCTOBER 29 – 5 PM
"MARINETTI is not a Hollywood film of predigested responses. Unless an audience is prepared to give itself for the duration of the film, to accept the delirium, then communication is stifled… the audience at the film's Sydney premiere were not willing to do this, and by their own hostiligy created an unpleasant experience. Images relayed at the rate of twenty four per second might be 'murder on the eyes' for some people, but for others they can create the 'delirium that is communicative.' Those that booed and walked out of MARINETTI might think of the opening of Jarry's Ubu Roi in 1896, where a similar demonstration took place. Film enthusiasts might recall audiences who booed and hissed when the first screen closeup was used – that the audience, resentful that they couldn't se the actors' hands and feet, felt that something was being denied to them. MARINETTI is feature length because I hoped it would be an experience that would affect people's lives…. Joan Kerr of Nation (Sydney) saw the theme of MARINETTI as 'the inevitable myth of 20th century man as he progresses from an idyllyc view of life through personal madness to the final realization that the whole world is insane… and the only solution to it all is to endure it. But the final words of the film are not endure but enjoy… Audiences can avoid or endure it, or enjoy it. The responsibility is with them. My responsibility ended when I completed the film." – Albie Thoms, Polemics For A New Cinema
---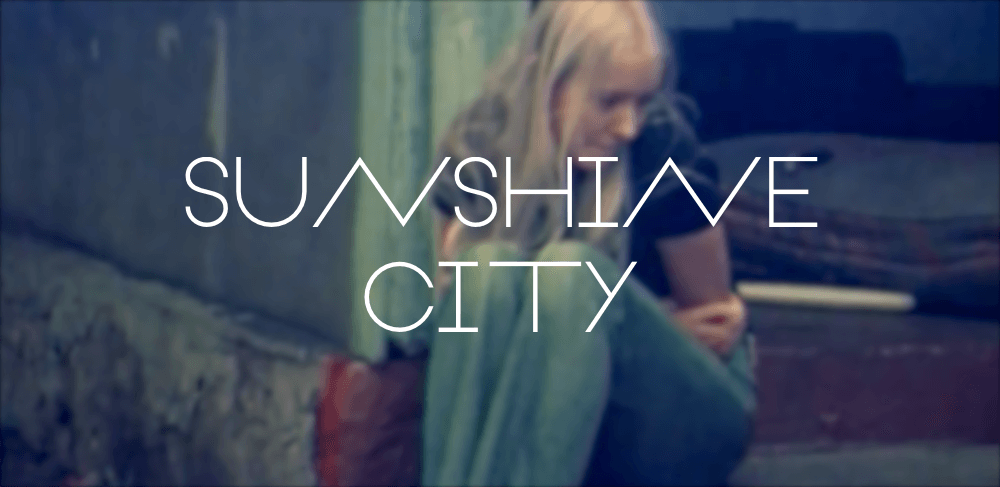 SUNSHINE CITY
dir. Albie Thoms, 1973
118 minutes. Australia.
MONDAY, OCTOBER 2 – 7:30 PM
SUNDAY, OCTOBER 8 – 5 PM
WEDNESDAY, OCTOBER 11 – 7:30 PM
WEDNESDAY, OCTOBER 25 – 10 PM
SUNSHINE CITY is Albie Thom's sprawling, protoplasmic experimental portrait of his hometown of Sydney. The National Film and Sound Archive of Australia call it "a structured diary film which investigates the process of living in Sydney, which uses a repeating light modulation to intensify experiences of light, heat, colour".
It also probes the city's Yellow House art community and includes interviews with significant members thereof, including Mick Glasheen, Martin Sharp, Aggy Read, Brett Whiteley and Germaine Greer. Like the entirety of Thoms' second film, the interviews are shot in an innovative and unconventional manner, shooting single continous takes and ending when the film in the camera runs out. With near-every other frame flash exposed, the film harkens to contemporaneous works by Jonas Mekas and Peter Kubelka
Before production began, Thoms wrote that "SUNSHINE CITY will be a record of my responses to the people and places of the city of Sydney. It will show the visual environment and synthesize the sound environment. It will allow the people to speak, and will try and relate their lives to the environment, to try and express the way the environment, the light, the sunshine, the visual stimulation, the cultural history of the city, conditions the lives of people and creates their character. It will be an analytic film, determining its own aesthetic, forcing attention to the filming process, to the materials of the film experience."
---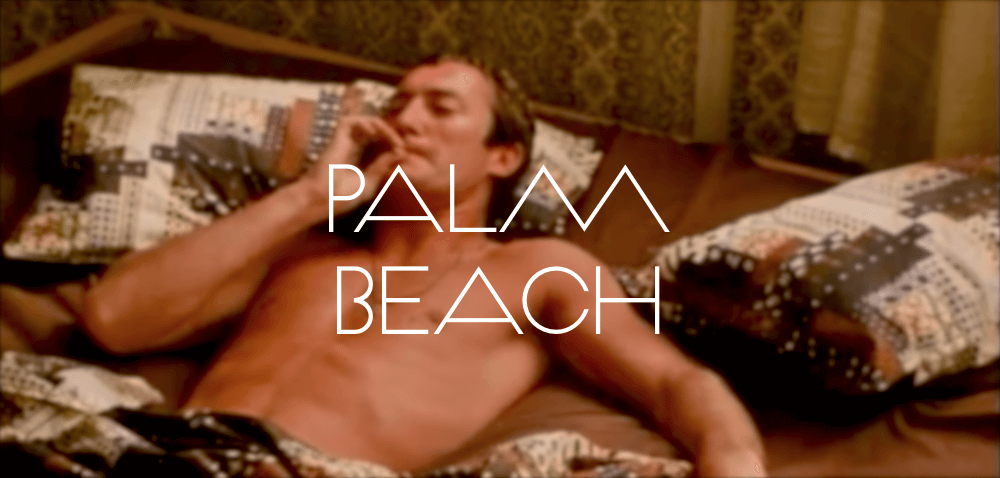 PALM BEACH
dir. Albie Thoms, 1980
88 minutes. Australia.
WEDNESDAY, OCTOBER 4 – 7:30 PM
THURSDAY, OCTOBER 12 – 10 PM
TUESDAY, OCTOBER 17 – 10 PM
WEDNESDAY, OCTOBER 25 – 7:30 PM
"Paul was looking for work… Joe was looking for drugs… Leilani was looking for good times… Larry was looking for Leilani… They all ended up in…"
Four characters, all misfits of a sort, cross paths over one weekend on the northern beaches of Sydney. Leilani (Amanda Berry) is a runaway 16-year-old; Larry (John Flaus) is a private eye who's looking for her; Joe (Ken Brown) needs to score some LSD to get him out of trouble. Paul (Bryan Brown) is unemployed and broke, until he steals a gun.
Described as "the ultimate surf movie", PALM BEACH is an entirely different kind of magnum opus from MARINETTI: a restless multi-character drama (anticipating the "hyperlink cinema" of the 90s and 2000s) centered on these disparate plotlines, each shot in long tracking-shot takes. It is a peerless feat of improvisation drawn in just over a hundred shots; what really sticks is Thoms' use of overlapping dialogue and diagetic audio to stitch scenes together, a daring juxtaposition that grates in the fleeting moment but creates an overwhelming depiction of society as blissed out as it is logjammed.
"PALM BEACH is a film of casual but cunning construction […] a terrible reminder that there are people of great ability who have never been able to pursue their craft in the Australian film industry, while dozens of mediocrities have had the chance to squander countless dollars and a multitude of opportunities." – Geoff Gardiner, Australian Film 1978-1992