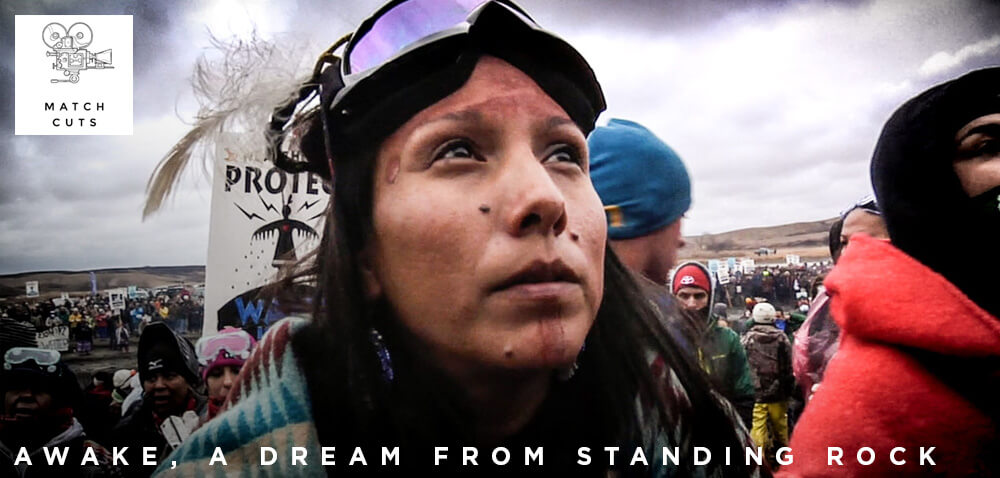 MONDAY, OCTOBER 9TH – 7:30 PM
ONE NIGHT ONLY !
MATCH CUTS PRESENTS commemorates its first full year in partnering with Spectacle Theater with a screening of AWAKE, A DREAM FROM STANDING ROCK on Monday, October 9th, aka "Columbus Day." Proceeds and donations collected this evening will go towards the Water Protector Legal Collective.
AWAKE, A DREAM FROM STANDING ROCK
dir. Josh Fox, James Spione, and Myron Dewey, 2017.
USA, 89 min.
The Water Protectors at Standing Rock captured world attention through their peaceful resistance. While many may know the details, AWAKE, A Dream from Standing Rock captures the story of Native-led defiance that forever changed the fight for clean water, our environment and the future of our planet. The film is a collab­oration between Indigenous filmmakers, Director Myron Dewey, Executive Producer Doug Good Feather, and environmental Oscar-Nominated filmmakers Josh Fox and James Spione. It is a labor of love to support the peaceful movement of the water protectors.
MATCH CUTS is a weekly podcast centered on video, film and the moving image. Match Cuts Presents is dedicated to presenting de-colonialized cinema, LGBTQI films, Marxist diatribes, video art, dance films, sex films, and activist documentaries with a rotating cast of presenters from all spectrums of the performing and plastic arts and surrounding humanities. Match Cuts is hosted by Nick Faust and Kachine Moore.