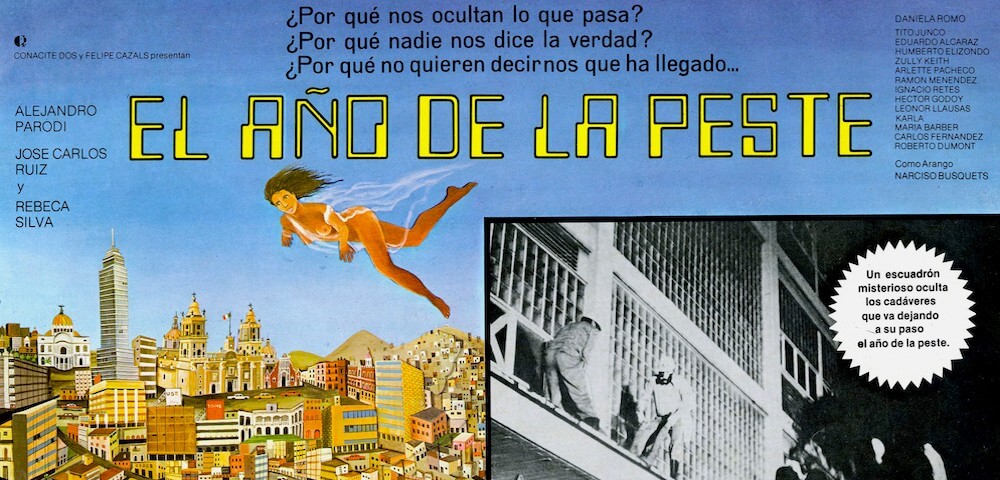 THE YEAR OF THE PLAGUE
(EL ANO DE LA PESTE)
dir. Felipe Cazals, 1979
109 mins. Mexico.
In Spanish with English subtitles.
SATURDAY, MARCH 20 – 7:30 PM EST only at stream.spectacletheater.com
Ten years after we showed his anti-anti-communism horror masterpiece CANOA, Spectacle is thrilled to host a one-off stream of Mexican master Felipe Cazals' THE YEAR OF THE PLAGUE: a little-seen adaptation of Daniel Defoe's A Journal of the Plague Year transposed to 1970s Mexico. Working from an original idea proposed by his friend Gabriel Garcia Marquez, Cazals uses the outbreak of a pandemic to diagnose the ills of Mexican society as he saw it: political corruption, snake-oil pundits on television, municipal apathy to the basic needs of lower-income citizens. The result is a bracing, terrifying vision of life out of junct 40 years ahead of coronavirus; we're happy to show it in commemoration of the 12-month anniversary of Spectacle in exile.
"Gabo (Marquez) is known as the creator of magical realism, but there is no magic to this film. We inserted a plague to create a different reality, in order to reveal problems within society. What can change is the way authorities will react to a crisis of this nature. To hide the truth is a power move, essentially linking all forms of power together. The president must say whatever is convenient for private interests. The whole reason he is in power is to create a distorted reality. The president, the private interests—their form of reality becomes the official truth. To take the pandemic seriously would necessitate destroying preexisting forms of power." – Felipe Cazals, Filmmaker Magazine