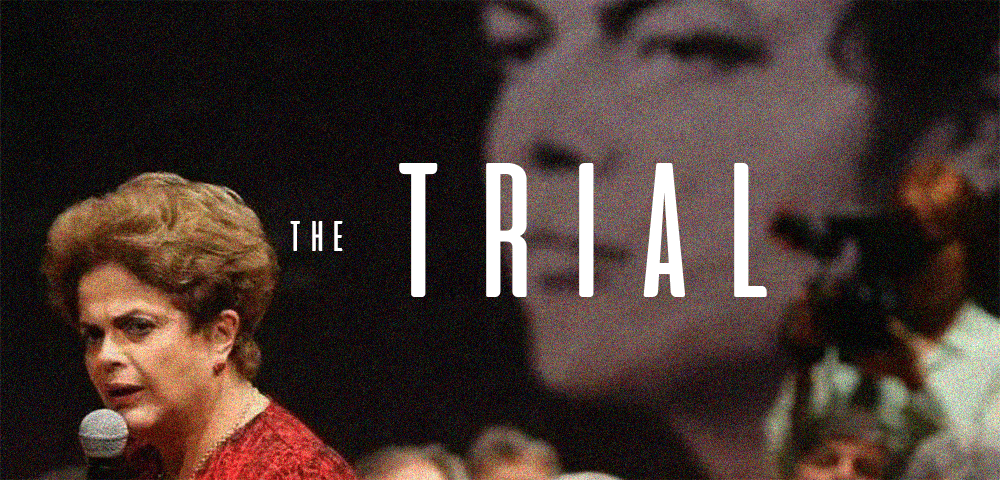 THE TRIAL
(O PROCESSO)
dir. Maria Augusta Ramos, 2018
140 mins. Brazil/Germany/Netherlands.
In Brazilian Portuguese with English subtitles.
SUNDAY, AUGUST 4 – 5 PM followed by remote Q&A with filmmaker Maria Augusta Ramos
NEW YORK CITY PREMIERE – ONE NIGHT ONLY!
(This event is $10.)
In August 2016, Dilma Rousseff – survivor of torture at the hands of the Brazilian dictatorship, the first female head of state in the country's history, and hand-picked successor to the wildly popular (later imprisoned) president Luiz Inácio Lula da Silva – came under scrutiny from Brazil's lower house of Congress after being accused of corruption and nepotism. Led by her longtime rival Michel Temer and the speaker of Brazil's lower house of congress, Eduardo Cunha, the subsequent impeachment trial became a "parliamentary coup", whereby right-wing factions sought to discredit the Rousseff administration to consolidate power in the Senate and refract media attention from their own conflicts of interest. (In his own right, Temer would be accused of corruption by Brazil's Attorney General in 2017; Cunha himself had already been indicted for laundering millions for personal gain in concert with Petrobras, the country's semi-public oil powerhouse, and would be imprisoned the same year.) Among the politicians who came out against Rousseff was Brazil's current president Jair Bolsonaro, who dedicated his vote to Carlos Brilhante Ustra, the dictatorship-era colonel who supervised the unit where Rousseff had been imprisoned and tortured.
A veteran documentarian with a keen eye for the machinations of law, Maria Augusta Ramos embedded herself within Rousseff's legal team to capture her country's still-young democratic institutions shaken daily by obstructionism and revanchism. Was the Truth and Reconciliation process a sham? Did Rousseff really have the following she claimed among feminists? Would it all have been different if her reelection in 2014 hadn't been contested by her enemies? How did anti-corruption become the focus of right-wing populists? Assembled from 450 hours of material shot during the impeachment proceedings, THE TRIAL is a dizzying, Kafkaesque and nailbiting portrayal of power politics by any means necessary.
"Undermining the power of democratic institutions—that's what Trump is trying to do now. In Brazil, when you impeach a president who hasn't committed a crime, that is unconstitutional. You make this process appear pseudolegitimate when it is in fact a farce playing out in a theater of politics. The trial was a sham that has caused a certain crisis of legitimacy. They weakened democratic institutions in ways that have had unintended consequences; to eliminate an opponent, they undermined the very institutions that were legitimizing them. The recent elections in Brazil are a sign of how these institutions have stopped working. When they talk about upholding the Constitution . . . it's empty performance. It's an emotional, sensationalist gesture that feeds a nationalist and pseudopatriotic feeling, which is fascist. The trial was not about justice, it was not a search for truth. It was designed to make everything confusing and distorted. It's just a downright lie. It's exactly what Bolsonaro does, it's what Trump does." – Maria Augusta Ramos, interviewed by Nilo Couret in Film Quarterly
"Remarkable. Riveting. A crucial record of the travesty behind the impeachment hearings of Brazilian President Dilma Rousseff." – Variety
"THE TRIAL is horrifyingly prescient. It is a film about power, corruption and reality, one that captures the atmosphere of unease and chaos that seems to dominate our 24/7 news cycle…. Ramos, who mentions the traditions of Dutch documentary filmmaking as a major influence, similarly draws on the works some of the great Dutch painters. There's the casual grandeur of Rembrandt, the focused order of Vermeer and the chaotic lines of Van Gogh in her work… The Trial is a perfect articulation for the current political climate around the world." – Little White Lies
"Under a veneer of legality and constitutionality, the process was one of bribery, blackmail and violence. Car Wash (Lava Jato), the biggest anti-corruption operation in history, somehow brought the country's most corrupt individuals to power, as did its blueprint, Operation Clean Hands (Mani Pulite) in 1990s Italy… [THE TRIAL] manages to convey that despite Dilma not being implicated or charged in Lava Jato, it provided a pretext for her impeachment as if she was. Enabled by Rousseff-endorsed changes to the law intended to facilitate the pursuit of corruption, Lava Jato in turn damaged the economy so sharply that it provided another pretext, with the exacerbated recession and resulting unemployment used as auxiliary by supporters and corporate PR whenever doubt was cast upon the impeachment case itself." – Brasil Wire

MARIA AUGUSTA RAMOS studied documentary film in Amsterdam and has been a guest at festivals worldwide since the start of her career. Her films have received multiple awards. Her film Justice (2004) won the Grand Prix at the Swiss festival Visions du Réel and the Amnesty Award at CPH:DOX in Copenhagen, among other prizes. In 2007, her film Behave premiered at the Locarno Film Festival and was honoured with the FIPRESCI Award at DOK Leipzig and the Grand Prix at One World Int. Doc Festival in Prague. Her most recent film The Trial celebrated its world premiere in Panorama at the 2018 Berlinale, and also received the Grand Prix at Visions du Réel, Best Film at DocumentaMadrid, Best film by the Silvestre jury and the Audience Award at IndieLisboa and Best film at Buenos Aires Int. Doc Festival. In 2013, the Helsinki Foundation for Human Rights honoured Maria Ramos with the Marek Nowicki Prize for her examination of the subject human rights in film.
Special thanks to Grasshopper Film and Rodrigo Brandão (The Intercept).