Known to many as the godfather of Japanese cyberpunk cinema for his rock-heavy, high-octane, biker films Burst City and Crazy Thunder Road, Sogo (now known as Gakuryu) Ishii is an important precursor to many of the cult icons that dominate Japanese cinemas reputation such as Takashi Miike and Shinya Tsukamoto. Yet much more protean than much of his modest reputation admits, by the time the 90s came around, Ishii all but abandoned the leather stuffed aesthetic of his early films in favor of a slower, dream-like style concerned with metaphysical questions of identity and romantic desire. Suffuse with unsolvable mysteries that spiral endlessly out of control; a hypnotic editing style that relies on lethargic tracking shots and a sublime sense of empty architectural spaces mixed with rapid impressionistic montages and jarring auditory shifts; and a quietly transgressive gender subtext that echoes his earlier punk ambitions – ANGEL DUST, AUGUST IN THE WATER, and LABYRINTH OF DREAMS form a loose trilogy of semi-forgotten, but entirely umissibe and unique masterworks of Japanese cinema. These three are presented here with Ishii's 1984 film, THE CRAZY FAMILY, a key bridge between his earlier anarchic punk films and his more methodical 90's output.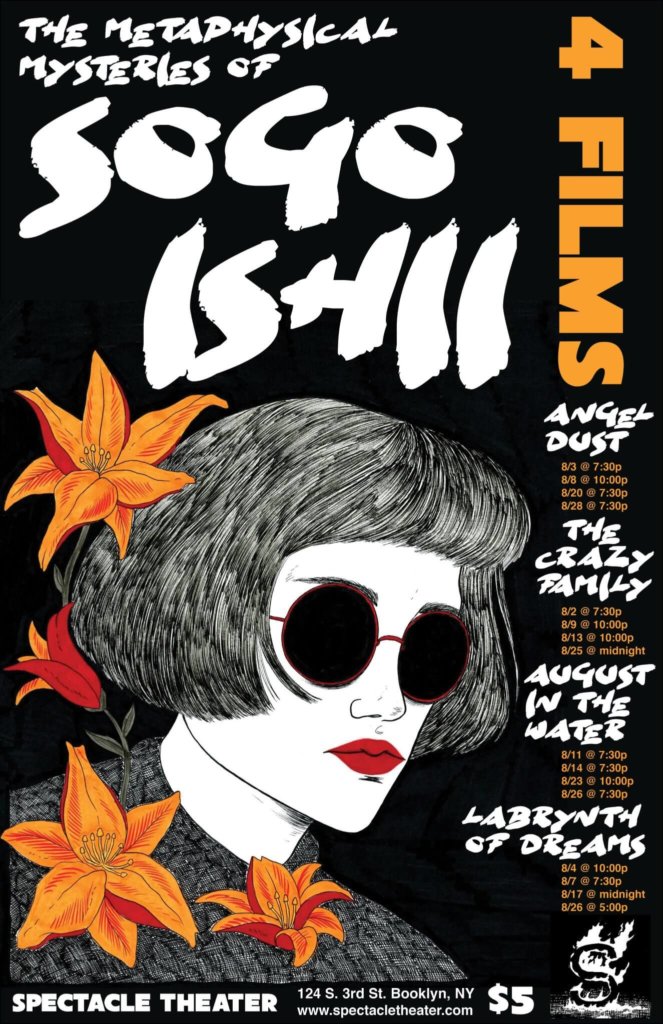 ( poster by Stephanie Monohan )
---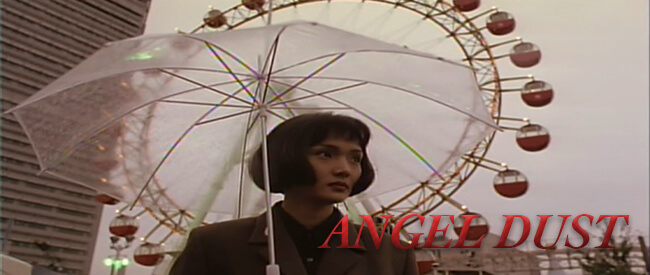 ANGEL DUST
Dir. Sogo Ishii, 1994
Japan, 116 min.
In Japanese, English subs
FRIDAY, AUGUST 3 – 7:30 PM
WEDNESDAY, AUGUST 8 – 10 PM
MONDAY, AUGUST 20 – 7:30 PM
TUESDAY, AUGUST 28 – 7:30 PM
6 PM every Monday a woman drops dead on the Tokyo Metro leaving no clues as to who killed her. Stupefied, the police enlist psychologist Setsuko to profile the killer and predict his next moves. When the trail leads her to her former lover, Dr. Rei Aku, a mind-control obsessed psychiatrist who performs bizarre psychological experiments in from his mountain dome hideaway, Setsuko starts to experience bizarre hallucinations and premonitions related to the killings.
Drenched in vomit colored neon greens and filled with a nauseating sense of modernist alienation, ANGEL DUST echoes many of the themes and styles explored by Kiyoshi Kurosawa's while retaining the psychedelic techniques and hypnotic narrative structure that forms a distinct part of Ishii's 90's style.
---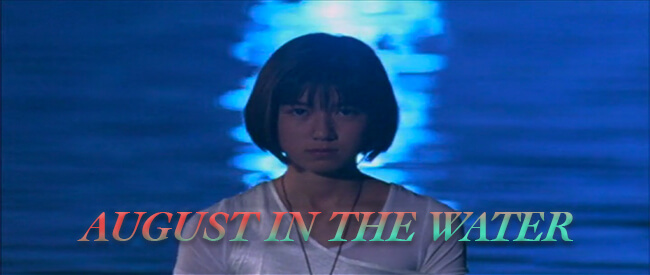 AUGUST IN THE WATER
Dir. Sogo Ishii, 1995
Japan, 117 min.
In Japanese, English subs
SATURDAY, AUGUST 11 – 7:30 PM
TUESDAY, AUGUST 14 – 7:30 PM
THURSDAY, AUGUST 23 – 10 PM
SUNDAY, AUGUST 26 – 7:30 PM
When mysterious new girl at school and world class diving protege, Izumi, comes to town, strange things start happening – a giant heat wave consumes the town, bizzare rocks appear in the forest, and all the water in the pool turns to stone during Izumi's most important dive. Izumi's hopelessly romantic classmate, Ukiya, follows her as they try to figure out what's happening. Yet far from the supernatural thriller which it may resemble on the surface, AUGUST IN THE WATER, is filled with its own completely hypnotic energy and teenage sense of wonder. Ishii utilizes meditative tracking shots across glimmering swimming pools, dreamy dissolves between cloudy skies, and a web of unsolved mysteries tethered to new age spiritualism to create a work that might be as far he could possibly get from the rebellious aggression of his early punk films.
---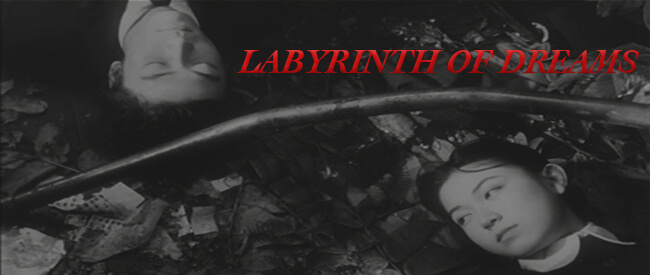 LABYRINTH OF DREAMS
Dir. Sogo Ishii, 1997
Japan, 90 min.
In Japanese, English subs
SATURDAY, AUGUST 4 – 10 PM
TUESDAY, AUGUST 7 – 7:30 PM
FRIDAY, AUGUST 17 – MIDNIGHT
SUNDAY, AUGUST 26 – 5 PM
"A Freudian fable of the night, filled with moons, rain, dark tunnels and imminent collisions."
-Tony Rayns, Senses of Cinema
Ishii's Hitchcockian tale of romantic obsession and aggression begins in a surrealist mixture of dream, memory, and rumor. When bus conductor, Tomiko (Rena Komine), gets assigned to work with bus driver Niitaka (Tadanobu Asano, Ichii the Killer and Bright Future), not only does she think that he looks like the man from her dreams, but that he also might be the man who married and killed her friend and co-worker. Determined to get revenge, Tomiko seduces him. But when she finds herself irresistibly attracted to him she gets obsessed with testing the sincerity of his murderous desires. Shot in dreamy black and white, Ishii melds many of the guttural DIY techniques of his early punk years with moody expressionist compositions reminiscent of Maya Deren to create a film both aggressive and disorienting as well as melancholic and contemplative.
---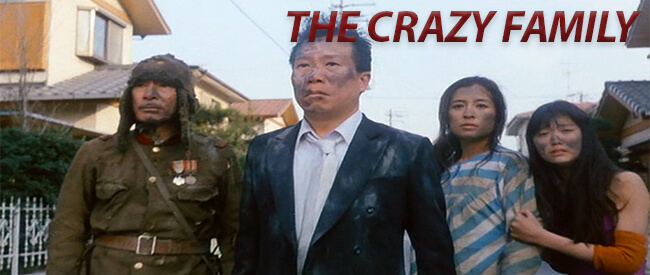 THE CRAZY FAMILY
Dir. Sogo Ishii, 1984
Japan, 106 min.
In Japanese, English subs
THURSDAY, AUGUST 2 – 7:30 PM
THURSDAY, AUGUST 9 – 10 PM
MONDAY, AUGUST 13 – 10 PM
SATURDAY, AUGUST 25 – MIDNIGHT
"Mixing sledgehammer social satire with rapid-fire cinematic dementia, this is an unforgettable excursion into the darkest recesses of middle-class values."
–Shock Cinema Magazine
After moving into a nice suburban home on the outskirts of Tokyo, the Kobayashi family seems to be living the domestic dream. That is until they all start trying to kill and fuck each other. With a fascist grandpa running shouting WWII era Japanese military slogans in in his army uniform, a son who builds giant neon shrines to his college entrance exams, and a sex-starved mother running around the house with a pot on her head trying to kill everyone with her kitchen knives, Ishii's take-down of the Japanese family unit is a gleefully delirious satire and a clear precursor to such Takashi Miike family dramas like VISITOR Q and THE HAPPINESS OF THE KATAKURIS.