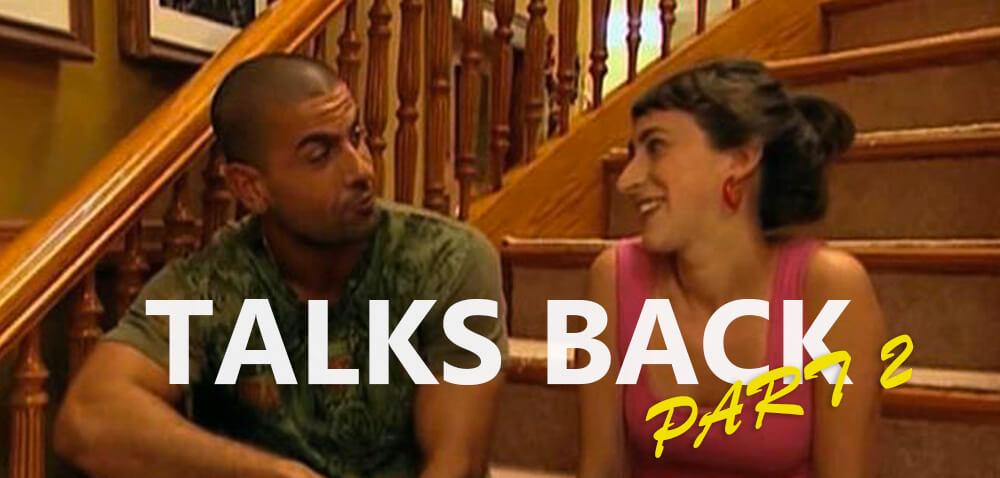 TALKS BACK (PT. 2)
Curated by Angela Washko
95 min
MONDAY, DECEMBER 18th
ONE NIGHT ONLY – 7:30PM (WITH Q & A!) and at 10:00
ARTISTS IN ATTENDANCE
Talks Back is a screening program featuring video and performance-for-video works by women artists who have opted to move away from the limitations of gallery contexts and art world audiences and put themselves in conversation with television and cinema (and their audiences). Inspired by the possibilities offered by public access television, reality television and virtual environments, these artists bring new meaning to films, television programming, and multi-user digital spaces by inserting themselves into existing media narratives which don't often include their perspectives. Through remixing their bodies into found footage or literally getting onto reality television programs, these artists assert the need for the narratives of intersectional feminists in the mainstream media we consume every day.
Artists in the program include Morehshin Allahyari, Ann Hirsch, Narcissister, Rachel Rampleman, Suzie Silver, Skawennati and Angela Washko.
Special thanks to the artists and curator.
—
FREEBIRD
Suzie Silver, 1993
11 min
"Suzie Silver directs and performs all the roles in this raucous and hilarious music video rendition of Lynyrd Skynyrd's "Freebird", the infamous Southern rock anthem for an entire generation of 1970s male youth. In this spoof of straight mass culture, Silver flips ironically between roles; from a lesbian proudly proclaiming her sexuality at the Academy Awards, to an in-concert Coors-drinking Ronnie Van Zant, and, finally, to a black-lace lesbian lounge swinger celebrating the wild, colorful world of "out" visibility. Silver draws upon an amazing array of found footage and special effects to bend genders and genres with spectacular visual delight." – SS
MILLIONAIRE WORTHY: HOME EDITION (A PRIMER)
Angela Washko, 2013
8 min
"Angela Washko explores metrics and seduction in this video work that presents audiences with a strategy for romantic success through data analysis of the Bravo television show Millionaire Matchmaker. The project was the primer video which ultimately led to a public access television show called 'Millionaire Worthy TV'.
'Millionaire Worthy' began as a research project through which the artist watched all 72 of the existing episodes of Millionaire Matchmaker and analyzed exactly what values were being communicated to its viewership by making spreadsheets and graphs detailing what traits men on the show state that they are looking for in women, and what the host declares unacceptable about the women she denies opportunities to date these men. Performing as analyst and (un)qualified authority, Angela Washko attempts to embody Patti Stanger's teachings…the impossibility of which is made clear by highly contradictory data." – AW
TIMETRAVELLER™ EPISODE 1 & 2,
Skawennati 2008-2013
6 min & 9 min
"It is critical that Aboriginal people show up in The Future. Sepia-toned, historical images of silent, unnamed Indians are everywhere but rarely do we appear in future imaginaries, even our own. As a Mohawk woman, I believe that we need to visualize ourselves as full participants in the future in order to assume our appropriate role as active agents in the shaping of new mediums and new societies. At the moment, nothing can represent The Future better than a real-time, interactive, 3D space where fantastical people populate improbable architecture and fly, teleport, and telepathically communicate their thoughts and dreams. Second Life, the popular virtual world, is such a space. How do Indigenous people fit into such spaces? And, more importantly, what is our role in defining those spaces? TimeTraveller™ is a creative and critical intervention into such discussions. TimeTraveller™ is a 9-part machinima that tells the story of Hunter, an angry young Mohawk man living in the 22nd century. Despite his impressive range of traditional skills, Hunter is unable to find his way in an overcrowded, hyperconsumerist, technologized world. He decides to use his edutainment system, his TimeTraveller™, to learn about his heritage. Through a bizarre glitch in the system, he meets Karahkwenhawi, a young Mohawk woman from our present. Together they criss-cross time, and end up discovering the complexity of history, truth, and love." – S
IN THE REALM OF RARE AND ANALOGOUS ACCIDENTS
Morehshin Allahyari, 2013
10 min
Side by Side; Searching for a relationship that defines the states of belonging; The space in the middle. Questioning the power of the image… the image that guides us. The image that lies. "Something is of course always lost when we get to see only one side. It is for the exact same reason that one must have the courage to confess the pain of the coma-like contrast of life and cinema. In this scenario, somehow we must put it all together to see the big picture; While in the state of unconsciousness, we are stuck at the thin edge of a screen where two worlds, two countries, and two cities separate for the sake of it. I feel helpless standing in the middle. In this chain of accidents, in this battle of guns and bombs, in the pile of my notes, thoughts, and nostalgic memories of Texas and Tehran, the world lacks trust in common sense." -M
{intermission}
HERE FOR YOU
Ann Hirsch, 2010
14 min
"In 2010 I was cast on the Vh1 reality dating series Frank the Entertainer…In a Basement Affair. I was one of fifteen female contestants vying for the heart of Frank "The Entertainer" Maresca, a thirty-year-old unemployed reality show mainstay, as we all lived in a house with Frank and his parents. I consider my time on the show a performance but I have also made work from the experience as well to recontextualize my experience for an art audience. Here For You combines footage from my reality TV experience, original video, and secret audio I captured during my in person audition. Edited to appear almost as a dream, this video explores the supposed sincerity that was assigned to my character during the show, questions the romantic nature of my relationship with Frank, and explores my mental state during the filming of the show and afterwards." – AH
HOT LUNCH
Narcissister, 2009
4 min
"Narcissister employs a spectacle-rich approach to explorations of gender, racial identity, and sexuality. Humor, pop songs, elaborate costumes, contemporary dance, and her trademark mask are her tools in deconstructing stereotypical representations. Narcissister questions fetishism, particularly sexual fetishism, which is notorious in its fixing of racist and gendering stereotypes. Rather than abandon this contaminated site, Narcissister dives headlong into the muck, into the depths of the fantasy and fetish itself, to expose and deconstruct their power." – N
UPSIDE DOWN ON AMERICA'S GOT TALENT
Narcissister, 2011
3 min
"People might ask, 'Why is she interested in these low brow possibilities? Why is she diluting her work? What about the politics' Is it possible to be strongly political and appear on these talent competitions? I think it's radical that I would want my work to be seen on such a huge platform. If one aspires to show only in the art world, who is going to see their work? Elitist culture, people already in the know, who are already liberal. To be able to reach all kind of people- different classes, ages groups – feels righteous. And I'm protected by the mask. Narcissister can always only be a mirror of what's around her." – N
POISON (MY SISTER FUCKED BRET)
Rachel Rampleman, 2006
31 min
"Rachel Rampleman's Poison (My Sister Fucked Bret) is a 30-minute video account of the artist's younger sister Sarah's early childhood introduction to, and later teenage interactions with, Bret Michaels – lead singer of '80s hair-metal / glam-rock band Poison. With Poison music video clips interspersed throughout, a now (circa 2006) adult Sarah, living as the single mother of a toddler, shares her vivid and hilarious recollections of her multiple encounters with Bret, which eventually culminated in her spending a deeply unsatisfying weekend with the object of her decade-long obsession at his "cheesy" mansion in Tennessee. Shot solely and claustrophobically within Sarah's 2006 Kentucky home, the stories relayed in this video convey in excruciating detail the experience of being a naïve and self-conscious adolescent in the suburban Midwest in the throes of total rock-idol worship, followed by the thrill and excitement, then ultimately the bittersweet disappointment, that actually getting to meet one's idol can entail." – RR