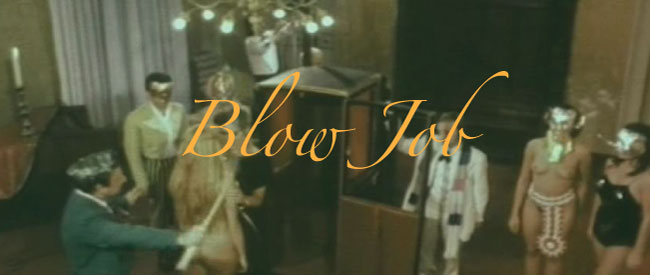 BLOW JOB
aka Soffio Erotico
Dir. Alberto Cavallone, 1980
Italy, 78 min.
In Italian with English subtitles
SATURDAY, MARCH 7 – 10 PM
TUESDAY, MARCH 10 – 7:30 PM
SUNDAY, MARCH 15 – 5 PM
WEDNESDAY, 18 – 7:30 PM
THURSDAY, MARCH 26 – 10 PM

Reportedly inspired by Aldous Huxley's Doors of Perception, BLOW JOB is a full blown out of body experience. What begins as a romantic retreat quickly heads south when a young couple, Diana and Stéfano, are evicted from their hotel room. Capitalizing on the conveniently timed suicide of their upstairs neighbor, the two sneak off to the races, intent on gambling away the last of their funds. There, Stéfano meets a mysterious, one-eyed woman who enlists his aid in exchange for the name of the winning pony. Fulfilling his end of the bargain, Stéfano and Diana drive the woman to her compound, where voodoo, mind-swapping and naked dance parties unwittingly await them. Building to its explosive, surrealist third act, BLOW JOB displays unexpectedly layered yet winking nuance — nevermind the title.
---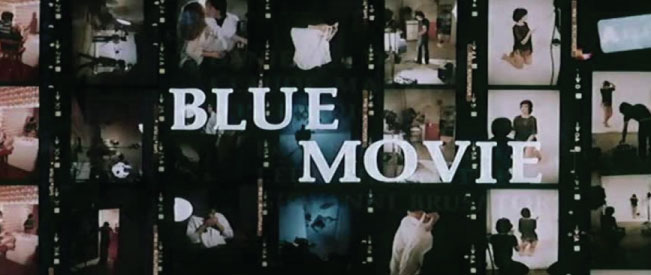 BLUE MOVIE
Dir. Alberto Cavallone, 1978
Italy, 84 min.
In Italian with English subtitles
MONDAY, MARCH 2 – 7:30 PM
FRIDAY, MARCH 6 – 7:30 PM
TUESDAY, MARCH 10 – 10 PM
TUESDAY, MARCH 24 – 10 PM
TUESDAY, MARCH 31 – 7:30 PM
"Cavallone made his masterpiece with this 1978 film, a sort of BLOW-UP as written by George Bataille and directed by Guy Debord…Much more than just a curiosity for compulsive Italian B-movie fans, BLUE MOVIE is a singular mixture of Situationist polemic, genre deconstruction, and zero budget auteurism." – Film Comment
Not to be confused with the claustrophobic Warhol film of the same name, BLUE MOVIE is an almost unplaceable genre exercise in trauma and perverse affection. Perhaps the most visually distinctive of the three films in this series, BLUE MOVIE pairs Silvia, grief stricken after an attempted rape, with her rescuer, a mysterious photographer by the name of Claudio, who has some skeletons of his own. What emerges is a bizarre love affair along two parallel tracks of madness.
[Trigger Warning: Repeated scenes of attempted rape.]
Special thanks to Raro Video.
---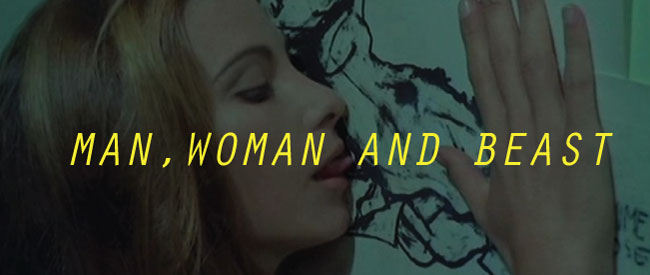 MAN, WOMAN AND BEAST
aka Spell – Dolce mattatoio
Dir. Alberto Cavallone, 1977
Italy, 100 min.
In Italian with English subtitles
MONDAY, MARCH 2 – 10 PM
SATURDAY, MARCH 7 – 7:30 PM
THURSDAY, MARCH 12 – 10 PM
TUESDAY, MARCH 17 – 10 PM
SUNDAY, MARCH 29 – 5 PM

A man too concerned with collages to confront his mute wife's psychosexual mania; a daughter impregnated by her father at her grandfather's funeral; a butcher a little too devoted to his products — that's just the tip of the very bizarre iceberg in Alberto Cavallone's anti-pastoral pastiche, MAN, WOMAN AND BEAST. Elemental though the title may be, this hallucinatory jaunt through an Italian village on the eve of an annual Catholic festival rewards repeat viewings thanks to its rhythmic cuts and roving narrative. By the ecstatic, percussive, feces-covered close, you can no longer be certain if the beast is man, meat, or what the film's women must become in order to survive.