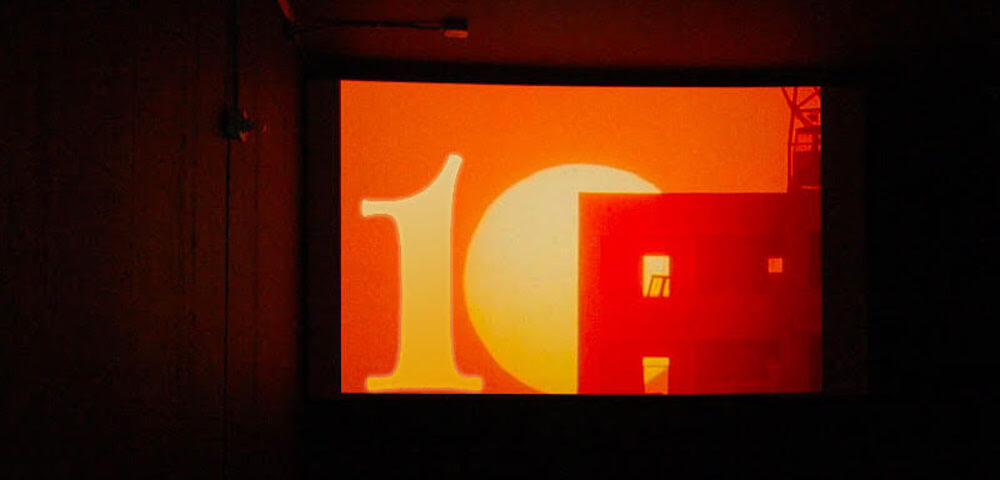 It's true: we just turned ten. And the party is just getting started. EVERY MOVIE IN THE HISTORY OF THE WORLD (PART ONE) is a stab at consolidating 3,600+ nights of lost and forgotten radical repertory and contemporary cinema into a digestible (but not-too-digestible) streaming program while the world burns: hand-picked selections of Spectacle yore, dusted off by the original programmers and grown all the more magnificent in the rear-view. Keep checking this page for updates as we roll into October and beyond!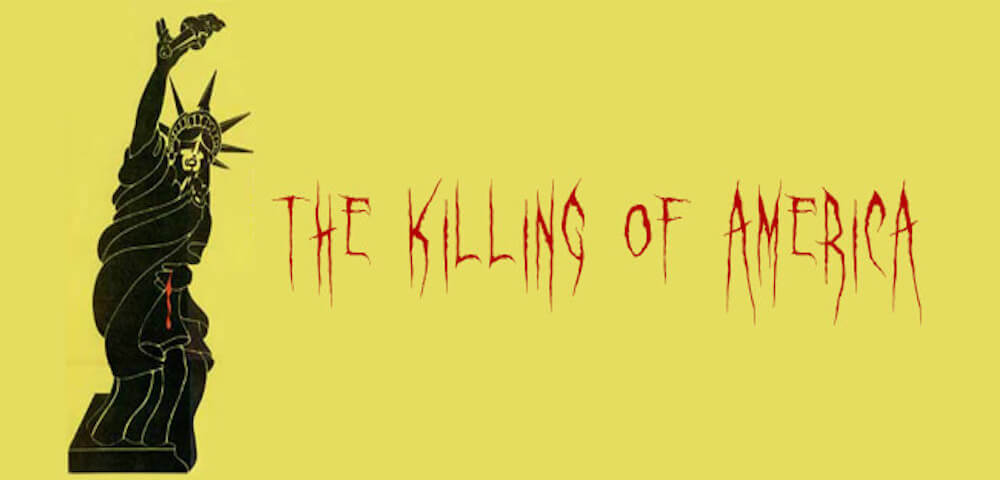 THE KILLING OF AMERICA
(aka VIOLENCE U.S.A.)
dirs. Sheldon Renan & Leonard Schrader, 1982
United States. 90 min.
SUNDAY, SEPTEMBER 20 – 7PM w/REMOTE Q&A featuring filmmaker Sheldon Renan only on Twitch
ALL OF THE FILM YOU ARE ABOUT TO SEE IS REAL. NOTHING HAS BEEN STAGED.
So begins the 1982 shockumentary THE KILLING OF AMERICA, a film that, even among its mondo movie contemporaries, stands out as one of the grimmest and most infamous films ever produced.
If violence is the disease, then THE KILLING OF AMERICA is the microscope. Compiled almost entirely from news broadcasts, security camera footage, etc, THE KILLING OF AMERICA chronicles nearly every major violent incident of the era, from the JFK assassination onward. The America presented here is land characterized by widespread burnout and disillusionment. Add to that the increasing pervasiveness of the mass media, as well as an obscene overabundance of firearms, and you are left with a sobering portrait of a sick society, in which insanity and paranoia breed easily. Meanwhile, decades later…
Directed by Sheldon Renan & Leonard Schrader (brother of Paul Schrader), and featuring a noteworthy narration by voiceover master Chuck Riley.
Originally screened July 2014 / September 2017. Special thanks to Preston Spurlock, Sheldon Renan, Lee Percy and the American Genre Film Archive.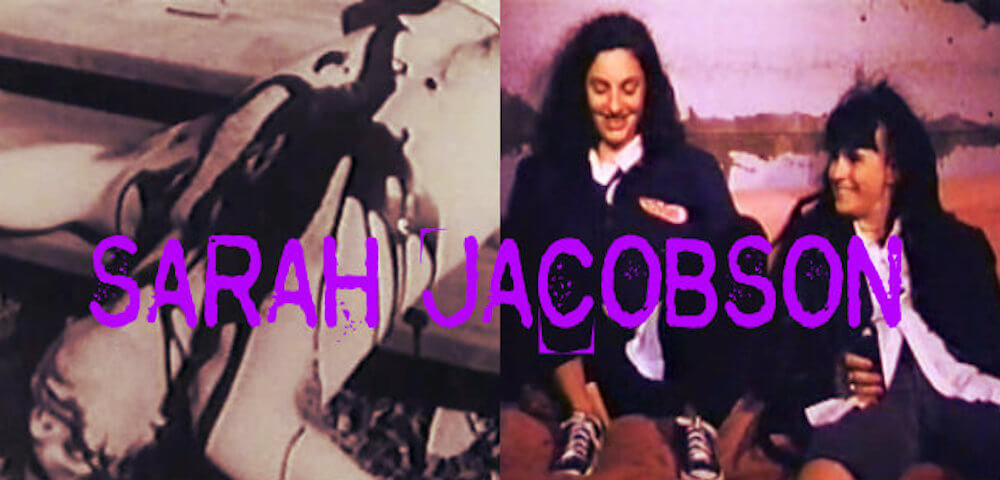 YOU CAN'T KEEP ME QUIET! FILMS BY SARAH JACOBSON
dir. Sarah Jacobson, 1991-1998
United States. 135 mins.
TUESDAY, SEPTEMBER 22 – 7PM only on Twitch
I WAS A TEENAGE SERIAL KILLER
27 min. 1993.
MARY JANE'S NOT A VIRGIN ANYMORE
98 min. 1998.
"I consider myself a feminist filmmaker, definitely. The whole reason I got into film was because I never saw cool girls in films that I liked. I have no fear of the word 'feminist.' I know that that has certain negative connotations to some people, but then why should I let other people's stupidity bully what I want to do, right? To me, feminism means that I should have an equal opportunity to do what I want to do as a woman. I don't want to be better than men, I don't want to shut men up. It's like, look, you've got your little thing over here, you've got your B-movie aesthetic, and I've got my interpretation of it that girls can enjoy, too, so you don't always have to watch the bimbo get raped or slashed or stalked or whatever." – Sarah Jacobson
Sarah Jacobson (1971-2004) was an independent filmmaker who led a DIY filmmaking movement in the 90s. She wrote and directed several short films, documentaries, music videos and a feature film. She formed Station Wagon Productions with her mother and producer Ruth Jacobson, and with Ruth's help self-promoted and distributed her films all over the country. Originally from New Jersey and Minneapolis, Jacobson studied briefly at Bard College and then at the San Francisco Art Institute with George Kuchar.
She directed I WAS A TEENAGE SERIAL KILLER in 1993 which she described as the story of "a 19-year-old girl who has a series of run-ins with various condescending men." Jacobson's slap-in-the-face feminist interpretation of "sexy"/violent B movies found a cult following. Jacobson went on to make her feature Mary Jane's Not a Virgin Anymore a few years later. Too in your face to be an after-school special, Mary Jane is a movie about sex from a girl's point of view. After a gross and unceremonious "first time" Jane learns about the joys of pleasing herself and asking for what she wants from her punky co-workers at a Midwestern movie theater (with Jello Biafra and Davey Havok cameos). Mary Jane debuted at the Chicago Underground Film Festival in 1997, and sold out at Sundance and SXSW; Jacobson promoted the film the year previous at the Independent Film Market with homemade "Not a Virgin" stickers her and her mom made at Kinko's. Spectacle's program will also include an early autobiographical short called Road Movie (or What I Learned in a Buick Station Wagon) (1991) which is the story of a college filmmaker who leaves Minneapolis for NYC after her professors and classmates make fun of her film (with an Adolfas Mekas cameo).
Originally screened June 2013. Special thanks to Katie Bradshaw, the Free History Project and the American Genre Film Archive. You can purchase the restored blu-rays of Jacobson's work here.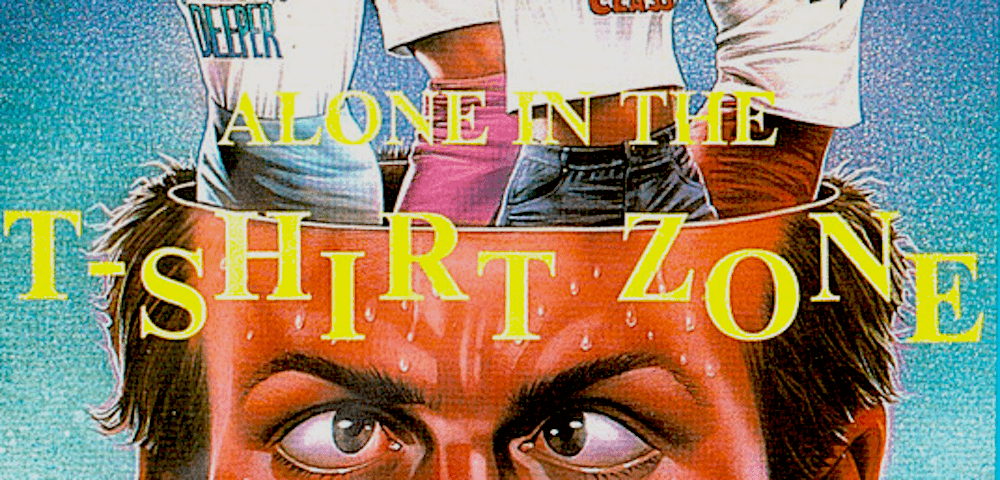 ALONE IN THE T-SHIRT ZONE
Dir. Mikel B. Anderson, 1986
United States. In English.
THURSDAY, SEPTEMBER 24 – 7PM w/REMOTE Q&A featuring filmmaker Mike B. Anderson only on Twitch
1986 offers up this surreal (so real) comedy/drama/dramady/fever dream. Mike (Michael Barrack) has had enough. After seeing a moderate amount of success with his "Foxy Lady" design, his career as an up and coming t-shirt artist as plateaued and is now moving along at a sludgy crawl. To make matters worse, his ex-girlfriend Jennifer (Jennifer McCasky Anderson) has moved on to greener pastures in the form of Mike's slimy, creep of a boss who pumps motivational tapes over the PA of the t-shirt factory all day. Mike has to get out, but quickly discovers that escaping the t-shirt zone is easier said than done.
Mikel B. Anderson (KAMILLIONS, The Simpsons) has crafted a film that's weird enough for midnights and human enough to stick with you the rest of the day. Stark, honest, desperate, scary, hilarious, and real.
Originally screened June 2011. Special thanks to Mark Freado, Jr., Junk Food Dinner and Mikel B. Anderson.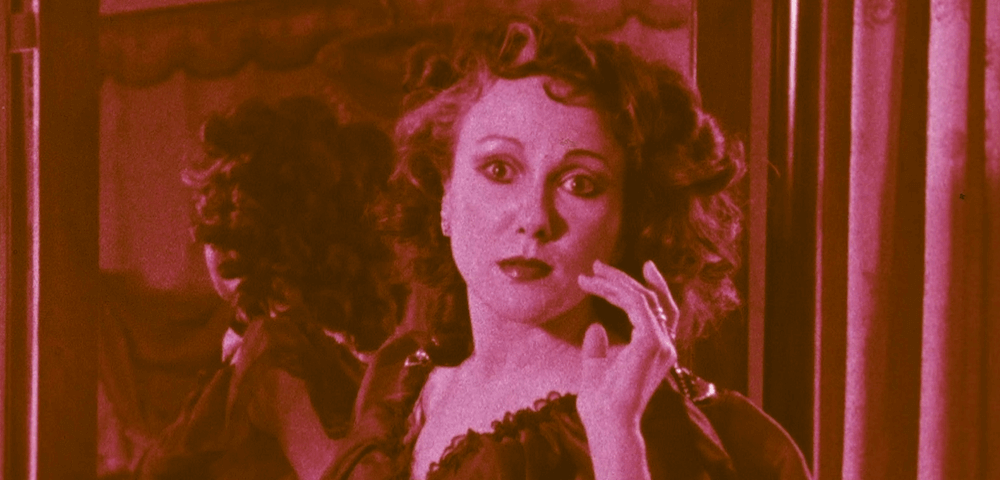 ELAINE AND OTHER SHORT FILMS BY ANDREW HORN
dirs. Andrew Horn, Robyn Brentano and John Meaney
100 mins. United States.
SUNDAY, SEPTEMBER 27 – 7PM only on Twitch
Originally screened back in February 2020, this program of newly rediscovered short films by our friend
Andrew Horn (1952-2019)
and a staggering list of downtown-era collaborators makes a perfect complement to longtime Spectacle favorite DOOMED LOVE (1984), screening at 9P. Individual descriptions below:
CHROMA
dir. Andrew Horn, 1974
8 mins. United States.
Shot at New York University, Horn's wordless, mindblowing student film CHROMA might be the missing link between the avant-garde cinema of the 1970s and Horn's later dance films to follow. The silhouettes of three dancers (red, green and blue) are played off one another while the grids and ladders of the modern metropolis – another feature that's recognizable across almost every film made by Horn – crossfade and overtake the screen. CHROMA received a special award of merit from the Academy of Motion Picture arts and Sciences; on his CV, Horn described the film like this: "real images are manipulated through special effects and printing to create an artificial dreamscape."
ROPE DANCE TRANSLATIONS
dir. John Meaney, 1974
20 mins. United States.
Andrew Horn was technical director on this black-and-white document of Andrew deGroat's hypnotic, swirling "Rope Dance Translations", originally performed at the Brooklyn Academy of Music by Robyn Brentano, Frank Converso, Charles Dennis, Ritty Ann Burchfield and deGroat himself. It was shot in a single day and lit by Carol Mullins (wife of Jim Neu, who would write DOOMED LOVE and THE BIG BLUE). The introductory text describes the dance as "relying on each individual dancer's energies and response to the ropes. The 'choreograph' for this dance is the geometry of the ropes, the centrifugal force of the spinning from and the strict revolving patterns of solo and chorus." The music for ROPE DANCE TRANSLATIONS was composed by Michael Galasso, who would go on to provide unforgettable string compositions for Wong Kar-Wai's IN THE MOOD FOR LOVE.
ELAINE: A STORY OF LOST LOVE
dirs. Andrew Horn & John Meaney, 1976
30 mins. United States.
In English.
A joint thesis project of Horn (at NYU) and his longtime collaborator John Meaney (at Montclair), the crushing and tragic ELAINE: A STORY OF LOST LOVE is adapted from an obscure Guy de Maupassant novella, lifted from a paperback bought by Meaney as an undergrad for 99 cents. What's evident is Horn's fascination for squared-off blocking and choreography, including a glimpse at a performance of Orpheus and Eurydice in miniature. Star Adam Macadam brought on other members of Charles Ludlam's Ridiculous Theater Company, many of whom would return to work on DOOMED LOVE.
Featuring ancient costumes on loan from the Metropolitan Opera (repurposed from early twentieth century productions of Tosca and La Traviata), ELAINE aspires to high gothic on a shoestring budget. Horn and Meaney shot at locations including the Morris-Jumel Mansion in Washington Heights, the Frick, and the Carnegie Hall Cinema, then operated by Sid Geffen and Jackie Raynal – the programmers responsible for hosting the first-ever New York City screenings of films by Marguerite Duras, an influence on the filmmakers (alongside Daniel Schmid, Douglas Sirk and Alain Resnais.) ELAINE was originally screened on a quadruple-bill alongside films by Bary Shiils, Robert Mapplethorpe, Rudy Burkhardt and Neil Welliver; J. Hoberman called ELAINE "a well-crafted, if precious, vehicle for Black-Eyed Susan and other members of the Ridiculous Theater Company."
CLOUD DANCE
dirs. Robyn Brentano & Andrew Horn, 1979
14 mins. United States.
In English.
Collaborating again with deGroat, Horn and Brentano filmed his improvised dance in "The Four-Armed Cloud," a large cube-shaped sculpture of thousands of linen threads by the artist Lenore Tawney at the NJ State Museum in Trenton. At a time when dance film convention was to show full bodies in continuous movement, Horn and Brentano worked with de Groat to develop movement sequences for the camera. They then developed a kind of relational editing by matching incongruous movements and using blackouts to create a visual logic that resulted in a surprisingly intimate and hypnotic cine-dance. Later, they added a poem by Christopher Knowles, read by Arby Ovanessian and a violin score improvised by Michael Galasso.
SPACE CITY
dirs. Robyn Brentano & Andrew Horn, 1981
28 mins. United States.
In English.
Collaborating this time with dancer Kenneth King, Horn and Brentano's most ambitious dance film anticipated the production value of Horn's later dramatic features. The action begins in an 18th century attic before slowly moving through the passages of a modern metropolis' early development, with King dancing to guide the action as the world expands – including a ghoulish and haunting superimposition of King dancing atop the Manhattan skyline.
In an interview with Millennium Film Journal, Horn pointed out that SPACE CITY put onscreen a number of personas adopted by King in his previous dance performances: "the old man, the little man that dances, the figure of the dreamer, the dancer." Brentano described it like this: "From the moment that the artist Rick Brintzenhofe suggested that he paint the city on these folding screens and modules we knew that we wanted to do a variety of set-ups and to edit those setups together using various orders so that it was like taking a deck of cards and shuffling them all together."
SPACE CITY takes the viewer through the thresholds of dreaming, waking, and transcendental awareness, using real and painted images of the city, a 19th century attic and outer space. King's voice recounts a dream of space without walls, a time of childhood and ecstasy.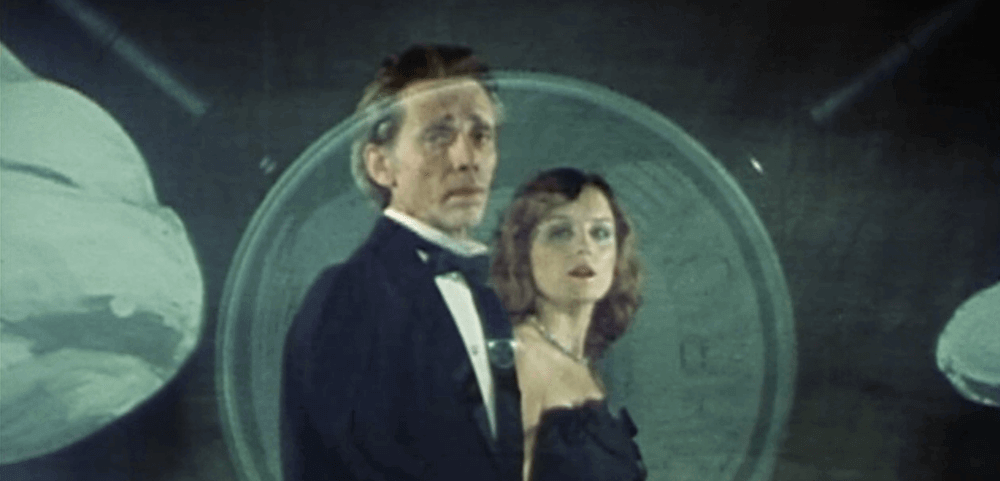 DOOMED LOVE
dir. Andrew Horn, 1984
72 mins. United States.
In English.
SUNDAY, SEPTEMBER 27 – 9PM only on Twitch
Made in piecemeal payments while Andrew Horn worked as a graphic artist in Koch-era Manhattan, DOOMED LOVE is a delectable hunk of sunken downtown treasure. Painter Bill Rice (SUBWAY RIDERS) stars as Andre, an aging professor of romantic literature who decides, in the film's doleful introductory passage, to commit suicide after losing the love of his life. Andre is tragicomically unsuccessful, but the attempt leads to a new acquaintance with a psychiatric nurse named Lois (Rosemary Moore), with whom he uncorks a kind of under-acknowledged romance of the soul. Whatever margins that once separated Andre's work as an academic and his reasons for going on (or not) have completely dissolved; Rice's monologues – scripted by the great playwright and longtime Horn collaborator Jim Neu – set a tone of deadpan monotony and piercing repetition.
"Life goes on, so to speak:" Horn's vignettes from Andre and Lois' – trapped in a state of paralyzing reverie, and newly married to Bob (Allen Frame), respectively – play against jawdropping 2-D backdrops mounted in the Lower East Side's Millennium Film Workshop where DOOMED LOVE was filmed. Amy Sillman and Pamela Wilson's muslin and cardboard "sets" make Horn's film a dour-yet-sweet exercise in epic theatre buttressed by an sparkling minimalist score from Evan Lurie (of The Lounge Lizards), with original songs by Lenny Pickett. At every opportunity – but especially this month, commemorating our annual ANTI-VALENTINE'S program as well as celebrating Andy's rich body of work – Spectacle is pleased to resuscitate this no-wave classic.
"DOOMED LOVE was my first feature film. It was made in the midst of what was then New Wave Cinema, but instead of the East Village I was taking my cues from Daniel Schmid and Werner Schroeder. I wanted to make an opera – without much knowledge of what opera was – and it became a musical. I wanted to make something mythic and only later discovered just how personal it was. I wanted it to be on a grand scale, which could only play out in a confined and artificial space. In those days we perversely wanted to alienate the audience and dare them to leave. In that I (thankfully) failed miserably." – Andrew Horn
Originally screened July 2016 and beyond. Special thanks to Hisami Kuroiwa, Kai Horn, Chris Horn, John Meaney, Robyn Brentano and Christopher Knowles.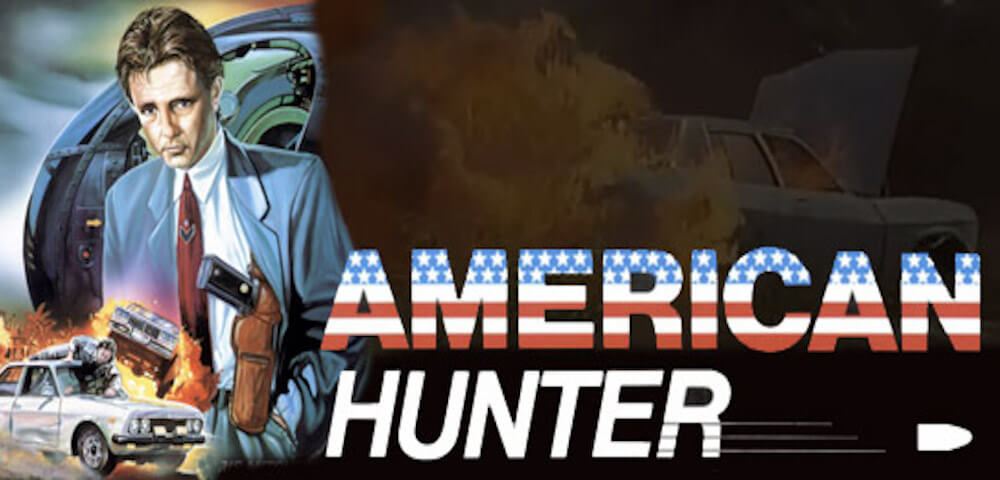 AMERICAN HUNTER
(aka LETHAL HUNTER)
dir. Arizal, 1988.
92 mins. Indonesia.
Indonesian dubbed into English with Japanese subtitles.
TUESDAY, SEPTEMBER 29 – 7PM EST only on Twitch
"With the information in this study, the wrong people could start a panic on Wall Street that would bring the Western World to its knees…"
In mononymous Indonesian action maestro Arizal's star-spangled shoot-'em-up, Christopher Mitchum, former 2012 Republican candidate for California Congressional District 24's United States House of Representatives seat, stars as Jake Carver, an "agent" whose self-described occupation is to "fight bad guys." As the AMERICAN HUNTER, Carver battles a multifariously evil organization over a piece of microfilm to unspecified ends. Highlights include a jeep driving off the side of one skyscraper into the window of another, a three-way motorcycle/pick-up truck/train chase, a baby being run over by a car crashing through the side of a supermarket yet miraculously surviving, an eight minute helicopter chase, an awkwardly clothed shower sex scene, one house explosion, one castle explosion, dozens of car explosions, male bondage and electrocution, and a fist fight inside a dungeon full of what appears to be cardboard boxes overflowing with shredded paper. Bill "Super Foot" Wallace stars as the bad guy whose nefariousness is conveyed through his variously keeping pet falcons and monkeys on his shoulder, and RAMBU's Peter O'Brien drops in for an unlikely turn as a hench villain who gets the shit kicked out of him then has his legs run over then crashes through a brick wall on the hood of a car. Approximately ten of the 92 action-packed minutes have been described.
This pre-election weekend, blow off some steam with AMERICAN HUNTER, the most EXPLOSIVE and AWE-INSPIRING action extravaganza EVER MADE! Jeeps driving off the sides of skyscrapers into the sides of other skyscrapers! Babies getting run over in epic car chases yet miraculously surviving! Anglo heros arcing over flaming piles shrapnel like star-spangled ropes of jism! FISTFIGHTS IN WAREHOUSES FULL OF SHREDDED PAPER!
The American Hunter has his own vision for the future of the United States of America: PAIN!
Originally screened Election Season 2012…. and beyond. Special thanks to Jon Dieringer, C. Spencer Yeh and Chris Mitchum.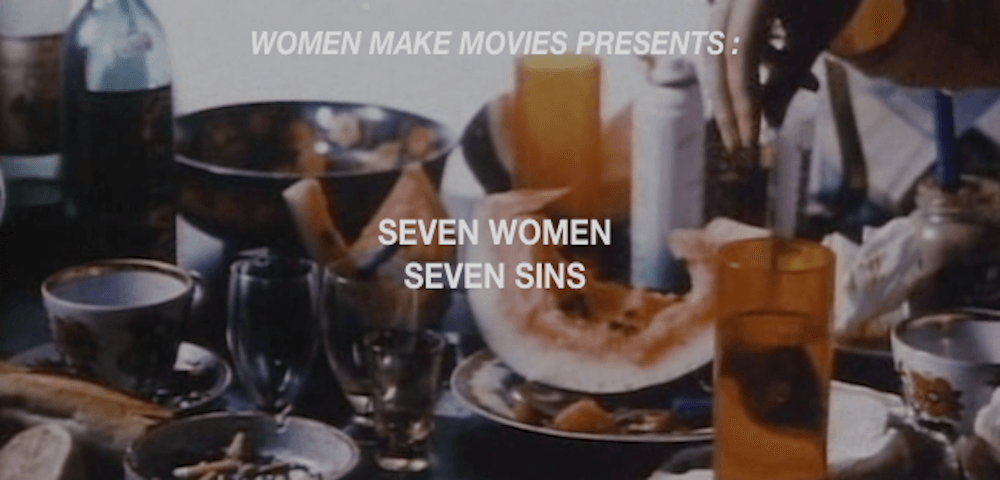 SEVEN WOMEN, SEVEN SINS
dirs. Chantal Akerman, Ulrike Ottinger, Bette Gordon, Maxi Cohen, VALIE-EXPORT, Laurence Gavron and Helke Sander. 1987.
101 mins. Various countries and languages with English subtitles.
WEDNESDAY, SEPTEMBER 30 – 7 PM only on Twitch
As wide-ranging an omnibus film as there has ever been, a group of some of the most important international filmmakers of the last few decades – all of them female – take on each of the biblical vices. Bette Gordon, Chantal Akerman, VALIE EXPORT, Maxi Cohen, Laurence Gavron and more contribute a contemporary celluloid sin. The result is a thoroughly unpredictable introduction to each filmmaker's work; encapsulating devious narratives and experimental collages, film and video.
What constitutes a deadly sin today? Seven of the world's best-known women directors produce their own version of celluloid sin in this omnibus film. Helke Sander (THE GERMANS AND THEIR MEN) reverses GLUTTONY with her vision of Eve forcing her apples into the hands of a reluctant Adam. Bette Gordon (VARIETY, EMPTY SUITCASES) finds GREED during a fight in the ladies' room of a luxury hotel over a lottery ticket. Strangers reply to director Maxi Cohen's ad in a newspaper to share their litanies in ANGER. Award-winning director, Chantal Akerman, battles to overcome her SLOTH in order to complete her film, while Valie Export (INVISIBLE ADVERSARIES) strips bare notions of the skin trade in LUST. ENVY turns into murder in Laurence Gavron's take on vice, and Ulrike Ottinger, whose work includes JOHANNA D'ARC OF MONGOLIA, illustrates PRIDE with a fantastical collage of allegory and images. SEVEN WOMEN – SEVEN SINS is the perfect introduction for those new to the world of women's filmmaking and an interesting study in styles for those already familiar with the work of these seven innovative directors.
Originally screened in October 2012 / June 2016. Special thanks to Women Make Movies.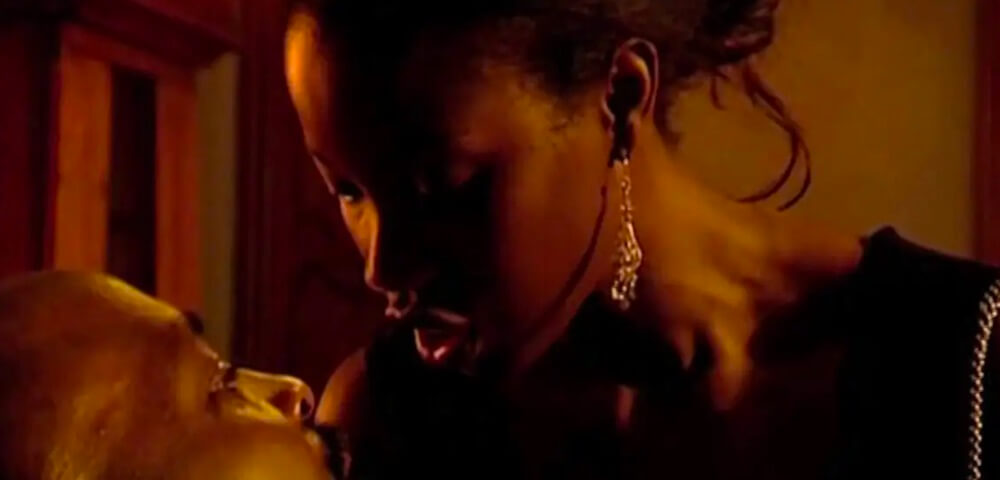 LES SAIGNANTES
(THE BLOOD-LETTES)
dir. Jean-Pierre Bekolo, 2005
Cameroon. 97 mins.
In French with English subtitles.
THURSDAY, OCTOBER 1 – 7PM EST only on Twitch
"We shouldn't just be making movies, we should be changing reality."
Director Jean-Pierre Bekolo has been making spirited, avant-garde films in and about his native Cameroon for the past twenty years. His imaginative work criticizes both his country's dictatorship, as well as Western cinematic conventions, offering a fresh perspective of Africa, of cinema, and especially of African cinema.
LES SAIGNANTES is the best African sci-fi vampire political satire with homoerotic overtones you've ever seen. Best friends Majolie and Chouchou are two beautiful young women trying to get ahead in a near-future Cameroon. After accidentally killing a powerful politician during sex, the two come up with a plot to dispose of the body, and get into the glamorous wakes that have taken over the local nightlife.
As the girls tear their way through the corrupt ruling class, using their their feminine wiles and magical powers, Bekolo drops inter-titles into the film, commenting on the difficulties of filmmaking in an oppressive political climate. With a feminist subtext and cinematography like a blacklight rave, LES SAIGNANTES is a beautiful, disorienting, and truly original work.
Originally screened July 2013. Special thanks to Jean-Pierre Bekolo, Annelise Ogaard, Derica Shields and Megan Eardley.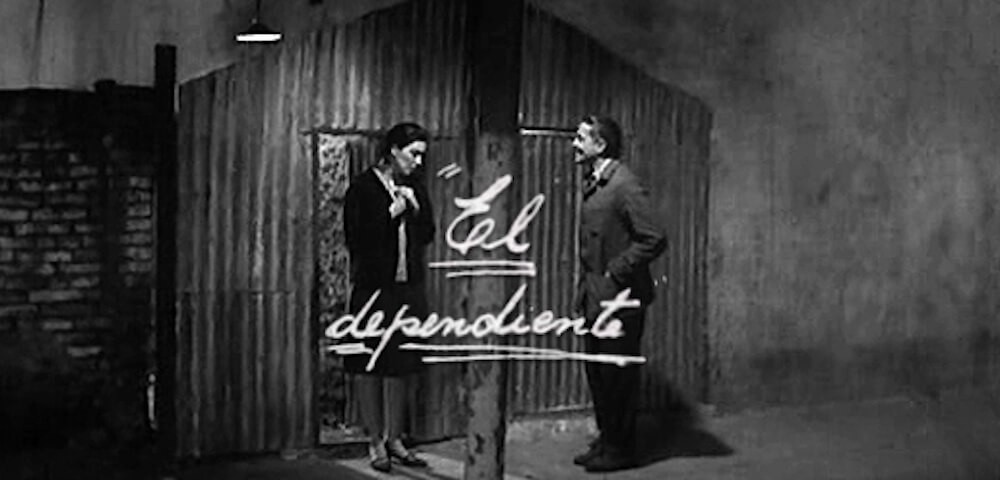 EL DEPENDIENTE
Dir. Leonardo Favio, 1969.
78 min. Argentina.
In Spanish with English subtitles.
SUNDAY, OCTOBER 4 – 7PM EST only on Twitch
EL DEPENDIENTE is the third feature directed by Leonardo Favio, Argentina's own Gainsbourgian renaissance man with the dual distinction of being a '60s and '70s pop icon and accomplished filmmaker. Whereas his first two features bear out of the influence of his mentor, Leopoldo Torre Nilsson, and Robert Bresson (and CHRONICLE OF A BOY AONE strongly suggesting Vigo's ZERO DE CONDUITE), EL DEPENDIENTE is another beast entirely that can perhaps only be compared to the startlingly similar ERASERHEAD in its suffocating portrayal of abject dread brutally punctuated with disturbing, absurdist humor. Walter Vidarte plays the title clerk, who works in a hardware store in a desolate provincial town. He ashamedly finds himself indulging in fantasies of the accidental death of his kind employer so that he one day might inherit the store. Each night on his way home he becomes transfixed by a gorgeous young woman lurking under the street light. His approaching her eventually leads to a string of muted nocturne encounters in the girl's dilapidated courtyard that grow increasingly anxious under the auspices of her doting, manically overbearing mother. Filmed in a stark chiaroscuro rife with vast, empty spaces, eerie ellipses and an almost palpable sense of the forlorn curdling into a brooding menace, EL DEPENDIENTE is, despite its considerable humor and charm, an ever-tightening knot in the stomach and one of the most abstruse, perplexing anti-date movies ever made.
Originally screened Spectober 2012. Special thanks to Jon Dieringer.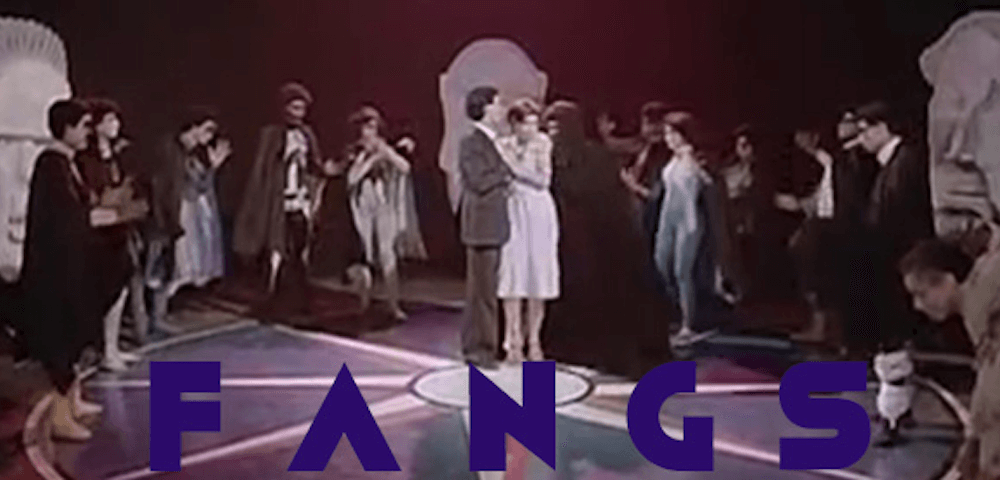 FANGS
(انياب)
Dir. Mohammed Shebl, 1981.
Egypt. 100 mins.
In Arabic with English subs.
TUESDAY, OCTOBER 6 – 7PM EST only on Twitch
The Arab Spring and aftermath has yielded an accompanying wave of essential social realist film documents. But where, you ask, are all the Middle Eastern disco vampires now? Those occupied a special part of the early 80s — namely the exhilarating Egyptian ultra-camp triumph that is FANGS.
The premise — a young couple attempt to shelter from a storm at a creepy castle only to have their lives changed forever — may have been lifted straight from THE ROCKY HORROR PICTURE SHOW (along with the dance numbers, professorial framing device, and disembodied lips intro sequence). But however much director Mohammed Shebl may have worn his love of that cult icon on his sleeve, his ambitious and wildly imaginative attempt to transcribe it into contemporary 1981 Egypt makes for something wholly his own. Black magic, singing vampires in spangles, Egyptian pop cameos, awkward climbing Dracula sequence, implausible fog machine deployment, a shockingly banging original electrofunk soundtrack by the film's co-writer (fleshed out with bizarre soundtrack cues lifted directly from American movies of the time), kinetic on-screen animation effects — it's all here.
In a memorable postmodern tangent the film even turns aside into social commentary to prove the existence of the ordinary "vampires of Egyptian society", wherein Dracula pops up in various mundane roles (price-gouging plumber, opportunistic cab driver, etc) to continue haunting the leads decades into the future. If there's any doubt about what sort of film world we're in, it'll be settled in the first minutes, when our protagonists' relationship is established via an outside-the-window-serenade, with a bunch of random joggers in knee socks and shorts leaping in as back-up dancers. All of which serves, as well, as a strange reminder of the much relaxed social climate that prevailed in Egypt 30 years ago. (In his next film, Shebl would even work in cuts from a Divine video to establish the appropriate vibe at a club scene.)
Mohammed Shebl, an iconoclastic radio personality and filmmaker who died young 20 years ago, was a bit of a glorious outlier in the Egyptian film world. Over the course of four features he fought a one-man war to jump-start the Egyptian horror film industry, which sadly never quite caught on with audiences and critics. But besides his own subsequent films, brimful of love for the likes of EVIL DEAD and NIGHTMARE ON ELM STREET, he did manage to inspire a brief generation of surreal ghost stories and tales of the Egyptian Weird, most sadly untranslated and unseen in the west. His debut FANGS, however, has been translated and provides an ecstatic, essential window into a rarely seen side of Arabic cinema.
Originally screened June 2016. Special thanks to Nate Dorr.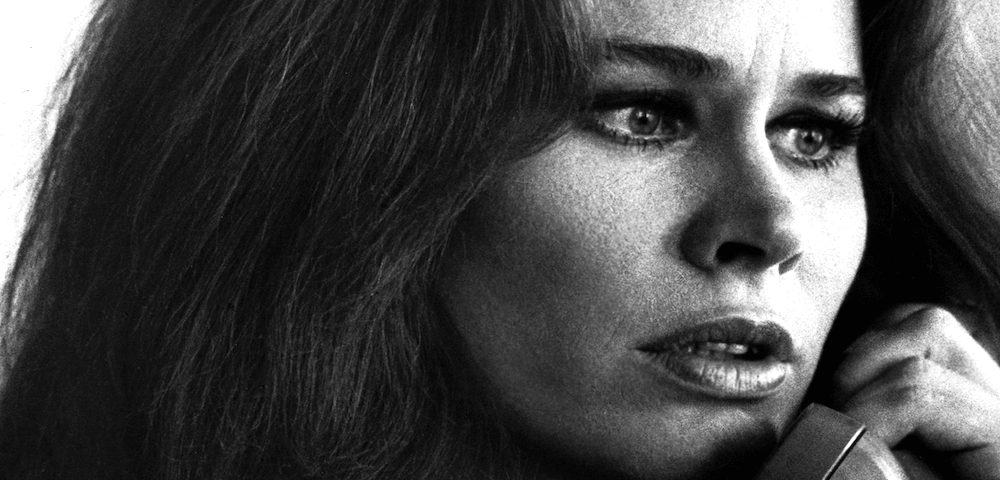 THE PYX
dir. Harvey Hart, 1973
Canada. 108 mins.
In English.
THURSDAY, OCTOBER 8 – 7PM EST only on Twitch
"You know my name."
Somewhere between ROSEMARY'S BABY and KLUTE, this Canadian supernatural mystery offers plenty to satisfy police procedural fans as Dr. Sgt. Jim Henderson (played by Christopher Plummer) investigates the murder of Elizabeth Lucy (Karen Black), and as the film moves back and forth between Henderson's investigation and Lucy's last days we learn of her connection to a cult of devil worshipers. While other films would try to drive up the tension, there's a quiet, sullen feel to this film, from the grubby rain-soaked streets of Montreal to Lucy's manipulative madam to the minimal orchestral score, supplemented by Karen Black's songs, all of which build a slower sense of inescapable dread. Lucy's conflagration of sex, heroin and Catholicism drifts through the entire film, a counterpoint to the increasing paranoia and futility of the detectives seeking to understand what remains beyond them as both storylines mirror the downward spiral of the other. Concluding with a backwards-chanting black mass and Henderson's showdown with cult leader Keerson (Jean-Louis Roux), it's a film that perfectly showcases the late Karen Black's singular presence.
Originally screened May 2015. Special thanks to Darren Bauler.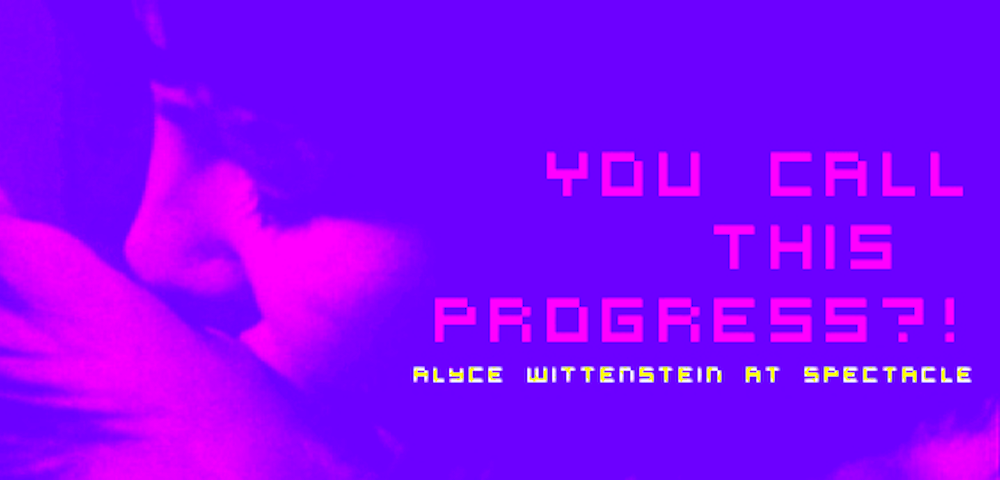 YOU CALL THIS PROGRESS?! ALYCE WITTENSTEIN'S MULTIPLE FUTURES TRILOGY
SUNDAY, OCTOBER 11 – 7PM EST w/Alyce Wittenstein for Remote Q&A on Twitch
Alyce Wittenstein has been called the "Queen of the New York Underground" and this May, Spectacle is pleased to play host to her and the films making up her MULTIPLE FUTURES trilogy. These films are filled to the brim with familiar faces, exquisite set pieces, snappy dialogue, and dazzling costumes. Hard to believe it's been almost 3 years since we first showed these incredible works but here we are. Join us all month for these remarkable films in a celebration of science fiction, hilarity, character actors, and ghastly view of a not-too-distant world.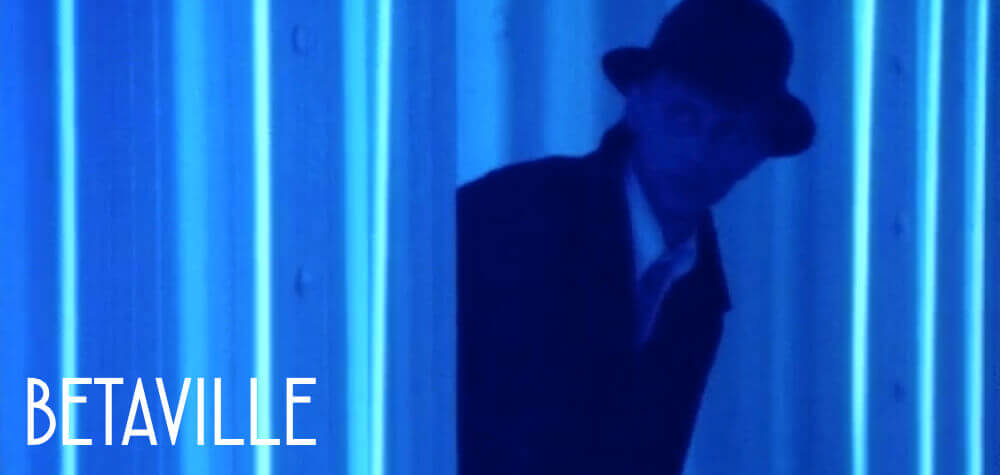 BETAVILLE

1986, 20 min.


The first in what would come to be known as the MULTIPLE FUTURES trilogy, BETAVILLE – a post-modern nightmare – finds a down and out detective Coman Gettme (played by Wittenstein mainstay Steve Ostringer) returning to his hometown after a chance meeting with The Girl (Holly Adams). Once the two arrive in Gettme's Cadillac things immediately go from bad to worse for this gumshoe when he learns, over a slice at Stromboli's, that High Fashion is the new law in town. Gettme becomes obsessed with The Girl and is determined to meet back up with her and "save" her from the these fashionable fascists.
BETAVILLE kicks off the trilogy in a pitch perfect send up of the French New Wave and science fiction, and turns noir on it's ear while (literally) running through some familiar parts of NYC. Holly Adams is nothing short of dynamite and Ostringer's distinctive production design would lay the groundwork for the look of the films to come. Years before becoming Brewmaster at the Brooklyn Brewery, Garrett Oliver was co-producer on the film. The short would go on to be nominated for a number of awards at festivals and play all over the world – often (unsurprisingly) alongside Godard's ALPHAVILLE.
"Most of the detective narrator dialogue is clever, the cinematography is excellent, and I liked the (sort of) industrial music and the song by the Singing Squirrels." – Michael J. Weldon, Psychotronic Magazine #2, 1989.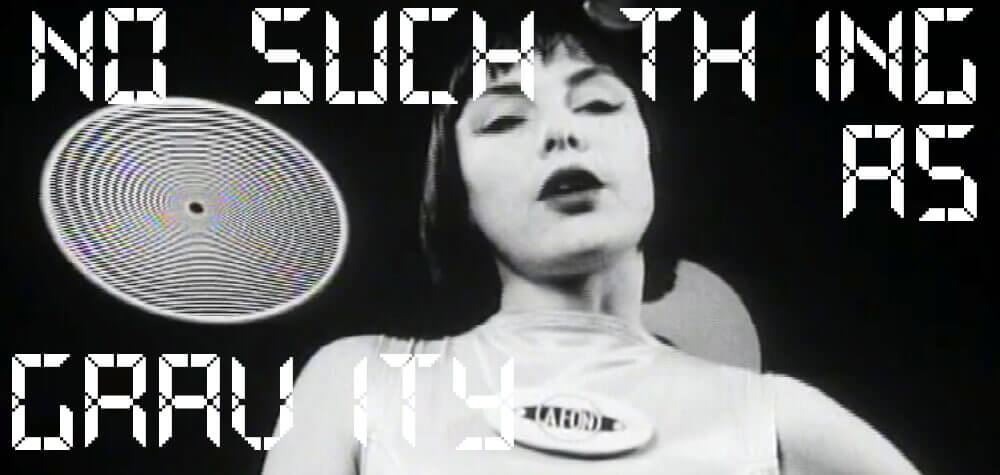 NO SUCH THING AS GRAVITY
1989, 40 min.In the not too distant future the LaFont corporation has all but taken over Earth. The company has revolutionized all elements of style, beauty, education, and housing but in the process (progress?!) has shipped many of Earth's more "useless" inhabitants to the mysterious man made planet – and the largest scale experiment in human history – known as Nova Terra. Two scientists – Kay Zorn (Holly Adams) and Albert Leenhardt (Steve Robinson) are about to receive a prestigious award for their work on the LaFont Facelifter when they learn that Nova Terra is disrupting the Earth's gravitational pull and will soon collide if it's not destroyed. A headstrong lawyer and Kay's boyfriend – Adam Malkonian (a scenery chewing Nick Zedd) – mouths off to a judge (the incomparable Taylor Mead – RIP) while defending a human teacher and is ordered to be relocated to the doomed planet. After meeting with the ambassador of Nova Terra (Emmanuelle Chaulet of Eric Rohmer's BOYFRIENDS AND GIRLFRIENDS), Malkonian learns that perhaps the LaFont Corporation hasn't been entirely truthful about what really happens on Nova Terra and vows to stop the destruction.Wittenstein's first sync sound film is overflowing with amazing set pieces and incredible performances. Some scenes were shot at the New York Hall of Science – including an Ames room and a number of other dazzling optical illusions. Look out for cameos from Michael J. Anderson (TWIN PEAKS), Wittenstein's father as the insidious Andreas LaFont, and the director herself on Nova Terra.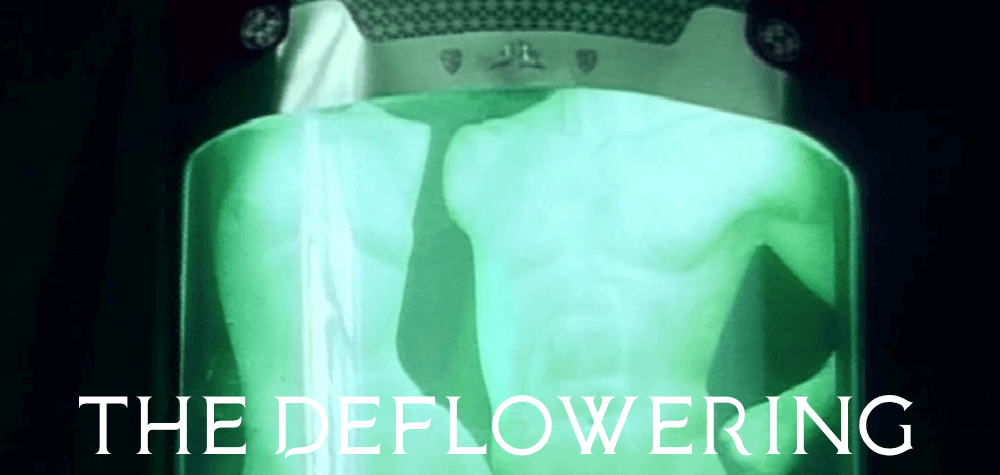 THE DEFLOWERING
1994, 40 min.
"The crisis consists precisely in the fact that the old are dying and the new cannot be born; in this interregnum a great variety of morbid symptoms appear." – Antonio Gramsci, Prison Notebooks
>The quote above opens Wittenstein's third and final film, THE DEFLOWERING. Again featuring some of Wittenstein's tried and true players – Holly Adams, Emmanuelle Chaulet, Taylor Mead, and more – the film concerns yet another evil corporation this time HUXLEY BIO-TECH and their means to sanitize/beautify this world of ours. This time Wittenstein (with Ostringer back on production design) takes the costuming helm as well.
The TIB (Total Immune Breakdown) virus has left the planet reeling and lethal allergic reaction are at an all time high. Huxley's efforts to produce perfect, designer children that are immune to viruses have had the side effect of hyper-allergic reactions. Why isn't anything being done about allergies? No one wants to fund it! With the mortality rate skyrocketing, can mankind bounce back and feel the soft caress of skin against skin ever again or will the line at the Holo-Memorial Funeral Home grow ever longer?
Originally screened September 2015. Special thanks to Alyce Wittenstein, Steve Ostringer and Mark Freado, Jr.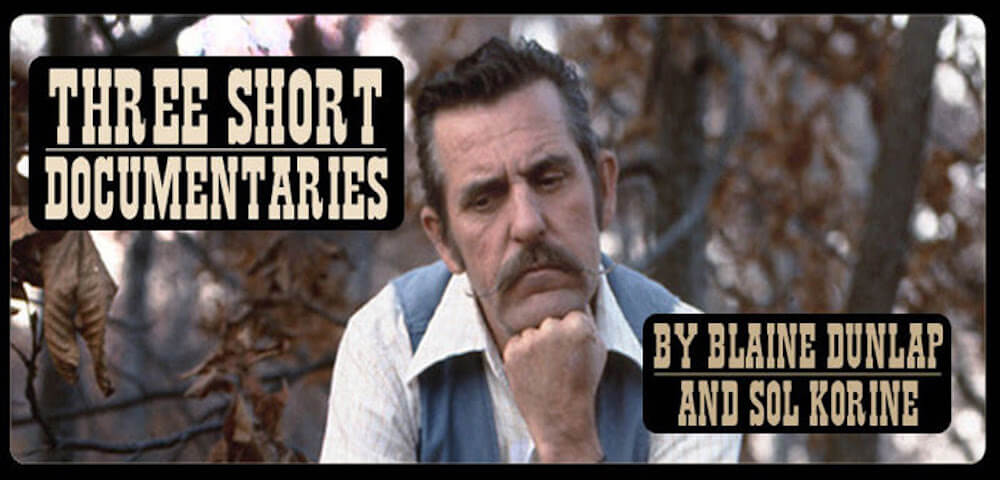 THREE SHORT DOCUMENTARIES
Dir: Blaine Dunlap and Sol Korine, 1978-1983.
100 mins. United States.
In English.
TUESDAY, OCTOBER 13 – 7PM only on Twitch
During the late 70s/early 80s, filmmakers Blaine Dunlap and Sol Korine (father of Harmony) documented the culture and people of the American south making documentaries for PBS. These are some of the first documentaries ever shot on portable analog video.
HAMPER McBEE – RAW MASH
1978. 48 mins.
A candid portrait of the Tennesse ballad singer, story-teller, and part-time moonshiner Hamper McBee. Hamper learned much lf his music from his father and friends around Monteagle Mountain and had established a reputation at folk festivals in the 1970s as an accomplished and expressive ballad singer. The film follows Hamper as he works, socializes, and talks about his music. He sings "Black Jack Davy," "Nine Hundred Miles," Wayfaring Stranger," "Rye Whiskey," and a song he wrote himself "Bill Malone," about the local constable who routinely arrested Hamper when he had too much to drink. Hamper McBee is also a moonshiner, and Raw Mash shows him plying his trade at this nearly lost art.
MOUTH MUSIC
1981. 25 mins.
MOUTH MUSIC demonstrates the distinctive modes of the human voice, the most influential of all musical instruments, takes on in southern folk music and folk culture. These modes can span traditional a cappella performance styles as well as unique expressive vocal forms that have evolved as part of daily life, work, and play: hollerin', jump-rope rhymes, "eephing," nonsense songs, auctioneering, drill sergeant's patter and others.
SOMETIMES IT'S GONNA HURT
1983. 27 mins.
Oklahoma is rodeo country. Sometimes Its Gonna Hurt is a film about the toughest of all rodeo events– bullriding, and how young riders grow up to become bullriders. The was commissioned by the PBS series, "Matters of Life and Death," and aired in the summer of 1983.
Originally screened in April 2012. Special thanks to Troy Swain, Jay Buim, Blaine Dunlap and Ruta Abolins (University of Georgia.)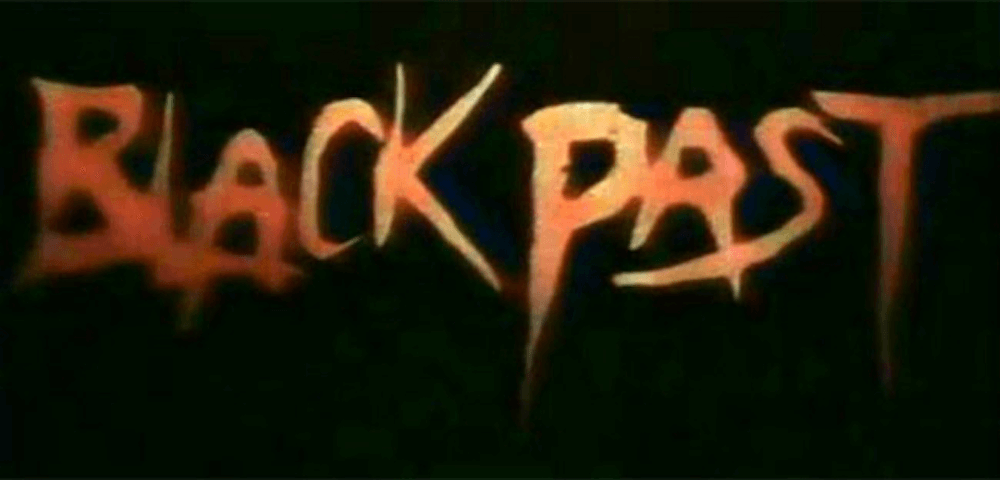 BLACK PAST
Dir. Olaf Ittenbach, 1989.
85 mins. Germany.
In German with English subtitles.
THURSDAY, OCTOBER 15 – 7P EST only on Twitch
Tommy is a troubled teen trying to make friends in a new town without too much luck. He is bullied by his new school mates, and even his family pokes fun at him. As if this isn't enough, the discovery of an ancient relic seems to release an evil that threatens to destroy him, and everyone he knows. As his demonic visions grow stronger, dreams begin to confuse reality, and Tommy spirals downward. But is it all in his head, or are the nightmares real?
They are real. Everyone is slaughtered. Xtreme violence and gore.
Originally screened March 2013. Special thanks to Wilt "Legz" Stewart.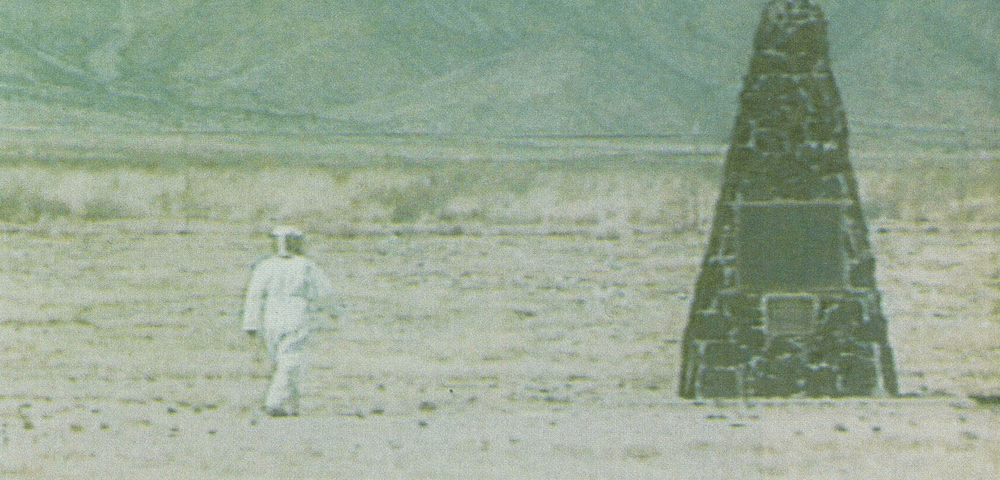 WAX, OR THE DISCOVERY OF TELEVISION AMONG THE BEES
Dir. David Blair, 1991
USA, 85 min
MONDAY, OCTOBER 26 – 7PM only on Twitch
WAX, OR THE DISCOVERY OF TELEVISION AMONG THE BEES (David Blair, 1991) from Spectacle on Vimeo
WAX, OR THE DISCOVERY OF TELEVISION AMONG THE BEES tells the surreal tale of Jacob Maker, a weapons guidance technician and part-time beekeeper whose life is overturned when his ancestral, Mesopotamian-bred bees begin taking control of his mind. A confounding, psychedelic visual collage of computer animation, video feedback textures, lo-fi home video, archival photographs, image plane manipulation, found footage and classic documentary all jumble together to form this pioneering new media experiment in narrative, all of which is delivered via insistent, unnerving voice-over in the manner of an alien essay film.
This singular film is the work of a singular man, David Blair, who completed WAX only after many years of support from a litany of arts organizations. Accordingly, it is a feat of many firsts, including: the first independent feature film ever edited on a non-linear editing system, the first film to be wholly translated into an interactive, hyper-textual online experience, and the first film in history to be streamed live over a computer network (in 1993!).
Special thanks to David Blair for all of his generous cooperation. Originally screened November 2012.