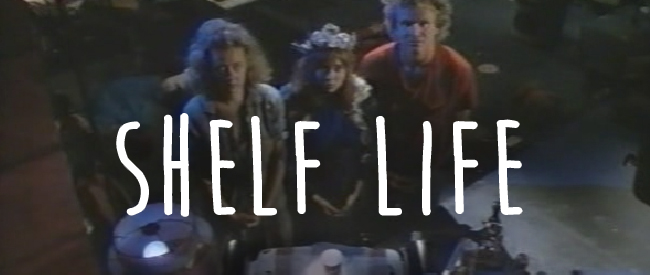 SHELF LIFE
Dir. Paul Bartel, 1993.
USA. 80 min.
SUNDAY, NOVEMBER 1 – 7:30 PM
TUESDAY, NOVEMBER 3 – 7:30 PM
SATURDAY, NOVEMBER 7 – 10:00 PM
THURSDAY, NOVEMBER 12 – 10:00 PM
1963 suburban America – a typical family gathered around the TV (conservative dad, gently inebriated mom, 2.5 kids) learn President Kennedy's been assassinated. Dad knows it's only a matter of time before the Commies, aliens, or whoever's responsible reach their lawn, so down into the bomb shelter they go, sealing themselves off from the world until it's safe to come out.
Thirty Years Later: Mom and Dad are long-dead from botulism, their skeletons neatly laid out in bed. It's another day in the life of their now-grown (but not adult) children in the bomb shelter as they bounce fluidly from game to game to self-invented ritual, popping on records to set the proper tone for Egyptian Slave, Clean-Up Mom, Restaurant and Mighty Car (among others). Capturing the full weirdness of actual kids at play, the siblings (O-Lan Jones, Andrea Stein, and Jim Turner) feed off each other's reactions, shifting allegiances and authority on a whim, incorporating everything absorbed and at hand (right wing propaganda, jingles, worn comic books, half-memories) into their hermetically sealed microcosm. Unconscious sexual tension hovers but never really breaks through. Brief bursts of modern television occasionally make it through 40 ft. of concrete to their old Philco Predicta, but can't link the siblings to a world they have absolutely no awareness of or interest in – the only fascination is as new fodder for their games.
In addition to consistent film and television acting, Paul Bartel directed a handful of offbeat classics, including EATING RAOUL and DEATH RACE 2000. 1993's SHELF LIFE was his last directorial feature before he passed away in 2000. The single set, limited players, and musical numbers hint at SHELF LIFE's stage-play origins, but the actors' total commitment and Bartel's focus on their dynamics keep it from ever feeling static. Never having had a proper theatrical release, we're very proud to present SHELF LIFE to the wider audience it deserves. Special thanks to Anne Kimmel and Wendy Bartel for all their help.