FRIDAY, SEPTEMBER 5: BLACK DRAGON'S REVENGE
SATURDAY, SEPTEMBER 6: BLACK SAMURAI
FRIDAY, SEPTEMBER 12: DON'T GO IN THE HOUSE
SATURDAY, SEPTEMBER 13: DON'T GO IN THE WOODS
FRIDAY, SEPTEMBER 19: SUPERCHICK
SATURDAY, SEPTEMBER 20: LAS VEGAS LADY
FRIDAY, SEPTEMBER 26: THREE ON A MEATHOOK
SATURDAY, SEPTEMBER 27: INVASION OF THE GIRL SNATCHERS
---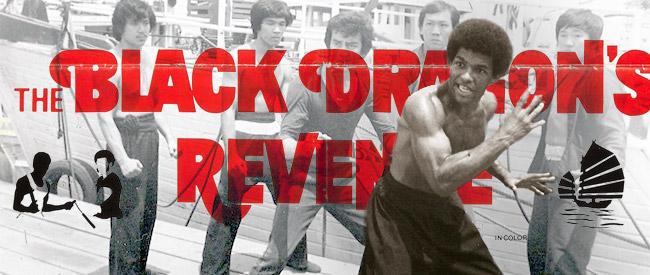 THE BLACK DRAGON'S REVENGE
Dir. Chin-Ku Lu, 1975.
USA/Hong Kong. 87 min.
FRIDAY, SEPTEMBER 5 – MIDNIGHT
In the 1960s, Ron van Clief was dubbed "The Black Dragon" by Bruce Lee. After Lee's death, a whole wave of Hong Kong cinema dubbed "Brucesploitation" sought to cash in on the star's death. Unlike many of them, THE BLACK DRAGON'S REVENGE, also known as THE DEATH OF BRUCE LEE, doesn't feature a lookalike. Rather, van Clief is summoned on an international mission to uncover the truth behind Lee's death. He's joined by the Bronx's Puerto Rican "White Dragon" Charles Bonnet.
Everything about THE BLACK DRAGON'S REVENGE is shamelessly, gloriously derivative, including the score that inexplicably rips off Ennio Morricone's theme from THE BATTLE OF ALGIERS. What puts THE BLACK DRAGON over the top is the awesome fighting by van Clief and Bonnet, both at the top of their form. (Also, uh, their hilariously stilted dialog exchanges.) The action is beautiful and brutal, particularly a scene in which Bonnet takes on a group of killers after tearing a large dart out of the side of his neck.
---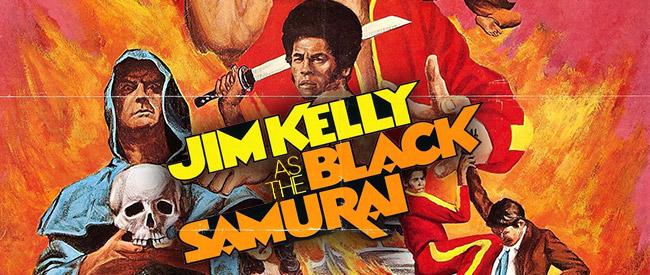 BLACK SAMURAI
Dir. Al Adamson, 1977.
USA. 88 min.
SATURDAY, SEPTEMBER 6 – MIDNIGHT
ENTER THE DRAGON's "Kicking-rhymes-like" Jim Kelly stars in this amazing attempt to cram every possible comic book conceit into a single blaxploitation kung fu occult spy movie. Kelly is Robert Sand, Agent of D.R.A.G.O.N., coerced by shady government operatives into traveling around the world in pursuit of evil warlock Janicot and his legion of henchmen (notably including several little people, some of whom know karate, and others who just wield large shotguns). He's going to need all his kung fu skills to get through this mission–along with shotguns, supercharged trick cars, a mariachi band, decorative live snakes, and an actual JETPACK. I honestly didn't even know jetpacks were real until I saw the Jim Kelly flying around in one, plain as day, without any apparent special effects, and looked up jetpacks on Wikipedia.
Anyway: that platonic-ideal, balls-to-the-wall, kitchen-sink exploitation movie you've always wanted to see but never knew how to find? It's showing at Spectacle tonight.
---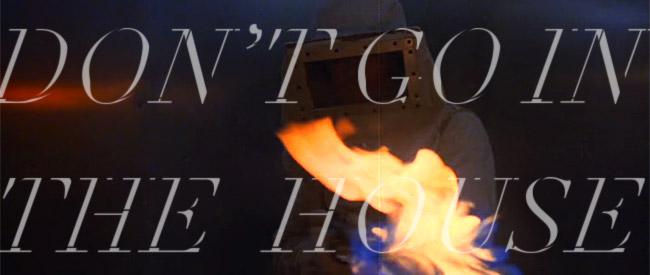 DON'T GO IN THE HOUSE
Dir. Joseph Ellison, 1979.
USA. 82 min.
FRIDAY, SEPTEMBER 12 – MIDNIGHT
D. Boon asked, "What makes a man start fires?" Donny's coworkers at the garbage disposal plant call him a fag and a sicko when he stands coldly transfixed as the incinerator envelops a co-worker in flames. He returns home to find his mother dead: his long-suffering guardian, who punished him as a child by holding his arms over the stove's open flames. The curdled scars on his arms say nothing of the hideous psychological brand on his brain. His homicidal passion ignited, Donny does what any frustrated man would do: buys a flamethrower, builds a steel room, and lures women home so he can set them ablaze then arrange their charred corpses in his sitting room.
A decidedly sick ripoff of PSYCHO, DON'T GO IN THE HOUSE is perhaps less along the lines of a cheapie slasher than a film that seems to at least some extent be legitimately interested in creating a character portrait around a disturbed mind. (When Donny decides he's been cured and changes from his working class duds into a new leisure suit, you almost want to believe he's going to find true love at the discotheque instead of lighting a bunch of people on fire.) Consider it TAXI DRIVER with a blowtorch and the grindhouse version of a Scorsesean Catholic guilt complex. Future SOPRANOS wiseguy Dan Grimaldi turns in a memorable performance as Donny, and the film has some truly creepy moments and shocking scares.
---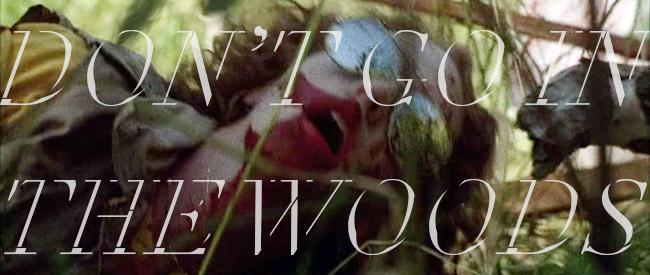 DON'T GO IN THE WOODS
Dir. James Bryan, 1981.
USA. 82 min.
SATURDAY, SEPTEMBER 13 – MIDNIGHT
Possibly a conceptual art project to make the most consummately inept slasher film ever, DON'T GO IN THE WOODS is totally riveting for its singular oddball charm. Even if the filmmakers couldn't figure out how to load the camera correctly (as evinced by occasional flares on the side of the image), they sure-as-F knew how to unleash buckets of blood. The sort of plot-like thing is basically something to do with this giant grizzly survivalist guy running around killing a ton of people. That's basically it.
Like Godard's 2 OR 3 THINGS I KNOW ABOUT HER, there isn't really a central protagonist, just an endless stream of campers, lovers, ornithologists, painters, roller skaters, and whatever kind of chilling and doing their thing before their guts are ripped out or their heads are smacked by swinging bear traps and stuff — under a bed of what is surely some of the most offensive use of synthesizer ever. Do we even need to tell you that this is essential bad-movie viewing?
---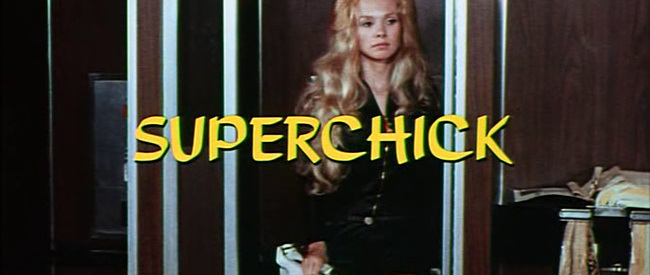 SUPERCHICK
Dir. Ed Forsyth, 1973.
USA, 94 min.
FRIDAY, SEPTEMBER 19 – MIDNIGHT
Tara True (Joyce Jillson, better known today as Nancy Reagan's astrologer) spends her days as a flight attendant, where she wears a wig to downplay her attractiveness, but by night she's a free-wheeling karate-wielding lady with a different man in every town! Between water skiing, reefer parties and mocking trenchcoated perverts, one of her gentleman callers wants her to help in a bank heist.
John Carradine as a creepy sadist and Dan Haggerty as (you guessed it) a biker! Sex on a piano! All the nudity you'd expect from an early 70s Crown International film (there's a short buy sweet Uschi Digard cameo) make this a more action-packed counterpart to the AIP Stewardesses series!
---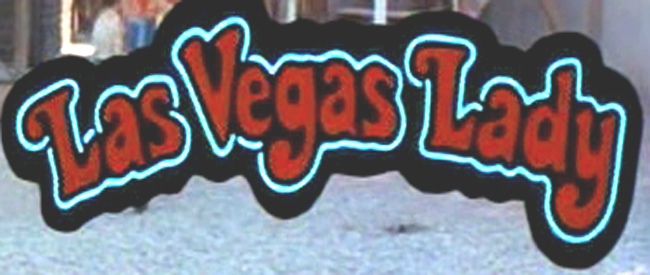 LAS VEGAS LADY
Dir. Noel Nosseck, 1975.
USA, 87 min.
SATURDAY, SEPTEMBER 20 – MIDNIGHT
More glitzy 70s capers with casino hostess Lucky (TV stalwart Stella Stevens) planning to rip off Circus Circus for millions in LAS VEGAS LADY!
With supporting roles by Andrew Stevens (who, a year later, played Mark in the Spectacle fave Massacre At Central High), George DiCenzo (Helter Skelter) and Frank Bonner (WKRP's Herb Tarlek)!
---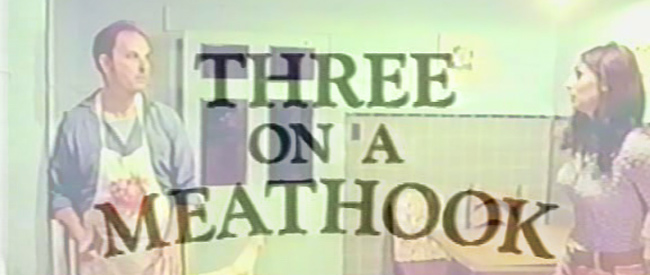 THREE ON A MEATHOOK
Dir. William Girdler, 1973.
USA, 80 min.
FRIDAY, SEPTEMBER 26 – MIDNIGHT
"But I would have remembered it." "You didn't remember the others, Billy."
Based loosely on the life and crimes of Ed Gein, William Girdler's second feature (after the amazing ASYLUM OF SATAN) is a bleak, grainy look at backwoods dread and familial madness. Starting with a stock trope (four young women go backpacking in the Kentucky woods), the film hits its stride when Billy Townsend discovers the girls camping by their farmhouse and invites them to stay with his father and himself. Pa has convinced Billy he's actually a psychotic killer and warns Billy against the women staying over, but things are not quite as they seem…
Containing gore effects by spookshow magician and H.G Lewis associate Pat Patterson, it's a film well-saturated in deep red, and certainly those looking for some skinny-dipping nudity won't be disappointed. Shot in the same farmhouse used in INVASION OF THE GIRL SNATCHERS (later burned to the ground by arsonists convinced it was used for Satanic rites), THREE ON A MEATHOOK contains much of the same blank-eyed stare as Frederic Friedel's film AXE — it's definitely one to catch for fans of 70s rural horror.
"The VHS revolution made it possible for folks my age to see fellow Louisvillian William Girdler's indelible (blood-stained), instantaneous period piece THREE ON A MEATHOOK, which had long been the subject of rumor and speculation.  And somewhat as expected – and like many other things from the Bluegrass State – it became cause in equal parts for perverse pride and horror." – David Grubbs
---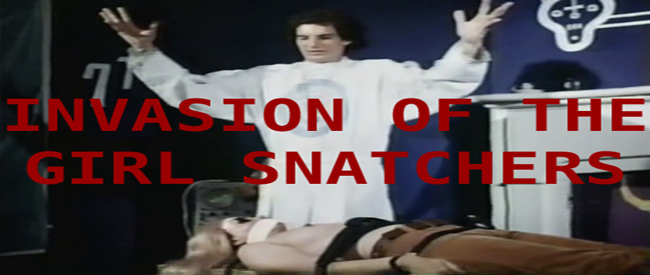 INVASION OF THE GIRL SNATCHERS
Dir. Lee Jones, 1973.
USA, 93 min.
SATURDAY, SEPTEMBER 27 – MIDNIGHT
"Nice glyphs!"
New wave parody? Secret truth about UFOs? Stoned goof? INVASION OF THE GIRL SNATCHERS is all three and more to boot. Made using some of the same sets, equipment and crew as Three On A Meathook, this film was originally titled The Hidan Of Maukbeiangjow (Hidan meaning "high place") by Don Elkins and Carla Rueckert, two UFO researchers (see here for more info) asked by director Lee Jones (who produced SUPERVAN, GRIZZLY, and HONEY BRITCHES) to write any script they wanted so long as it had sex and violence.
With befuddled aliens, tracking devices hidden in bras, a safecracker named Freddie Fingers, body-switching, topless sorcery and more, GIRL SNATCHERS is like a zero budget MISSION: IMPOSSIBLE with metaphysical digressions, goofball puns and a lovely rural Kentucky quality that puts more self-conscious parodies to shame.
---