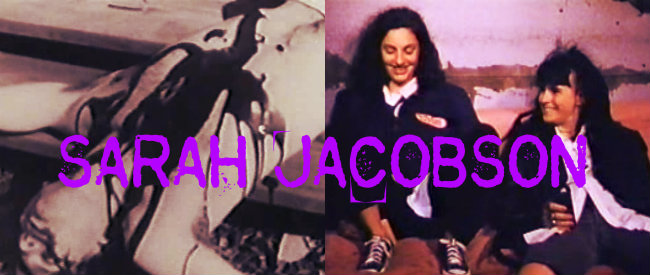 YOU CAN'T KEEP ME QUIET!: FILMS BY SARAH JACOBSON
FRIDAY, JUNE 14TH – 8PM (w/ special guest Sam Green!)
SUNDAY, JUNE 30TH – 8PM (w/ special guest Mikki Halpin!)
"I consider myself a feminist filmmaker, definitely. The whole reason I got into film was because I never saw cool girls in films that I liked. I have no fear of the word 'feminist.' I know that that has certain negative connotations to some people, but then why should I let other people's stupidity bully what I want to do, right? To me, feminism means that I should have an equal opportunity to do what I want to do as a woman. I don't want to be better than men, I don't want to shut men up. It's like, look, you've got your little thing over here, you've got your B-movie aesthetic, and I've got my interpretation of it that girls can enjoy, too, so you don't always have to watch the bimbo get raped or slashed or stalked or whatever." –Sarah Jacobson
---
ROAD MOVIE (OR WHAT I LEARNED IN A BUICK STATION WAGON)
Dir: Sarah Jacobson, 1991.
10 min. USA.
I WAS A TEENAGE SERIAL KILLER
Dir: Sarah Jacobson, 1993.
27 min. USA.
MARY JANE'S NOT A VIRGIN ANYMORE
Dir: Sarah Jacobson, 1998.
98 min. USA.
---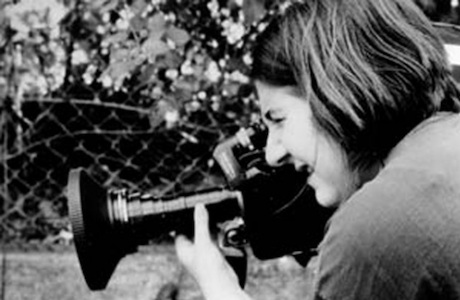 Sarah Jacobson (1971-2004) was an independent filmmaker who led a DIY filmmaking movement in the 90s. She wrote and directed several short films, documentaries, music videos and a feature film. She formed Station Wagon Productions with her mother and producer Ruth Jacobson and with her help, Sarah self-promoted and distributed her films all over the country. Originally from New Jersey and Minneapolis, Jacobson studied briefly at Bard College and then at the San Francisco Art Institute with George Kuchar.
She directed I Was a Teenage Serial Killer in 1993, which she described as the story of "a 19-year-old girl who has a series of run-ins with various condescending men." Jacobson's slap-in-the-face feminist interpretation of "sexy"/violent B movies found a cult following. Jacobson went on to make her feature Mary Jane's Not a Virgin Anymore a few years later.
Too in your face to be an after-school special, Mary Jane's Not a Virgin Anymore is a movie about sex from a girl's point of view. After a gross and unceremonious "first time," Jane learns about the joys of pleasing herself and asking for what she wants from her punky co-workers at a Midwestern movie theater (with Jello Biafra and Davey Havok cameos). the film debuted at the Chicago Underground Film Festival in 1997 and sold out at Sundance and SXSW; Jacobson promoted the film the year previous at the Independent Film Market with homemade "Not a Virgin" stickers that her and her mom made at Kinko's.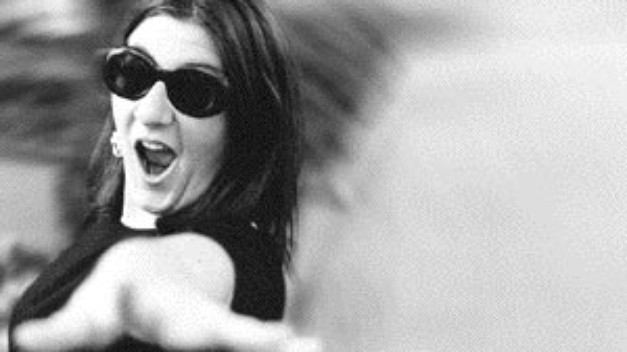 After cancer ended Sarah Jacobson's life in 2004, her mother Ruth and Sam Green established the Sarah Jacobson Film Grant to support young women "whose work embodies some of the things Sarah stood for: a fierce DIY approach to filmmaking, a radical social critique, and thoroughly underground sensibility." Find out more about the Sarah Jacobson Film Grant here.
Filmmaker Sam Green will be at Spectacle on June 14th for a Q&A, and writer Mikki Halpin, who now runs the SJ Film Grant, will be at the June 30th screening. Jacobson's DVDs will be on sale to benefit the film grant fund!
Spectacle's program will also include an early autobiographical short called Road Movie (or What I Learned in a Buick Station Wagon) (1991) which is the story of a college filmmaker who leaves Minneapolis for NYC after her professors and classmates make fun of her film (with an Adolfas Mekas cameo).