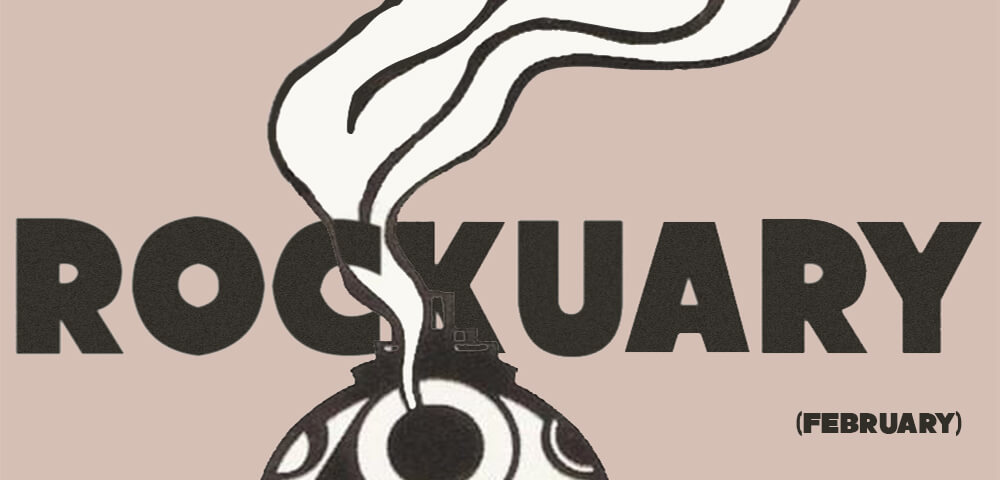 The genesis of Rockuary has faded into legend, however it remains a February institution of music in film, music on film, the country love letter, and the occasional rock opera at Spectacle.
This Rockuary features Sarah Minter's must-see punk dramas, the return of HEARTWORN HIGHWAYS (along with H.H. REVISITED), and Jim Wolpaw's Rhode Island epic, IT'S A COMPLEX WORLD. THE THE's INFECTED is screening alongside Too $hort's classic era videos. You have one night to catch psych-rockers The Taj Mahal Travellers, Les Rallizes Dénudés, and D.C. rock legend Butch Willis!
I want to rock! (Rock!)
I want to rock! (Rock!)
I want to rock! (Rock!)
I want to rock! (Rock!)
Special thanks to Graham Leader, Emiliano Rocha Minter and Claudia Bestor of the UCLA Hammer Museum.
---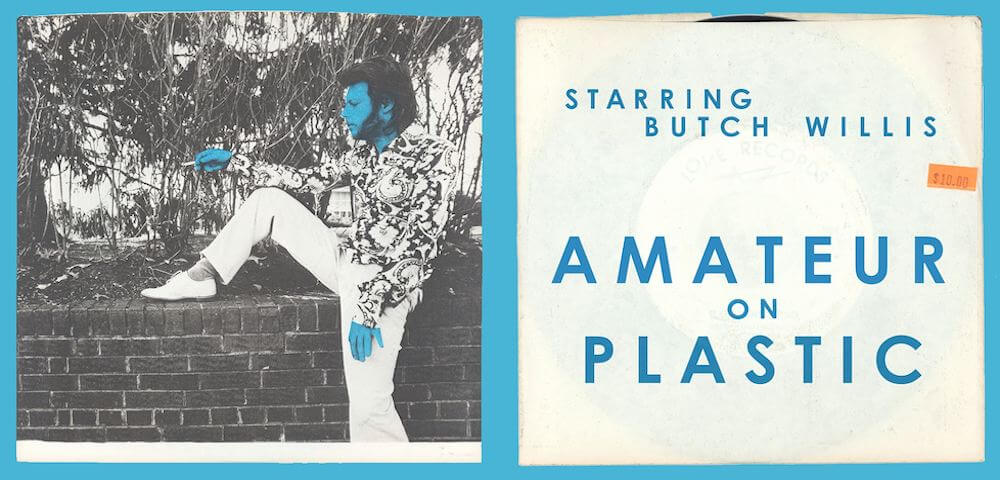 AMATEUR ON PLASTIC
dir. Mark Robinson, 2019
77 min.
ONE NIGHT ONLY! FILMMAKER IN PERSON!
SATURDAY FEBRUARY 9 – 5:00 PM *THIS EVENT IS $10*
SATURDAY FEBRUARY 9 – 7:30 PM *THIS EVENT IS $10*
ONLINE TICKETS
DUMBASS FACEBOOK EVENT
BUTCH WILLIS is a Washington, D.C. rock legend. Born and raised in Beltsville, Maryland, Byron Henry "Butch" Willis came of age in the late '70s post-hippie subculture of Takoma Park. After sharing an apartment with infamous local music icon Root Boy Slim, Butch was inspired to become a rock'n'roll star himself.
The unique and unusual brand of "outsider music" that Butch Willis & The Rocks created captivated the local D.C. music scene beginning with their appearance at the seminal Primitive Night at the Psychedelly in Bethesda in 1984. AMATEUR ON PLASTIC chronicles Butch's life and career from the '80s all the way through to present day. It features a host of Butch-appointed band managers Joe Lee (Joe's Record Paradise), Jeff Mentges (No Trend), Jeff Krulik (Heavy Metal Parking Lot), and director Mark Robinson (Unrest/Teen-Beat). Also co-starring is Al Breon, the Rocks' innovative "throat guitarist." The film combines archival footage, interviews with Butch, and performances of his hit songs "Drugs," "The Garden's Outside," "TV's From Outer Space," and "The Girl's on My Mind."
---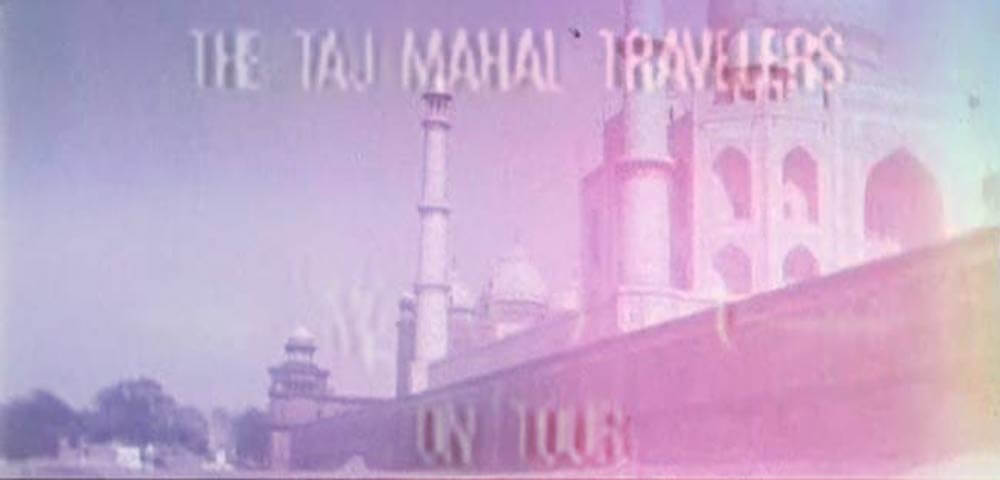 THE TAJ MAHAL TRAVELLERS ON TOUR
dir. Matsuo Ohno, 1972
Japan, 102 min.
SATURDAY, FEBRUARY 23 – 7:30 PM
ONE NIGHT ONLY!
ONLINE TICKETS
DUMBASS FACEBOOK EVENT
A travelogue of the most expansive and mind-manifesting sort, Matsuo Ohno's documentary follows the gargantuan yearlong 1972 tour of his fellow experimental-music frontiersmen, the Fluxus-associated action-artist Takehisa Kosugi's acid-ambient ensemble Taj Mahal Travellers, as they set out from their native Japan with a rune-inscribed VW Minibus for Scandinavia, meander through Alpine Europe to Rome, Greece and Istanbul, traverse the Middle East via Iran, Kabul and Pakistan to end, finally, at the glittering palace of their namesake, the Taj Mahal itself! Along the way, the band plies its otherworldly improvisational art at areas of intense natural beauty, state-sponsored museums and ancient holy sights – ecstatically fulfilling their self-styled commitment to "play where ever there is a power-source."
Kosugi's rambling, spontaneous and worldly compositional method is perfectly matched by his open-ended touring approach, with a heavy emphasis placed on pure immersion in local culture and music. The resultant cinema-verite of the sticklike ebullient longhairs taking in the sights, trying the local fare, jamming on seaside cliffs and hanging with historic heavies like Don Cherry makes for a meditative and mimetic biopic of the entire touring experience, replete with an ever-shifting language-barrier. Ohno, a longtime mentor and collaborator of Kosugi famous for his own pioneering electronic music, proves to be the optimal observant eye for a performance-centric film about, ultimately, the joyous negation of sonic, cultural and music-business protocol.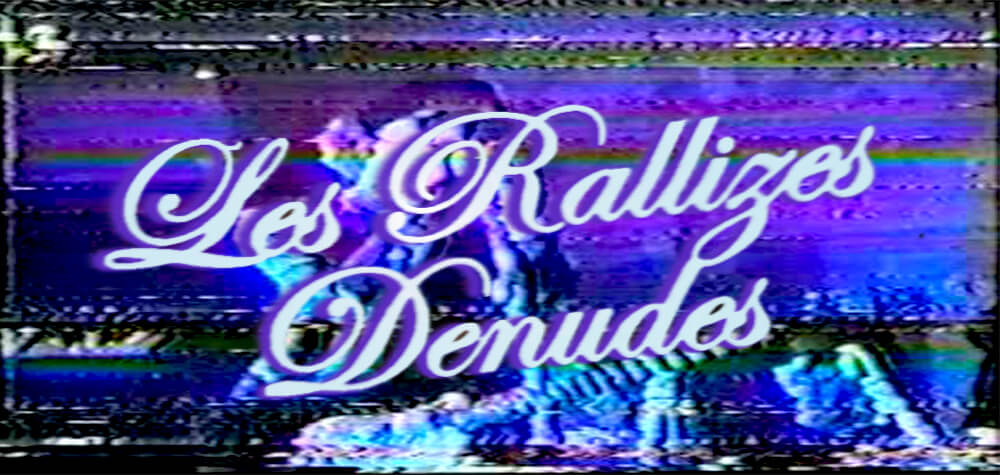 LES RALLIZES DÉNUDÉS
dir. Ethan Mousiké, 1992
France, 88 min.
FRIDAY, FEBRUARY 15 – 7:30 PM
ONE NIGHT ONLY!
ONLINE TICKETS
DUMBASS FACEBOOK EVENT
Left behind in a legacy of bootleg destruction stands this "ambient documentary" on the mythical Japanese political psych-noise pioneers Les Rallizes Dénudés, the ultimate revolutionary cult band whose bass player was a member of the Japanese Red Army "terrorist group" and part of the faction that hijacked a plane with samurai swords and pipe bombs and got away with it, achieving refugee status in Commie North Korea, thus sending the unsuspecting guitarist, leader, auteur and songwriter, Takashi Mizutani, into a paranoiac downward spiral and eventually into hiding, wherefrom he would emerge every half-decade to demolish adoring crowds with sheets of noise, feedback and naive songcraft.
---
THE THE: INFECTED
dir. Tim Pope, 1987
UK, 47 min.
with
TOO $HORT: BORN TO MACK
dir. Various, 1988-1995
USA, 50 min.
MONDAY, FEBRUARY 4 – 10 PM
FRIDAY, FEBRUARY 8 – 7:30 PM
TUESDAY, FEBRUARY 19 – 7:30 PM
WEDNESDAY, FEBRUARY 27 – 10 PM
ONLINE TICKETS
DUMBASS FACEBOOK EVENT
In celebration of THE THE's comeback tour, Too $hort's release of The Pimp Tape, and Tim Pope's plan to direct a new documentary on THE CURE, we present a special program for your tired eyes: TOO INFECTED.
In the words of Matt Johnson, "I tried so hard to be myself, I was turning into somebody else". THE THE got an enormous budget from CBS Music and permission to work with Tim Pope, which turned into a 45 minute music video travelogue between Bolivia, the American desert, NYC, and the UK. Johnson is trapped, or rather, infected by his position in the world and experience of being a Westerner, a pale British man in the big 80's. This collection of videos was only released to VHS, so you can't find it anywhere else!
"If you live my life, you'll be fighting to live." – Too $hort, from "Life is… Too Short"
The music videos of Too $hort take you through the highs and lows of life, from house parties, to car rides, to police harassment, to the ghetto during the crack cocaine epidemic. Where Matt Johnson wants to tear down the myth of his identity, Too $hort (Todd Anthony Shaw) is trying to build it up. He's a true player, he rapped with the heavies, and he's a survivor. His music was always bass heavy and dirty as hell, and this selection showcases the best of the best.
---
HEARTWORN HIGHWAYS
dir. James Szalapski, 1976
United States. 90 mins.
FRIDAY, FEBRUARY 1 – 7:30 PM
TUESDAY, FEBRUARY 5 – 7:30 PM
WEDNESDAY, FEBRUARY 13 – 7:30 PM- (Producer Graham Leader in person for Q&A! ONE NIGHT ONLY!)
SUNDAY, FEBRUARY 24 – 5 PM
ONLINE TICKETS
DUMBASS FACEBOOK EVENT
In 1976, producer Graham Leader and director James Szalapski documented the outlaw singer/songwriter scene that extended from Austin and Nashville. Included were then relative unknowns Steve Earle, Rodney Crowell, and John Hiatt, plus their musical mentors Townes Van Zandt and Guy Clark. Born was HEARTWORN HIGHWAYS, a cult classic film among fans of the genre. In the relaxed manner of the handmade documentary, we're given a tour of Townes Van Zandt's backyard, where we see dogs running loose while he is chugging whiskey and shooting guns. Townes picks up a guitar and sings the poignant "Waitin' Around To Die" in his kitchen, an elderly neighbor breaks down in tears. We follow David Allan Coe to the Tennessee State Prison to watch a performance; we see Charlie Daniels on a small stage in front of a crowd of near-riotous fans. A gang of buddies, including Rodney Crowell, gathers around a table at Christmas time to sing and pick guitars, showing us some very early work by Steve Earle. The structure of the film is very loose; at times almost surreal, especially viewed through the fish-eye lens of time. There is no real story to the movie, only the tales which are told in the lives of people who love music and make it not for a living.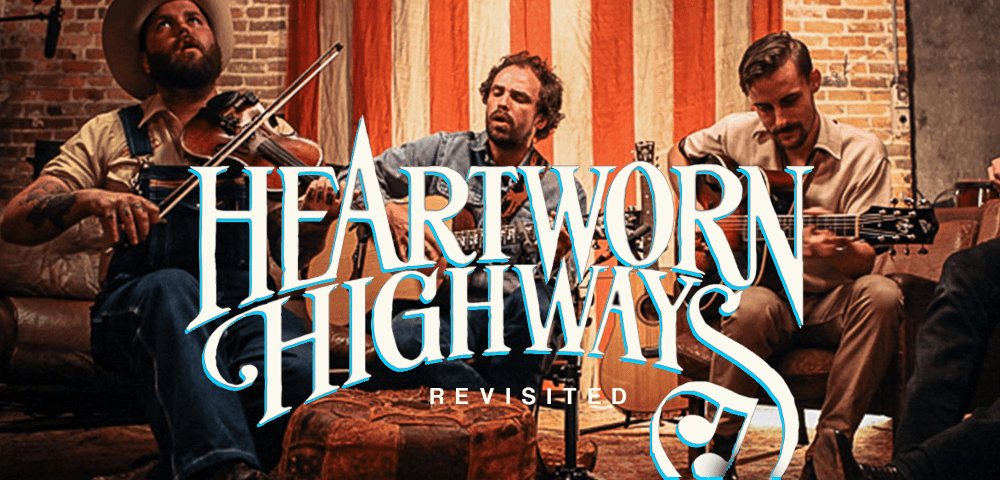 HEARTWORN HIGHWAYS REVISITED
dir. Wayne Price, 2017
United States. 87 mins.
WEDNESDAY, FEBRUARY 13 – 10 PM
TUESDAY, FEBRUARY 19 – 10 PM
SUNDAY, FEBRUARY 24 – 7:30 PM
THURSDAY, FEBRUARY 28 – 5 PM
ONLINE TICKETS
DUMBASS FACEBOOK EVENT
Fans of HEARTWORN HIGHWAYS can rejoice! More than 40 years after the original, director, Wayne Price, has taken up the mantle, and created another chapter. HEARTWORN HIGHWAYS REVISITED is focused on exploring  the current alt country community of musicians inspired by outlaw country in Nashville. Following the same intimate & loose non-structure, HH Revisited ambles from musician to musician, while we listen to their stories and songs. In HEARTWORN HIGHWAYS REVISITED, the filmmakers reunite with HEARTWORN originals Guy Clark, Steve Young and David Allan Coe while focusing on the next generation of "outlaws": John McCauley, Jonny Fritz, Josh Hedley, Justin Townes Earle, Shovels & Rope, Langhorne Slim, Robert Ellis, Andrew Combs, Shelly Colvin, Phil Hummer and others who honor the traditions of their predecessors while forging a highway all their own.
---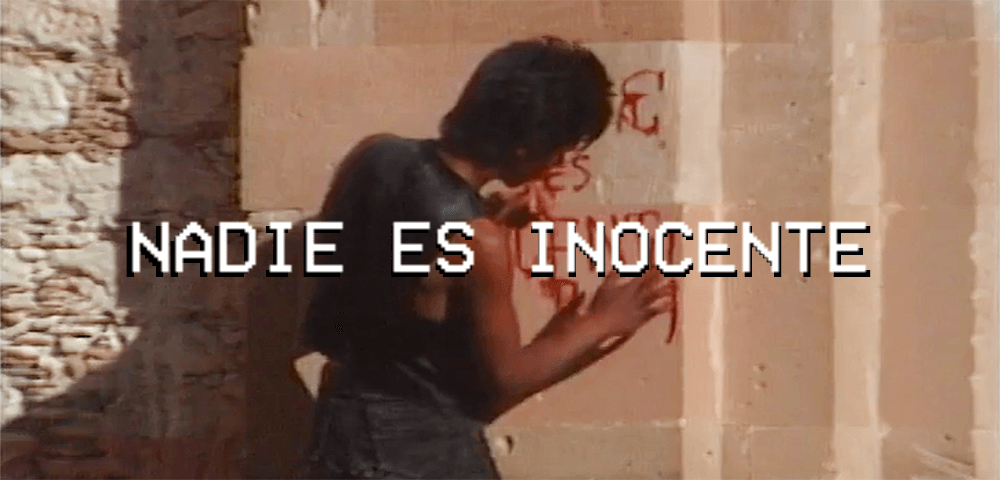 NADIE ES INOCENTE
(NO ONE IS INNOCENT)
dir. Sarah Minter
55 mins. 1985-87.
In Spanish with English subtitles.
FRIDAY, FEBRUARY 1 – 10 PM
TUESDAY, FEBRUARY 5 – 10 PM
SUNDAY, FEBRUARY 10 – 5 PM
MONDAY, FEBRUARY 25 – 7:30 PM
ONLINE TICKETS
DUMBASS FACEBOOK EVENT
No hay
no hay futuro
No hay
No hay amor
No hay
No hay cemento
Yey yey
Los mierdas soy yo
Sarah Minter's no-future classic NADIE ES INOCENTE is a fictionalized document of the chavos banda (youth gang) punk community in the slums of Mexico City's Ciudad Nezahualcóyotl (also known as Neza York) shot on Betacam over a number of years. Minter structures the film around bad trip of a reformed punk named Kara as he takes the train from Neza back to the main city; delivered in both flashback and voiceover monologue, his memories serve as desolate testimony from an apocalyptic adolescence. NADIE ES INOCENTE was written and performed in collaboration (Minter would later say, complicity) with the young Mierdas Punks who play themselves onscreen, and betrays Minter's extraordinary access. The film also repurposes 16mm concert footage from her collaboration with Gregorio Rocha SABADO DE MIERDA (SATURDAY OF SHIT), using slow motion and inventive sound editing to give big-screen gravitas to handheld shots of desert throwdowns as Kara's self-extinguishing memories. Shown and distributed locally on VHS in New York City by Karen Ranucci's Downtown Video for years before it was seen in, NADIE ES INOCENTE is a remarkable and unsentimental depiction of teenage life and urban displacement.
screens with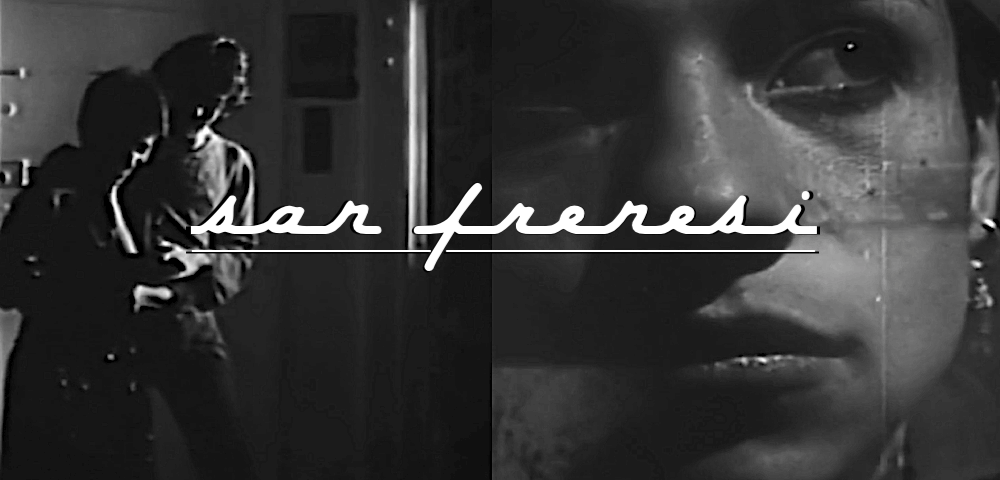 SAN FRENESI
(SAINT FRENZY)
Dir. Sarah Minter and Gregorio Rocha
34 mins. 1983.
In Spanish with English subtitles.
Starring Maribel Mejia as a young woman who goes on a road trip reeling from a string of heartbreaks and bad relationships, Minter's early collaboration with her then-partner Rocha feels more apiece with the French New Wave influences of a successive generation. (She spoke admiringly about Godard in an interview, but described her later ideas as more directly influenced by Dziga Vertov.) There isn't a ton of evidence of the staccato editing that would mark NADIE ES INOCENTE, but one prolonged sex scene – in which a furiously edited sequence of sound effects takes center stage over abstracted imagery – can only hint at the individual liberation to follow.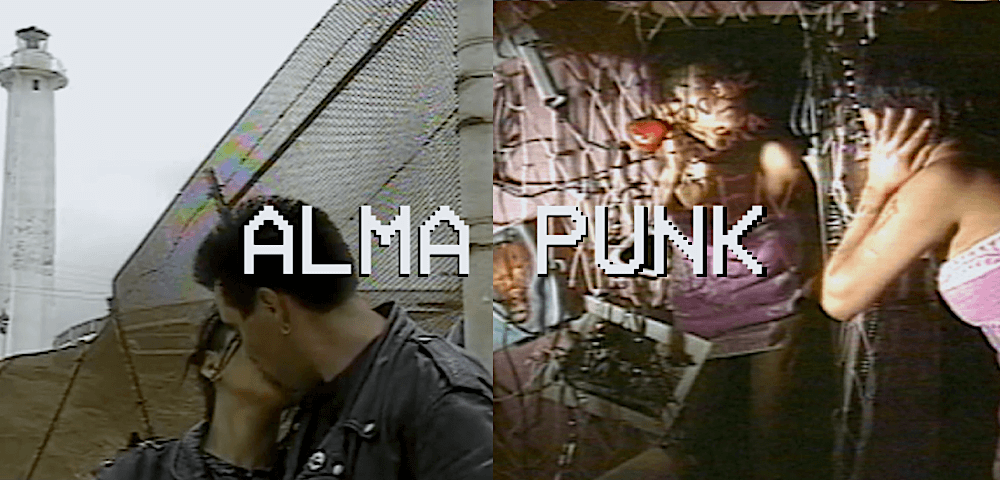 ALMA PUNK
dir. Sarah Minter
56 mins. 1991-92.
In Spanish with English subtitles.
SUNDAY, FEBRUARY 3 – 7:30 PM
FRIDAY, FEBRUARY 15 – 10 PM
SUNDAY, FEBRUARY 17 – 5 PM
WEDNESDAY, FEBRUARY 27 – 7:30 PM 
ONLINE TICKETS
DUMBASS FACEBOOK EVENT
Part-improvised and starring a cast of nonactors led by real-life punk Ana Hernandez (as Alma, which also means "soul"), ALMA PUNK traces the tortuous path of a young riot grrl from the Mexico City punk scene as she moves north to Tijuana and, eventually, towards the United States. It confidently breaks with the rules of staging docudrama with an unsparing look at Alma's love life, unfakeable scene bohemianism and extensive location footage of Mexico before NAFTA and after the 1985 earthquake. "I feel like no one is supporting me," Alma says. "Guys want everything and give nothing in return. Isn't that so?" Like NADIE ES INOCENTE, this film uses the intimacy and flexibility of video (this time, 3/4″) to wring innovation in the editing room, this time to give Alma a similarly alienated and jittery headspace.
(screens with)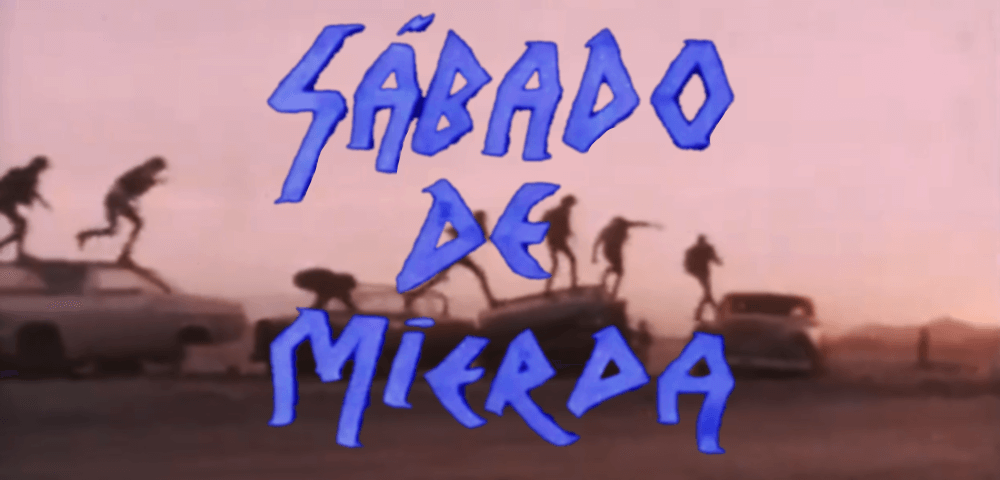 SABADO DE MIERDA
(SATURDAY OF SHIT)
dirs. Sarah Minter and Gregorio Rocha
25 mins. 1988.
In Spanish with English subtitles.
Bookended with snippets of This Heat's classic 1979 slow-burn "Twilight Furniture", SABADO DE MIERDA is a classic rockers-versus-punks story set in a near-autonomous version of Neza York in the year 2000, lorded over by teenage punk gangs. The movie plays at once like riveting docudrama and sprawling music video: capturing one massive crowd scene, Minter and Rocha paid off police officers to stage an intervention that sends dozens of punks scattering between the floodlights. The desert depicted is at once a Mad Max-influenced arena of brawling moshpits and mob rule, but also a permanent freedom from the rules and demands of society.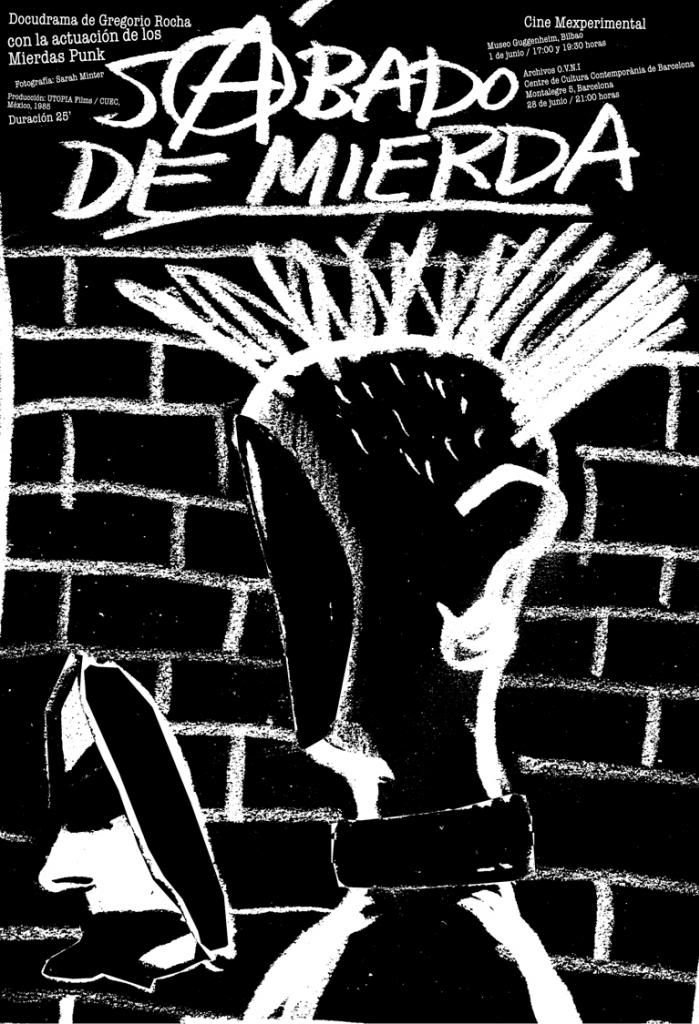 SARAH MINTER (1953-2016) was a pioneering video and installation artist, a photographer, curator and avant-garde theater performer from Mexico. She spent her early 20s collaborating with Juan Carlos Uviedo, an exiled Argentinean theater director who had migrated to Mexico City after many years heading the Living Theatre at La Mama in the East Village. Her contemporaries included her longtime partner Gregorio Rocha (co-director of two of the films in this series), the cinematographer Emmanual "Chivo" Lubezki (THE NEW WORLD, CHILDREN OF MEN) and video producer and theorist Pola Weiss (who once said "For me, film would be the epic; television, the novel; and video art, poetry.") Minter's video works are bitter, unforgettable dispatches from the margins of society, drawn in opposition to the tropes and food chains of TV documentary and theatrical distribution; she later experimented with looped installations shot over the course of many years. This is how she described her approach to video as opposed to film:

"I learned to edit and resolve things technically on my own. Creative and financial independence are very important to me, especially if we remember that in the 1980s there was practically no existing support of any kind. I saw people trying to get things done and it took them ten years to make their next movie. That was basically the panorama. They were all failed attempts, and on top of all that, independent film was totally hermetic… If you got money to film, you had to do it with a high percentage of union workers, and if not, you had to pay replacement fees. And once you'd pulled it off it wasn't easy to show your work. There weren't festivals in the same quantity as there are today; in Mexico there were hardly any at all, and there were very few in the rest of the world—it wasn't easy even for famous people. The only kinds of film that kept getting made were Mexican sex comedies and totally commercial movies, which controlled< everything."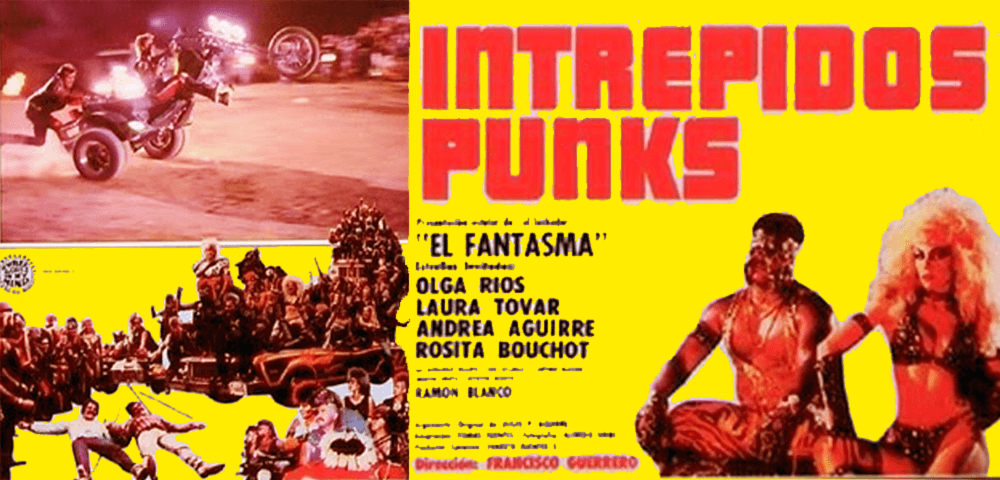 INTREPIDOS PUNKS
dir. Francisco Guerrero, 198?.
92 min. Mexico.
In Spanish with English subtitles.
FRIDAY, FEBRUARY 1 – MIDNIGHT
FRIDAY, FEBRUARY 15 – MIDNIGHT
ONLINE TICKETS
DUMBASS FACEBOOK EVENT
Even without our presentation of Mexican video artist Sarah Minter's VHS-era punk docufictions NADIE ES INOCENTE and ALMA PUNK, there's never a bad time to resuscitate Francisco Guerrero's jawdropping midnight movie epic INTREPIDOS PUNKS, (nor its irrepressible sequel LA VENGANZA DE LOS PUNKS).  This was the original pitch from when INTREPIDOS PUNKS played Spectacle in August 2012:
Described in INTREPIDOS PUNKS is about a sexy apocalyptic biker gang led by a ruthless luchador pushing drugs, racing choppers and killing the police who are helpless to stop them. And partying. Featuring the song "Intrepidos Punks" along with an unabashed rip-off of "Sweet Emotion" that improves significantly upon the original.
"I found this VHS in a box of tapes someone left on the sidewalk. I was surprised it was a cool movie." – Anonymous, The Internet
"It's 99.9% certain that this is the most gleefully assaultive display of a misappropriated cultural movement in history, which is by no means a criticism. […] This film isn't recommended… it's MANDATORY." – Destroy All Movies!!! The Complete Guide to Punks on Film
"It wouldn't be entirely beyond the pale to say that my entire life has been leading up to the moment I first heard of, then tracked down and watched this overwhelmingly fantastic slice of punk rock exploitation. […] INTREPIDOS PUNKS is a colossal juggernaut, a true giant striding across the landscape of sleazy movies. If you have not seen it, you will notice there's probably a little hole in your soul. A hole shaped exactly like a busty blonde in a chainmail bikini, sporting gigantic hair and a grenade launcher. Let INTREPIDOS PUNKS plug that hole and finally make you complete." – Teleport City
---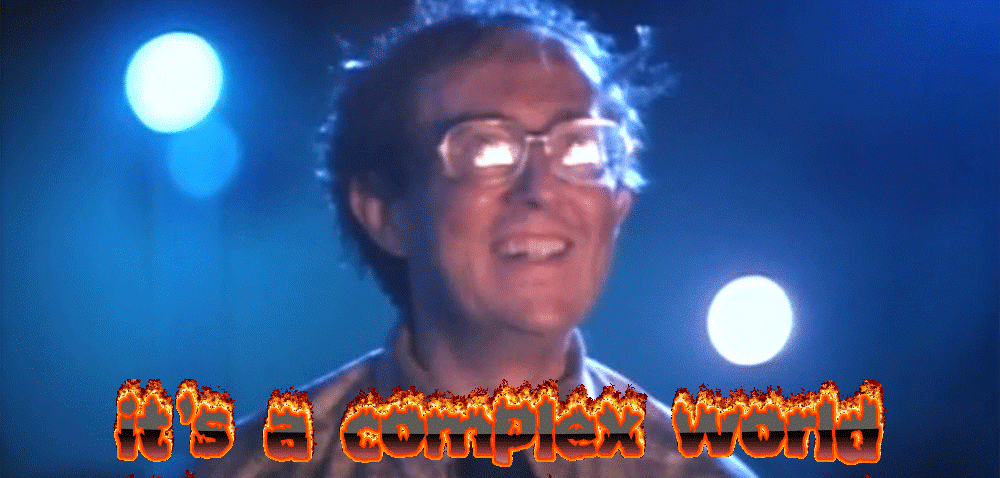 IT'S A COMPLEX WORLD
dir. Jim Wolpaw
1991, USA
81 minutes
MONDAY, FEBRUARY 4 – 7:30 PM
SATURDAY, FEBRUARY 16 – 7:30 PM *With Director Q & A!*
FRIDAY, FEBRUARY 22 – 10 PM
THURSDAY, FEBRUARY 28 – 10 PM
ONLINE TICKETS
DUMBASS FACEBOOK EVENT
It's a complex world—so hard for a casual guy like me—or so goes the dead-pan hook of The Young Adults' signature 1979 single, a local Rhode Island hit that encapsulates the mid-'70s art-school wastoid scene from whence, say, the Talking Heads (whose David Byrne once auditioned to be a member of the band) emerged. "Complex World" doubled as the unofficial theme song for the first Lupo's Heartbreak Hotel, a popular nightclub destination in downtown Providence, and one of the few dive bars in America legendary enough to have an anarchic feature-length comedy made in its honor.
In the vain of regional cinema (like a madcap cousin of Eagle Pennell's LAST NIGHT AT THE ALAMO) and '80s New Wave midnight movies, IT'S A COMPLEX WORLD the film takes place over the course of one night at Lupo's as the whims of a hostile terrorist folk-singer (Stanley Mathis), a neo-fascist presidential candidate (Bob Owczarek), a mercenary biker gang (lead by Captain Lou Albano), street preachers, and more intersect, soundtracked by local color The Young Adults. Keep your eye out, too, for appearances by NRBQ and Roomful of Blues.
Though The Young Adults are not quite a household name outside of the Ocean State, their influence was significant. The Fabulous Motels, an earlier incarnation, launched the career of Charles Rocket (of Saturday Night Live and DUMB AND DUMBER) while Rudy Cheeks was cast in the Farrelly Brothers' later Rhode Island picture ME, MYSELF AND IRENE. A documentary about the group's 9-day sold-out stint as the backing band for Bo Diddley is captured in the 1978 short COBRA SNAKE FOR A NECKTIE—it will screen alongside COMPLEX WORLD on February 16th, following a Q&A with director Jim Wolpaw.
Special short for 2/16 screening:
COBRA SNAKE FOR A NECKTIE: BO DIDDLEY AND THE YOUNG ADULTS
dir. Jim Wolpaw
1978, USA
28 minutes