Catch out with Spectacle for the summer with these four documentaries spanning five decades all revolving around the mythical hobo and their prefered mode of transport, hopping freight trains. Filled with lush landscapes, and scenery that make the Hudson River Valley school of painters look like Thomas Kinkade, these films use train riding as a vehicle to tell unique stories of the hobo subculture, class disparity in the United States, and personal stories of those out there riding the rails.
---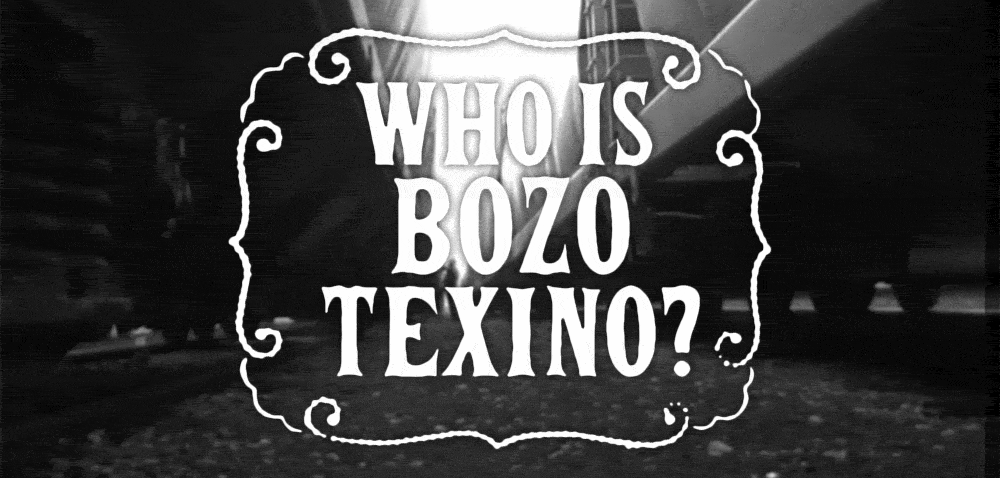 WHO IS BOZO TEXINO?
Dir. Bill Daniel, 2005
USA. 57min
TUESDAY, JUNE 19th – 7:30 PM & 10 PM, FILMMAKER IN PERSON
ONE NIGHT ONLY!
Shot in 8mm and 16mm over 16 years, the infamous WHO IS BOZO TEXINO? is an experimental documentary searching for the identities and stories behind the ubiquitous and yet esoteric art of hobo graffiti found on the sides of boxcars, grainers and train bridges spanning North America from coast to coast. Landing somewhere between outsider art and subculture minutiae—utilizing the conjecture, half-truths, tall tales and mythology that occupies the jungles and campfires—Daniel interviews an array of old timers, hobos and rail workers as well as streak and moniker heavyweights like Herby, The Rambler, and Colossus of Roads.
Bill Daniel is a filmmaker, photographer and installation artist based in the Gulf coast of Texas. Bill is currently touring on his newly released book of photos Tri-X Noise, and will have copies and other goods for sale at the screening.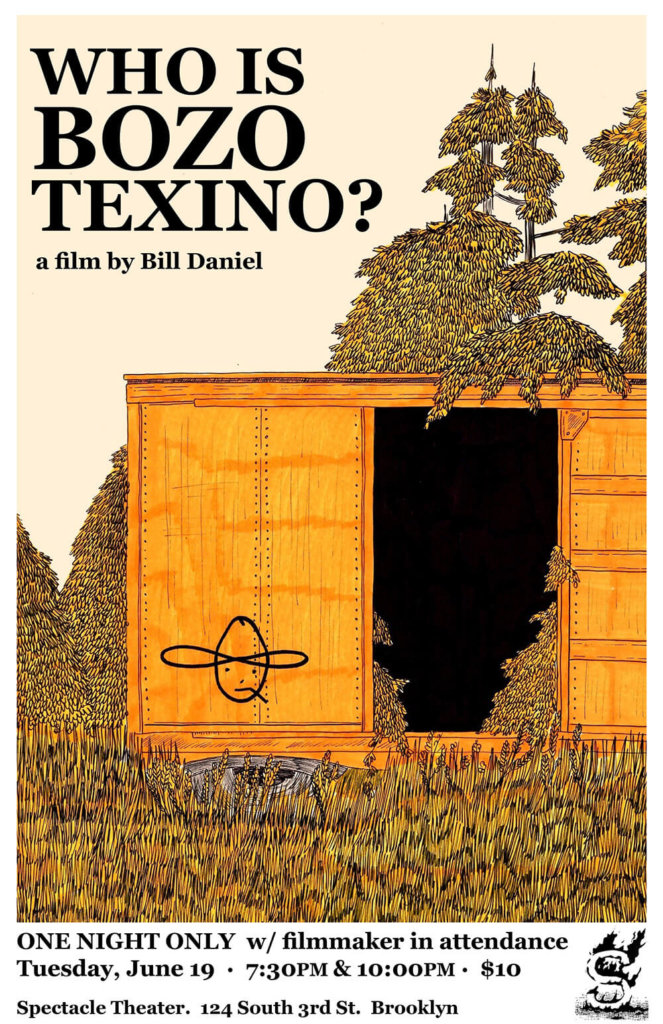 ---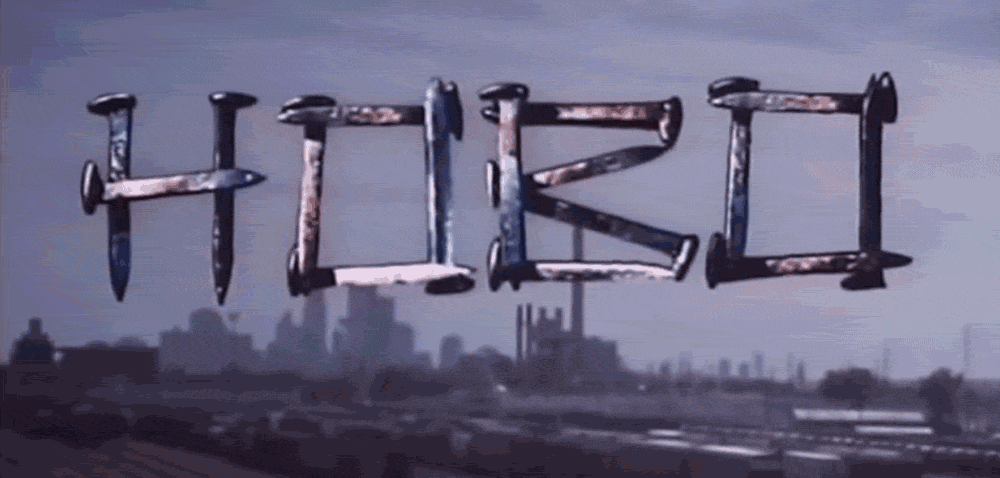 HOBO
Dir. John T. Davis, 1992
UK. 90min
FRIDAY, JUNE 1 – 10 PM
TUESDAY, JUNE 5 – 10 PM
THURSDAY, JUNE 21 – 10 PM
WEDNESDAY, JUNE 27 – 10 PM


ONLINE TICKETS HERE
Irish director John T. Davis follows Beargrease, a vietnam veteran and father, as he travels and philosophizes from Minneapolis to Seattle via freight train. HOBO is a powerful portrait of the American poor and working class, using the train line as a means to get from town to town, meeting the depressed and marginalized along the way in the soup kitchens, unemployment offices and jungles at the sides of the tracks. With scenes of hobos reading newspapers, listening to the radio news programs and slandering politicians, the documentary shows the hobo not as an out-of-touch outcast from society, but an engaged yet struggling worker trying to make ends meet with what is at their disposal; chancing the risk of arrest or even death for a free ride to the next town. HOBO addresses subjects of homelessness, class disparity, alcoholism, and even sex-workers' rights through Beargrease's conversations with his traveling partners and land-locked friends along his route.
---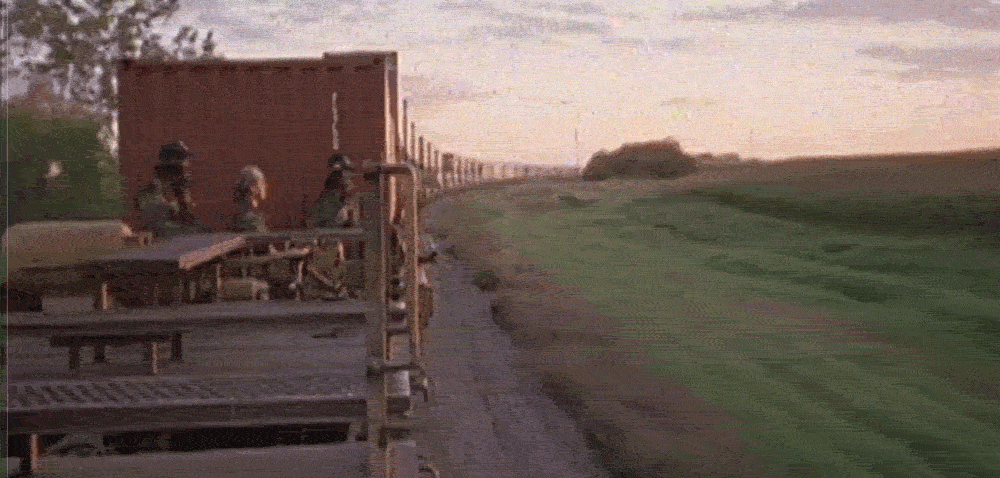 LONG GONE
Dir. Jack Cahill, David Eberhardt, 2003
USA. 90min
SUNDAY, JUNE 10 – 5 PM
WEDNESDAY, JUNE 13 – 7:30 PM
FRIDAY, JUNE 22 – 7:30 PM
FRIDAY, JUNE 29 – 10 PM


ONLINE TICKETS HERE
Featuring an original score by Tom Waits and filmed over seven years and 30,000+ miles, LONG GONE follows a large cast of hobos spanning multiple generations: The aging veterans Horizontal John & Joshua Long Gone; the publically besmirched Dogman Tony with his young bride and loyal tramp friends, and the steadfast, level-headed New York Slim, are contrasted with the younger generation of punks that have taken to hopping trains, James, Jessie, and Stonie. Filmmakers Jack Cahill and David Eberhardt are so comfortable with their subjects that the camera becomes invisible as they deal with depression, loss, drug use, alcoholism and being a scapegoat for the state to pin multiple murder charges on (really!). LONG GONE is less about the act of riding the rails, and more about the personal stories and circumstances of those riding them.
---

THE LAST OF THE AMERICAN HOBOES
Dir. Titus Moede, 1967
USA. 82 min
FRIDAY, JUNE 1 – 7:30 PM
MONDAY, JUNE 4 – 10 PM
SATURDAY, JUNE 16 – 10 PM
FRIDAY, JUNE 22 – 10 PM
A labor of love for director, schlockmeister, and jack of all film-trades, Titus Moede—who himself played a hobo in the 1964 film THE INCREDIBLY STRANGE CREATURES WHO STOPPED LIVING AND BECAME MIXED-UP ZOMBIES!!?, and is considered to be one of the better directors of early B-grade adult films—LAST OF THE AMERICAN HOBOES is a docu-drama love letter to the hobos, hitchhikers and working men of decades past. Part historical documentary, part afterschool special, part original musical and all 'bo-sploitation, the film is good-natured at heart, attempting to dispel the myths and misconceptions that accompany tramps and vagabonds, but at points just ends up enforcing others. Featuring flashbacks within flashbacks, and even a segment devoted to the Wobblies via a miniature Joe Hill bio-pic. With all the attention that surfers, bikers and even cannibals got in the 60s and 70s, one wonders how 'bo-sploitation never took off as a genre.
Note: a low buzz intermittedly accompanies the first 20 minutes of audio.
Special thanks to Joe Ziemba & Bleeding Skull.