Perhaps one of the most crucial voices in Paraguayan and Latin American Cinema, Paz Encina's films are haunting mementos of a nation's past, often told through the perspective of voices often marginalized or oppressed. Born during the height of Alfredo Stroessner' brutal dictatorship, the longest in Latin America, Encina combines poetic visuals with complex sounds to create documents that evoke that oppressive time. Her protagonists are often dealing with some kind of trauma, often relating to a certain moment in Paraguayan history and thus excavating the complex way in which a nation remembers. Add to that the inclusion of Guarani, an indigenous language spoken by a majority of the people in Paraguay, in her work and it adds another element in which language can evoke national ties. In recent years, Encina's work has been informed by the Archives of Terror, which documented the activities of Stroessner's secret police and the various other dictatorships in Latin America. All this combined calls for the need to remember, both the way in which nations form their histories, and the people who were forgotten, to ensure that the painful moments of the past are not repeated.
Programmed in collaboration with Anthony Chassi. Special thanks to Lita Stantic, MPM Premium and Filmes do Tejo/Maria & Mayer.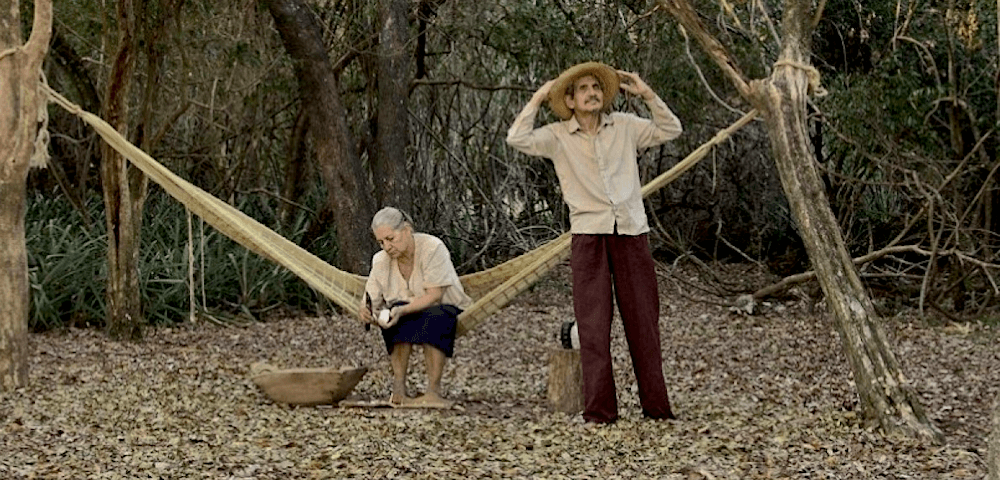 HAMACA PARAGUAYA
(PARAGUAYAN HAMMOCK)
2006. 78 mins. Paraguay.
In Guarani with English subtitles.
TUESDAY, AUGUST 6 – 7:30 PM
SUNDAY, AUGUST 11 – 5 PM
THURSDAY, AUGUST 22 – 10 PM
FRIDAY, AUGUST 30 – 7:30 PM
Paz Encina's debut feature focuses on elderly couple Ramón (Ramon Del Rio) and Cándida (Georgina Genes) as they spend their days on an isolated hammock in the woods, awaiting on news from their son who's off at war. Set during the Chaco War between Bolivia and Paraguay, the film shows the two conversing about anything but the actual details of the war, of which they know little about. Instead, conversations about whether it's going to rain and how to shut their son's dog up take up their time. Between these conversations we hear flashbacks of the conversations that led up to their son leaving, juxtaposed with moments of labor and inaction. With its static long takes and atmospheric setting, HAMACA PARAGUAYA invites viewers into a space where our understanding of the temporal and spatial are vague, and campesino life become as abstract as any work can dare to be.
EJERCICIOS DE MEMORIA
(MEMORY EXERCISES)
2016. 70 mins. Paraguay.
In Spanish and Guarani with English subtitles.

MONDAY, AUGUST 19 – 7:30 PM
THURSDAY, AUGUST 29 – 7:30 PM
Part documentary, part testimonial, and part fiction, Paz Encina's second feature EJERCICIOS DE MEMORIA focuses on one of former Paraguayan dictator Alfredo Stroessner's most prominent opponents, through the memories of his children. Agustín Goiburú, a politician and doctor, planned a failed assassination attempt on Stroessner and later disappeared while in exile in Argentina in 1976. 35 years after his disappearance, his children are asked to return to a specific moment in their childhood but also a brutal period for the country and the majority of Latin America. Encina's recent work is informed by the Archives of Terror, which collected documents chronicling the human rights violations by the Stroessner dictatorship's secret police force and was used to prove the existence of Operation Condor. EJERJICOS DE MEMORIA recontextualizes the history of the nation by excavating the memory of those affected by it during its most oppressive time, forming a haunting poem that demands reflection.

THE SHORT FILMS OF PAZ ENCINA
2000-2014. Paraguay/Argentina.
Total runtime: 60 mins.
MONDAY, AUGUST 5 – 7:30 PM
SUNDAY, AUGUST 11 – 7:30 PM
SUNDAY, AUGUST 18 – 5 PM
WEDNESDAY, AUGUST 28 – 7:30 PM
SUPE QUE ESTABAS TRISTE
(I KNEW YOU WERE SAD)
dir. Paz Encina, 2000
5 mins. Argentina.
A family photo, the sound of the oncoming storm, the cat wandering the kitchen, a man alone in this space. Paz Encina's early melancholic short is a conversation not shown on screen. Has it already occured or does it take place after this brief moment in time? Using only subtitles and visual language, SUPE QUE ESTABAS TRISTE creates an array if emotions without ever having to "show" anything.
HAMACA PARAGUAYO
(PARAGUAYAN HAMMOCK)
2000. 8 mins. Paraguay/Argentina.
In Guarani with English subtitles.
Made while she was attending the Universidad del Cine in Buenos Aires, Encina's early short, which was expanded into a feature length film years later, contains the same components and mood as the feature. HAMACA PARAGUAYA establishes the traits Encina would be known for later in her career. A couple awaits on any news regarding their son, who is off at war, they spend their time conversing about the rain or how the dog won't shut up. Shot on video, the film moves in waves, similar to a dream or a faded memory, Becoming a sensory experience.
FAMILIAR
(FAMILY)
2014. 9 mins. Paraguay.
In Guarani and Spanish with English subtitles.
ARRIBO
(ARRIVAL)
2014. 10 mins. Paraguay.
In Spanish with English subtitles.
Constructed by documents, audio, and images uncovered in the Archives of Terror, ARRIBO and FAMILIAR were originally intended to be shown in a gallery space. These two shorts remind us of the need to recognize the actions of the Stroessner dictatorship as human rights violations, while also asking the viewer to remember those interrogated, beyond that context. ARRIBO is a collection of surveillance images accompanied by an interrogation in Guarani while FAMILIAR combines these same components with unrelated home movies. Both films transport us to a troubled time in Paraguayan history, excavating the past in hopes that those affected throughout the dictatorship aren't forgotten.
TRISTEZAS DE LA LUCHA
(SORROWS OF THE STRUGGLE)
2016. 7 mins. Paraguay.
In Spanish and Guarani with English subtitles.
Continuing her research on the Archives of Terror to create moving pieces, TRISTEZAS DE LA LUCHA once again serves as a time capsule to a particular moment in the nation's history, where one political party was dominant and those opposed to it feared for their lives. Combining the audio of a rally from the right-wing Colorado party, the only legal political party during the Stroessner dictatorship, and a short story by the anarchist Rafael Barrett, the film reminds us of the struggles both sides face when they've been robbed of their autonomy. As a lone figure walks along the rural Paraguayan woods, a political prisoner under house arrest has a phone call detailing the soldier that has been tasked with guarding him. Though this soldier could be seen as his oppressor, the prisoner instead feels compassion for him, wondering if he's too cold and if he's lonely outside. TRISTEZAS DE LA LUCHA reminds us of the humanity in the face of terror, which can sometimes come from unlikely sources.
VIENTO SUR
(A WIND FROM THE SOUTH)
2012. 23 mins. Paraguay.
In Spanish and Guarani with English subtitles.
Two brothers, both fisherman, are the subjects of this atmospheric short. Their lives are defined by the Paraguay River, and when their lives depend on crossing the river to escape harm from Stroessner's troops, they begin to question whether to run or stay. One of the brothers is determined to cross as soon as possible to avoid being caught in the crossfire, while the other is still weary of migrating, fearing that they'll get caught in the August rainfall during their travel. With seemingly unrelated images and the attention to sound that Encina is known for, VIENTO SUR reflects on forced migration and how survival to some can form through various different solutions.