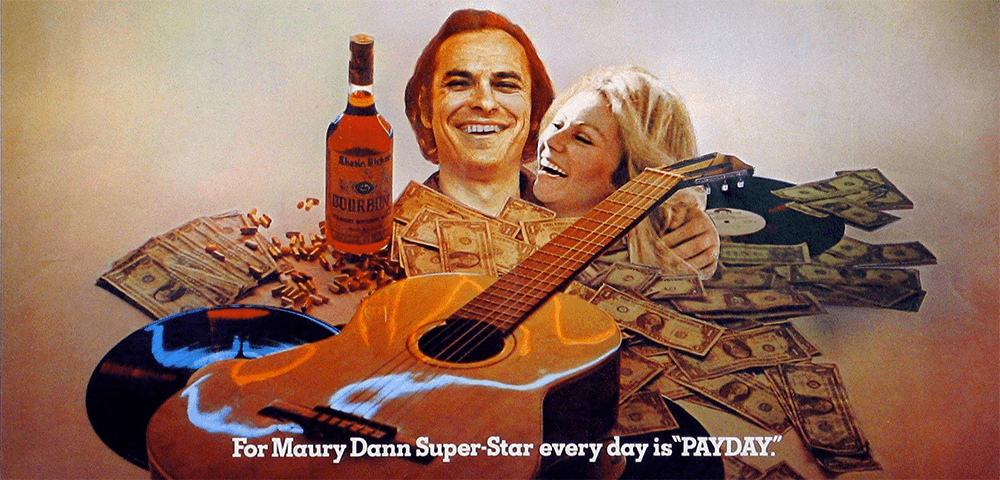 PAYDAY
dir. Daryl Duke, 1973
100 mins. United States.
FRIDAY, AUGUST 2 – 7:30 PM
THURSDAY, AUGUST 15 – 7:30 PM
SUNDAY, AUGUST 18 – 7:30 PM
SATURDAY, AUGUST 31 – MIDNIGHT
"If you can't smoke it, drink it, spend it, or love it… Forget it."
While it's not possible to honor the passing of every fallen hero of ours at 124 South 3rd Street, we're thrilled to salute the departed Elmore Rual "Rip Torn" Jr. (1931-2019) by shining a light on one of his absolute greatest performances, as Maury Dann – a hellraising honeydripper outrunning his past one 95-mile-per-hour at a time in the underrated 1973 drama PAYDAY, directed by Daryl Duke (who made the phenomenal THE SILENT PARTNER a few years later, with Elliot Gould and Donald Sutherland.)
Having achieved a measure of fame with a minor hit single, Dann's life is a string of saloon gigs and one-night stands, propelled by bourbon and propped up by pills; while he's making arguable headway in the music business, his problems keep piling up on the margins. His manager McGinty (Michael C. Gwyne) and girlfriend Mayleen (Ahna Capri), both long-suffering, bear witness to his bouts of rage and capriciousness, yet stay the course from one Alabama tussle to the next. Dann is certainly a character the performatively woke film critics of 2019 would call "unsympathetic", yet Torn's signature tortured charisma makes it make sense: in this decrepit economy of also-rans, hangers-on and the earnestly pure of heart, Maury is the most exciting thing anybody's got going on.
Not for the faint of stomach, PAYDAY spans 36 hours in the life of a man who can't stop hurting others (or himself), a classic story rendered in unforgettable Alabama texture. Produced by pioneering rock critic Ralph Gleason, with songs written by Shel Silverstein and an endlessly quotable screenplay by the great novelist Don Carpenter (Hard Rain Falling), PAYDAY never got a proper national release despite widespread critical acclaim; it's exactly the kind of offbeat 70s slice-of-life cinema that attracted the interest of restless, status-quo bucking artists like Rip Torn. "You only pass through life once… Might as well be in a Cadillac.
"PAYDAY holds you in fascination. The totality of Rip Torn's inspiring portrait is overwhelming." – Judith Crist, New York Magazine
"Brilliant. Impressive. Awesome. Extraordinary." – The New York Times
"PAYDAY is a great fucking movie." – Nick Tosches, Creem
Special thanks to the Saul Zaentz Company.