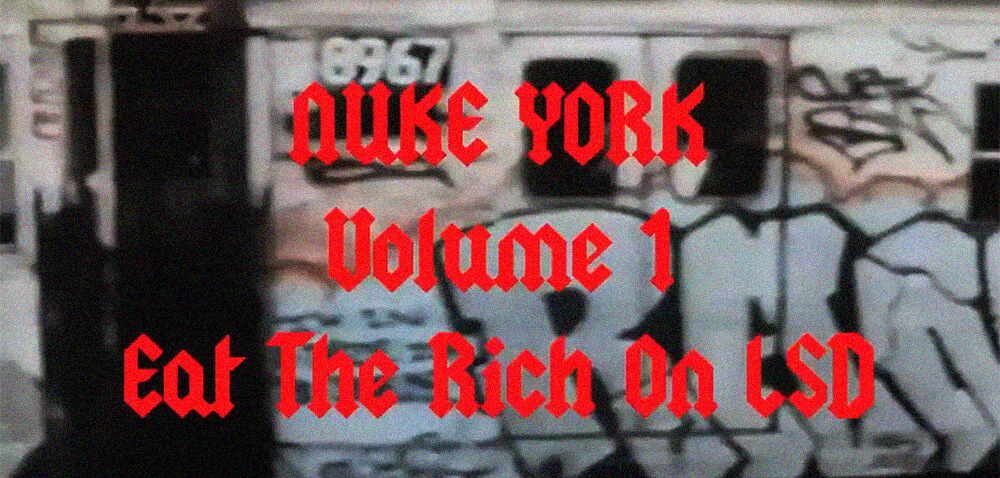 NUKE YORK VOL. 1: EAT THE RICH ON LSD
dir. Dracula O, 2019
NYC, 75 min.
FRIDAY, MAY 31 – 7:30 PM w/ filmmaker Q&A
FRIDAY, MAY 31 – 10 PM w/ filmmaker live commentary and Q&A
(These events are $5 with a canned food donation, $10 without.)
Crawling through the sewers and out the shadows of subterranean New York City, this menacingly feral collage discloses the schismatic wildness of the city's vital punk scene as it leads its vexed existence within a waking nightmare. The nightmare, of course, being a disgraceful police state among an ever-more sprawling cancerous gentrification. Against this bleak backdrop, NUKE YORK offers an inside look at a thriving renegade underbelly. Utilizing a raw assemblage of DV and found footage, we observe the essential punk dissatisfaction aligning its ideologies in solidarity with the distinctly marginalized. An ever-evolving subculture since its inception here four decades ago, the scene depicted demonstrates not only a pounding pulse of sonic survival, but its consistent claim to an eminent opposition to the foul and oppressive power structures which seek to subdue us.
New York ghost stories, grim on-the-street accounts from legit Brooklynites, yuppie harassment, and cameos by vintage horror fiends and legendary rock 'n' rap artist abound, running a chaotic vaudeville interrupted only for a slew of inflamed performances by the cartel of Toxic State Records' finest, including Warthog, Anasazi, L.O.T.I.O.N., Creeping Dose, Eyes Of Hate, Hank Wood & The Hammerheads, La Misma, Dawn Of Humans, Mommy, Sadist, Crazy Spirit, and other lewd acts. Encouraged by its makers to be bootlegged off the press, this film will serve as a incendiary time capsule documenting the NYC punk scene of yesterday, today, and forever for years to come.
[Canned food donations will be collected for Club A Kitchen, which distributes free community meals, warm clothes, sleeping gear, basic material necessities, and harm reduction supplies in Bushwick.]