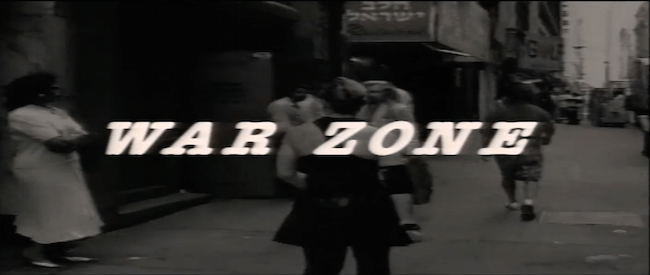 WAR ZONE
Dir. Maggie Hadleigh-West, 1998.
USA. 75 minutes.
STOP
Dir. Julia Retzlaff, 2015.
USA. 5:24 minutes.
MICHELLE'S STORY
Dir. Aden Hakimi, 2015.
USA. 1:23 minutes.
THURSDAY, SEPTEMBER 8 – 7:30 PM (FEATURING SPECIAL Q&A)
SATURDAY SEPTEMBER 10 – 5:00 PM
FRIDAY SEPTEMBER 16 – 10:00 PM
SUNDAY SEPTEMBER 25 – 5:00 PM
Maggie Hadleigh-West's incendiary direct cinema documentary, WAR ZONE, is a battle cry for anyone who's been harassed, catcalled, and assaulted while rightfully claiming their slice of public space. Twenty years ago, West videotaped herself and other women in cities across America as they idly walked down the street. The zip codes may change, but not the trash on the sidewalks: an unending array of men openly propositioning these women, commenting on their appearances and trying to cut them down to size. Camera in hand, West returned fire, confronting them about their wonton disrespect and forcing them to explain their disgusting behavior. The results are cathartic, at times terrifying, and enraging above all.
In 2010, non-profit advocacy group Hollaback! began encouraging targets of street harassment to document their assailants with an even handier weapon – their mobile phones. The ensuing six years have seen a dramatic expansion of the Hollaback! mission, with organizations in 79 cities across 26 countries worldwide. Screening with WAR ZONE are three short films inspired by this call for action. STOP, MICHELLE'S STORY, and WALKING HOME are different works with the same crucial message: MIND YOUR OWN BUSINESS.
On September 8, there will be a special intermission Q&A and discussion about what we can do to end this perverse – and pervasive – epidemic.
---