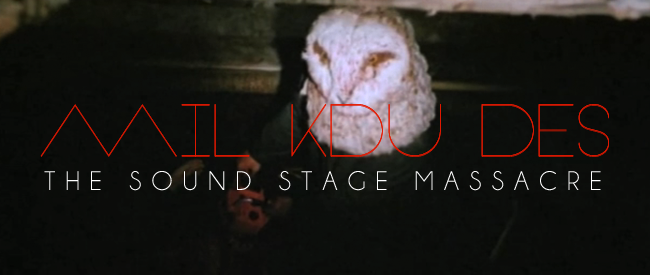 MIL KDU DES present THE SOUND STAGE MASSACRE
Originally directed by Michael Soavi, 1987. Italy.
Approx. 45 min.
THURSDAY, MAY 30TH – 8PM & 10PM
ONE NIGHT ONLY!
THE SOUND STAGE MASSACRE is a heady re-edit directed by MIL KDU DES with editing assistance from C. Spencer Yeh of Michael Soavi's 1987 directorial debut. STAGE FRIGHT: AQUARIUS (a/k/a: DELIRIA, BLOODY BIRD).
When a troupe of actors unwittingly let an escaped mental patient into their humble theater, the only thing that rises faster than the curtains is the body count. Coupled with dealing with an abusive and fame obsessed director the group discover that the maniac in the giant owl mask stalking them in the darkness isn't the only thing they have to worry about. Also, there's a lot of dancing and a character named Ferrari.
Rising from the graves of such musical monoliths as ANONYMOUS OWL, FEEL YOUNG, and PUKEALYPTUS comes the first (last?) public performance of Brooklyn's mysterious and probably handsome – MIL KDU DES.
These unbelievably staggering musical pedigrees are only aided by the fact that members of the band also penned such Hollywood blockbusters as NIGHT OF THE HUMANNIQUINS and ACID WHALE.
Come join Spectacle for an evening spent submerged and steeping in the staggering splendor of theater and "live" "musical" accompaniment! Two sets – 8pm & 10pm! Fog machines! Terror! Surprises! No refunds!
Here's what the experts are saying:
"Why is the band name spelled like that? Is that on purpose?"
– Jon "Screen Slate" Dieringer, Screen Slate.
"No it's fine, I'll just wait and hear it at the show."
– Lindsey Rhoades, AudioFemme.
#RightBetweenTheEyes