Over the span of her forty-odd year career, illustrious German filmmaker Margarethe von Trotta has become best known as a socially-conscious, insatiably studious chronicler of history's rebellious women, from Rosa Luxemburg to Hildegard of Bingen (both played by longtime collaborator and legendary German actress Barbara Sukowa). However, this description runs the risk of making von Trotta's work sound pedantic and reverent, which is far from the case. "I am not a filmmaker who only makes films about strong women," she expounded to The Brooklyn Rail in 2013.
Margarethe Von Trotta was, and still is, a sharp observer of the ebb and flow of heated personal relationships. These two films, part of an "accidental" trilogy of sororal dramas, best exemplify her ability to draw meaning from the sharp emotional contrast – and co-dependency between sisters. Shortly after finishing SISTERS, Von Trotta discovered that she had a sister that her mother never spoke of, and who shared the name of a character in the film, a phantasmagorical coincidence that inspired continued returns into making films about siblings.
---

SISTERS, OR THE BALANCE OF HAPPINESS
dir. Margarethe von Trotta, 1979.
West Germany. 95 mins.
In German with English subtitles

SATURDAY, NOVEMBER 4 – 5 PM
SATURDAY, NOVEMBER 25 – 5 PM
WEDNESDAY, NOVEMBER 29 – 10 PM
Margarethe von Trotta's second solo outing is intensely disquieting in the way it drifts from the moody murk of childhood fairy tales to a forebodingly stark present, tracing the pathological relationship between sisters Jutta Lampe and Gudrun Gabriel. One is domineering, the other submissive, and while its safe to say that they never reach the eponymous balance, their familiar machinations end up having melodramatic consequences, both for themselves and others pulled into their orbit.
---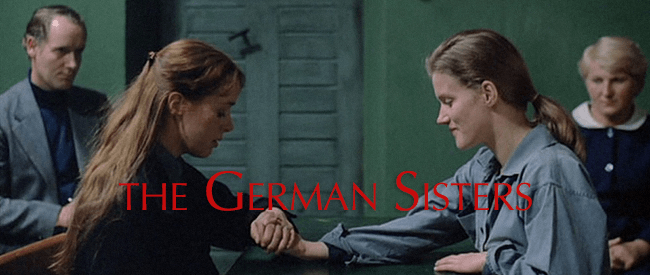 THE GERMAN SISTERS
a.k.a. Die bleierne Zeit, Marianne and Juliane
dir. Margarethe von Trotta, 1981
West Germany, 102 mins.
In German with English subtitles.
SUNDAY, NOVEMBER 5 – 5 PM
SATURDAY, NOVEMBER 25 – 7:30 PM
MONDAY, NOVEMBER 27 – 10 PM
DIE BLEIERNE ZEIT gets its title from a poem by Hölderlin and conjures the oppressive atmosphere of postwar Germany, with the bleak and aimless consumer society being built through the "economic miracle" and the heritage of fascism that the majority of Germans were reluctant to address. Its Italian title, ANNI DI PIOMBO, became the phrase used to describe the wave of revolutionary violence and ensuing repression in Italy in the 70s. The overcast skies and modern prison blocks, along with the black and white newsreels of extermination camps and third-world misery that radicalize the Ensslin sisters, make for an overall cinematic texture that is just as leaden as the title promises.

Special thanks to Margarethe von Trotta and Water Bearer Films.