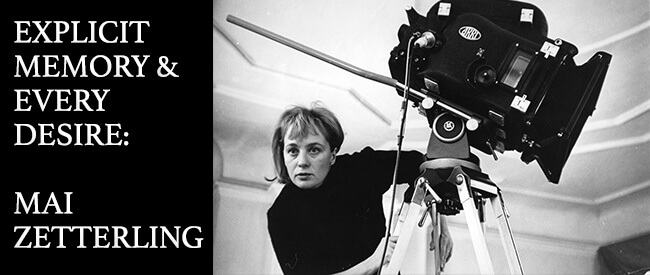 Despite decades as an international actress and twenty-odd filmmaking credits, Mai Zetterling remains a short entry in academic encyclopedias and references to feminist cinema. Zetterling identified her filmmaking as characteristically Swedish, describing it as a relentless search for truth through "self-analysis… perhaps too much". The truths she brings to the screen are those of familial neuroses, powerful women, gay desire, and quests for authentic artistry. Critics of her films have cheered her craft, but complain of a lack of connection to her main characters. That critique does not take a wide view: most of her protagonists are in the grips of powerful memories, experiencing flashbacks and psychic disorientation. This approach to subjectivity erodes the stable identity of the individual, who is vexed and tortured by past experiences, sometimes unable to move on. We are no more distant from these characters as they are from themselves, seeing the truth of their un-sublimated desires.
---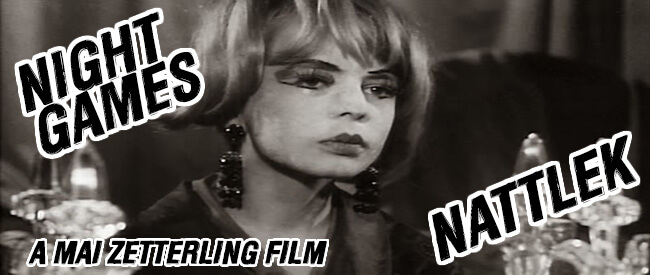 NIGHT GAMES (NATTLEK)
dir. Mai Zetterling, 1966
Sweden, 105 min.
In Swedish with English Subtitles
WEDNESDAY, FEBRUARY 1 – 7:30 PM
WEDNESDAY, FEBRUARY 8 – 7:30 PM
TUESDAY, FEBRUARY 14 – 10 PM
WEDNESDAY, FEBRUARY 23 – 10 PM
This movie is a delightfully Swedish version of camp: a self-indulgent heiress houses a coterie of outsiders who party as she gives birth in a gigantic gown. Her son Jan, aged around ten, lounges around the estate and escapes reality through games with a dear old aunt. He tries to lure his mother's affection through cross-dressing and sexual desire. We see these scenes as rich flashbacks: as an adult Jan is trapped in his neuroses and unable to grow up. John Waters said in Film Comment that NATTLEK was "one of the first films to feature incredibly realistic vomiting" and it famously caused Shirley Temple to resign from the board of the San Francisco Film Festival.
---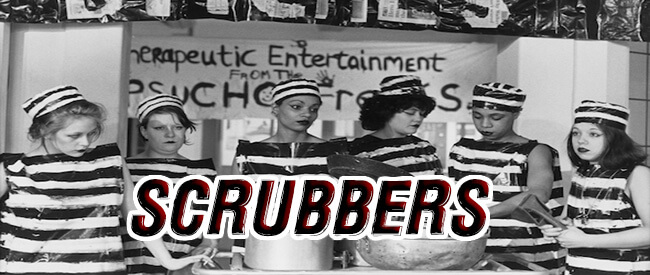 SCRUBBERS
dir. Mai Zetterling
UK, 1982
FRIDAY, FEBRUARY 3 – 10 PM
THURSDAY, FEBRUARY 13 – 7:30 PM
MONDAY, FEBRUARY 20 – 10 PM
SUNDAY, FEBRUARY 26 – 5 PM
Anyone who has spent any time in an all-girls education, mental or punitive institution will find that Zetterling has captured many essential elements in SCRUBBERS from 1982. SCRUBBERS was the female answer to SCUM, Alan Clarke's 1979 graphic drama about a boy's borstal. Zetterling's film is more colorful and emotional, involving lesbian relationships, separation from children, and self-harm. There is also plenty of fighting, swaggering, glue-sniffing and bawdy singing. The most iconic scene evokes TITICUT FOLLIES, when the borstal performs a variety show under the banner "Hellhole Bitches: Therapeutic Entertainment from the Psycho Freaks". Featuring 80's anarcho-pop star Honey Bane.
---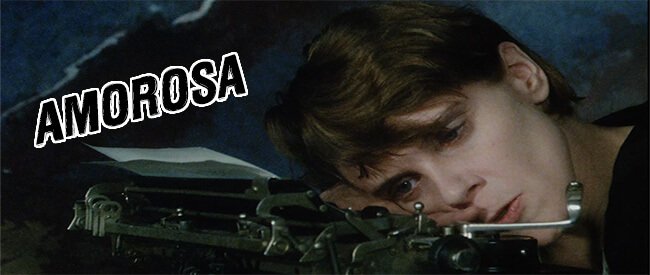 AMOROSA
dir. Mai Zetterling, 1986.
Sweden, 117 min.
In Swedish and Italian with English Subtitles.
WEDNESDAY, FEBRUARY 1 – 10 PM
SUNDAY, FEBRUARY 12 – 5 PM
SATURDAY, FEBRUARY 25 – 10 PM 
This is the second of Zetterling's films concerning the life and work of Agnes von Krusenstjerna, the first being 1964's LOVING COUPLES. Krusenstjerna is a Swedish noblewoman who published daring books of literature in the 1920's. It is a biopic portrait, showing first her descent into hysteria in a strange Italian hospital and going back through the events in her life that led to this point. Some stylistic elements of this film are tacky, however the story surges on the strength of Stina Ekblad's acting. The portrayal of a writer resisting the expectations of noble life is beautifully expressed, and her descent into madness is both tragic and revulsive.
Thank you to Sandrew Metronome for a beautiful copy of this film.