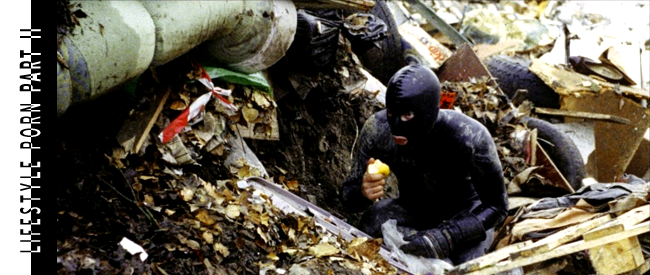 LIFESTYLE PORN PT. II
Special thanks to João Pedro Rodrigues, Joaquim Sapinho, and Rosa Films.
TUESDAY, FEBRUARY 9 – 8:00 PM
Curated by Gabriel Abrantes, Alexander Carver, Benjamin Crotty and Daniel Schmidt, LIFESTYLE PORN, PART II is a rejoinder to a program of short queer films screened at Light Industry (LIFESTYLE PORN, PART I) from the last 60 years, marking a shift in the cinematic stylizations of homoeroticism from the guise of criminal marginality to bourgeois "lifestyle" fetishism.
The Spectacle program features LE MURA DI SANA, a short film made in Yemen by Pier Paolo Pasolini as an appeal to UNESCO, against what he perceived to be the corrupting forces of global economic development. Pasolini's films and activism alike championed a certain romanticization of poverty and the "pre-modern" lifestyle as vitalist and sexually liberated, as a viable alternative to the repressive architecture of the burgeoning global-capitalist world of rampant consumerism and mono-culture. Whereas modern subcultural lifestyles have often exploited and have been exploited by cinematic form to various political ends, Pasolini sought to politicize the entirety of the developing world in service of his cinematic, aesthetic and personal anti-modernist politics.
The feature presentation is O FANTASMA, by contemporary Portuguese filmmaker João Pedro Rodrigues: a meditation on the alienated sexual encounters of a Lisbon garbage collector whose obsessions are the film's sole subject. Here the refuse of the fully modernized city becomes the debased medium through which the protagonist's burgeoning sexual fetishisms arise. Rodrigues' 'Fantasma' can be seen as the ghost of Pasolini's eccentric idealisms.
Structured as a "before and after" of 'Late Capitalism', the program will begin with a radical Marxist's direct political appeal to curb capitalistic destruction of the "good life", and thus to preserve and valorize the perceived innocence of pre-modern sexual freedoms and political naiveté. The "after" of these fantasies are imaged in O FANTASMA as the vast landfill of Lisbon – a monument to the rotting detritus of consumer culture that has displaced Pasolini's unalienated innocence.
Friends with Benefits, a retrospective of works by Abrantes, Carver, Crotty, and Schmidt, will run at the Film Society of Lincoln Center from February 5-11. LIFESTYLE PORN, PART I plays Light Industry on Tuesday, February 2nd.