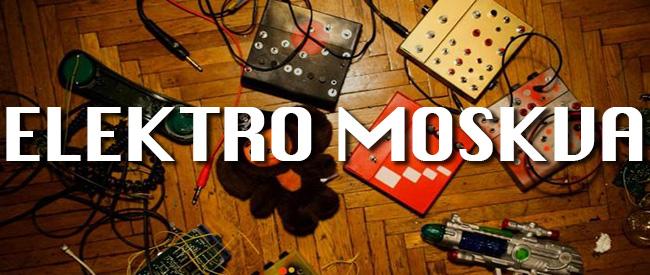 ELEKTRO MOSKVA
Dir. Elena Tikhonova and Dominik Spritzendorfer, 2013
Austria, 89 min.
In Russian and English, with English subtitles.
** One night only! **
FRIDAY, APRIL 15 – 8:00 PM
Co-Director Dominik Spritzendorfer in attendance to perform a live DJ/VJ set!


We are bringing back one final screening of ELEKTRO MOSKVA with a live DJ/VJ set following the screening! When we screened this in February, Dominik Spritzendorfer was unable to attend/perform due to an unforeseen change of his schedule. It's all set this time so get your tickets now before they sell out!
Welcome to a weird and definitely wired world of avant garde rock musicians, DIY circuit benders, vodka-swilling dealers and urban archaeologists/collectors, all fascinated with obsolete Soviet-era electronic synthesizers: primitive and ungainly beasts like the Polyvox, ESKO, Yunost and the fabulous ANS Photo-Electronic Synthesizer, a surreal device that translates abstract drawings into sound. This strange universe of "cosmic chill-out tunes," Space Age dance music and electronic chirps & tweets has been rescued by directors Elena Tikhonova and Dominik Spritzendorfer in this fascinating & cheeky documentary incorporating rare archival footage including the last 1993 interview with famed inventor Leon Theremin. In a bizarre twist, many of these instruments were a by-product of the KGB and Soviet military, created in the off-hours by scientist/inventors cobbling together spare transistors and wires – including Theremin's Rube Goldberg-esque "Rhythmicon" from 1932, the world's first rhythm machine, described by a museum curator as "space wreckage." A new generation of avant garde rock musicians has embraced the unpredictability and chaos of these instruments: as "Benzo" (aka Richardas Norvila) admiringly says, "On a Western device, you push a button and get a result … On a Soviet instrument, you push a button and get something." Rooting through discarded storage units for cracked and yellowing keyboards, pulling apart cheap toys and re-wiring their inanely cheerful voice boards, these guerilla circuit benders are creating new cosmic sounds from these forgotten "instruments with expanded abilities."