There's a general notion that Larry Buchanan was a generic schlockmeister who made cheap sci-fi/exploitation filler for bored drive-in teens. Allow us to float a counter-notion: that Larry Buchanan, drunk on his own weird muse, pursued a singular path through fringe cinema, a particularly Texan low-rent alternative dimension Oliver Stone or perhaps a dreamier variant on Larry Cohen.
From his early work adapting Noita palaa elämään as THE NAKED WITCH to his time at American International, directing films like ATTACK OF THE THE EYE CREATURES and IN THE YEAR 2989 and into his increasingly conspiratorial works THE TRIAL OF LEE HARVEY OSWALD and GOODBYE NORMA JEAN, we can see a history of films that always lived up to the Roger Corman principle of earning more than they cost to make, in this case spending as little on production as possible. There's a contrarian streak in even the goofiest of his movies, a notion things are never as they seem, a Quixote-esque quest to consider other options beyond the traditional narrative. That's certainly the case with DOWN ON US (which presupposes Nixon had leftist rock stars murdered), while the romantic folklorist side comes through in STRAWBERRIES NEED RAIN, a lovely meditation on death.
Are you going to let the internet tell you what to think your whole life, or are you ready to make your own decisions? Decide for yourself this September with LARRY BUCHANAN'S MIDNIGHT HOURS!
---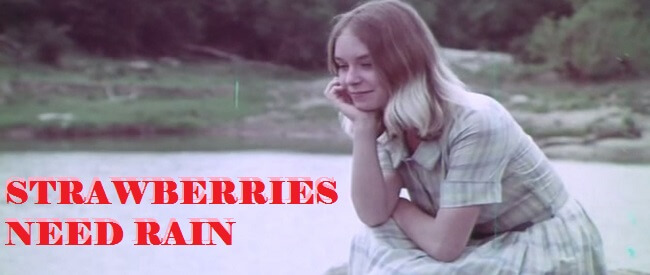 STRAWBERRIES NEED RAIN
Dir. Larry Buchanan, 1970.
USA. 85 minutes.
FRIDAY, SEPTEMBER 2 – MIDNIGHT
FRIDAY, SEPTEMBER 9 – MIDNIGHT
SATURDAY, SEPTEMBER 17 – MIDNIGHT
SATURDAY, SEPTEMBER 24 – MIDNIGHT
STRAWBERRIES NEED RAIN was Larry Buchanan's self-proclaimed stab at Bergmansploitation, if by way of Mary Travers and LITTLE HOUSE ON THE PRAIRIE. Racing against the Scythe of Death, a pre-Patch Monica Gayle tries out every prude, sleaze, and lecher she can find, wistfully strolling through a few fields along the way. If this extra day of life previews her chances for love and human companionship, then she probably shouldn't fear the reaper. Which she doesn't, because she is a brave and beguiling woman with hair that wouldn't look out of place in a 90's Calvin Klein ad. You will root for her all the way to the last breath or die trying.
---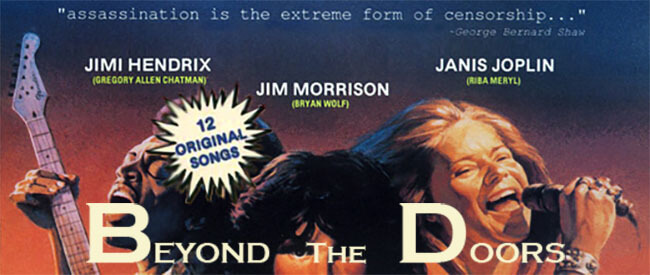 BEYOND THE DOORS/DOWN ON US
Dir. Larry Buchanan, 1989.
USA. 117 minutes.
SATURDAY, SEPTEMBER 4 – MIDNIGHT
FRIDAY, SEPTEMBER 16 – MIDNIGHT
FRIDAY, SEPTEMBER 30 – MIDNIGHT
A government assassin is out to kill Janis Joplin, Jimi Hendrix, and Jim Morrison because they are turning youth culture against the Vietnam war, or simply because they are performing ludicrous imitations of their own work. The Buchanan budget did not cover the licensing fees to use originals, so get ready for some lesser-inspired covers that almost sixty years out sound so right. The charm of BEYOND THE DOORS is that you feel like you could be watching a high school local access TV program. After the generations of attention heaped of this part of rock and roll history, that is all we even need.