Puerto Rico is the oldest colony in the world, a territorial possession ceded to the United States after it invaded the islands in 1898 during the Spanish American War, or in the words of Rita Indiana: 'a social experiment full of contradictions'. In 1917, Puerto Ricans were imposed US citizenship; by 1970, New York City's Puerto Rican population reached its zenith, making Puerto Ricans the city's largest 'minority' population during that decade. Puerto Rican contributions to the city of New York are far and varied, from bodegas to salsa, from the Young Lords to Spanish being taught in elementary schools, from Pedro Pietri's poetry and the Nuyorican movement to Hip-Hop, from Puerto Ricans involvement in Communist and Socialist parties to their contributions to the city via co-op buildings and social clubs forming close social webs. La Bodega Sold Dreams seeks to uncover the cultural legacy of Puerto Ricans in the city by presenting a body of films that captured the sentiment, makeup and preoccupations of displaced Puerto Ricans living in the U.S. metropolis. This series dabbles with the constructions edified by both outsiders and insiders of the Puerto Rican diaspora, during two decades where Puerto Ricans were demonized for anything including being unclassifiable, minding your business, and bombing the Defense Department in Madison Avenue in support for Puerto Rican Independence.
Programmed in collaboration with Caroline Gil. Special thanks to Larry Revene, Carlos de Jesus, Robert B. Young, Diego Echeverria, XFR Collective and David E. Wilt.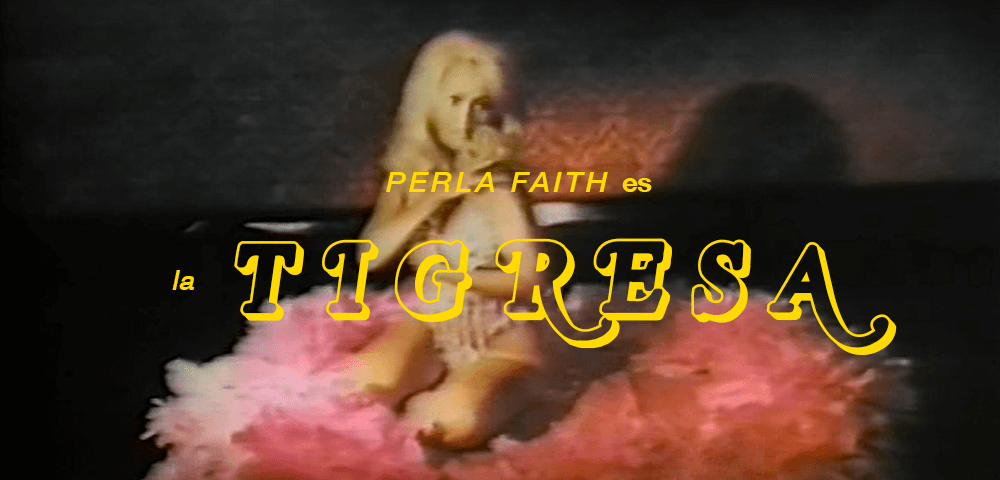 LA TIGRESA
dir. Glauco del Mar, 1969
85 mins. United States.
In Spanish with English subtitles.
THURSDAY, SEPTEMBER 5 – 10 PM
FRIDAY, SEPTEMBER 27 – MIDNIGHT
MONDAY, SEPTEMBER 30 – 7:30 PM
Glauco del Mar's penultimate film LA TIGRESA is perhapsx his most accomplished, yet far less popular than his apogee, 1975's TONO BICICLETA. It is in this bewilderingly feminist redemption narrative that we meet Patricia, a young woman living with her father, who is mercilessly ullied by her schoolmates, assaulted and raped in her home and is left with no resolve. Her alcoholic good-for-nothing father is killed during her attack. After inheriting some money and recovering her personal power, she sets off to avenge every single last person that did her wrong – making her list, and checking it twice. This classic redemption tale combines the amazing Perla Faith a legendary vedette with espiritismo, folklore, Miguel Poventud's jangly guitar boleros, corrupt cops, and entrancing Harlem landscapes.
YE YO
dir. Tony Betancourt, 1975
79 mins. United States/Puerto Rico.
In Spanish.
FRIDAY, SEPTEMBER 6 – MIDNIGHT
SATURDAY, SEPTEMBER 14 – MIDNIGHT
MONDAY, SEPTEMBER 30 – 10 PM
Puerto Ricans were imposed U.S. citizenship in 1917 via the Jones-Shafroth Act. Lore recounts that Puerto Ricans were given citizenship so that they could be discharged as cannon fodder for the First World War and all succeeding wars that the U.S. engaged in thereafter. Produced by Changó International Films and shot by the prolific adult film cinematographer Larry Revene, YE YO tells the story of Rogelio Sotomayor, a Vietnam veteran and former prisoner of war with PTSD who returns to New York after the war. Upon his return he finds his wife Nydia with a lover and murders them. In an epic, days-long run-off from corrupt cops, Ye Yo relies on his community for cover in this Blaxploitation inspired drama.
YE YO is screening with English subtitles for the first time in the United States, translated by Aida Garrido and timed by Garret Linn.
SHORT EYES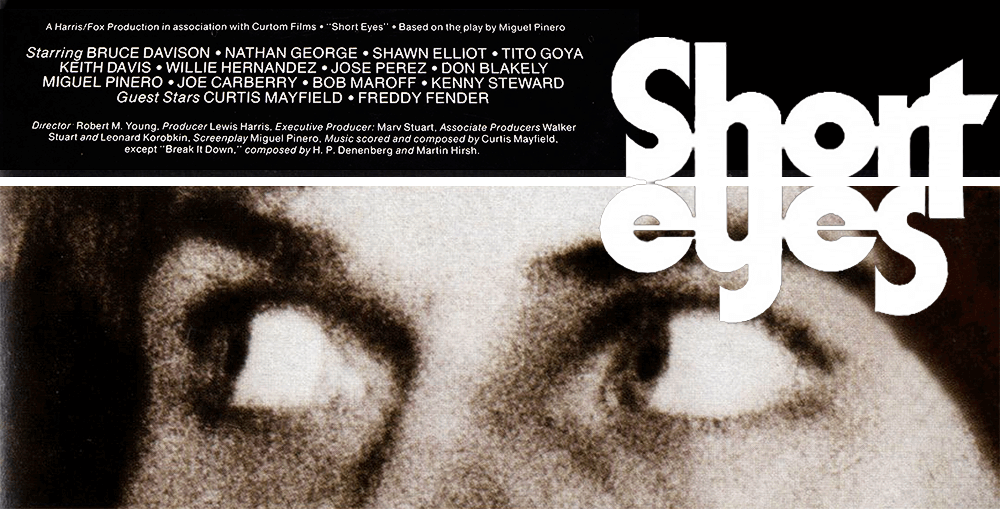 dir. Robert M. Young, 1977
100 mins. United States.
In English.
WEDNESDAY, SEPTEMBER 11 – 7:30 PM
SUNDAY, SEPTEMBER 22 – 5 PM
SATURDAY, SEPTEMBER 28 – 10 PM
"I don't know how much of a human being I would be if I met you on the sidewalk."
Adapted by poet Miguel Piñero from his play of the same name, SHORT EYES is closely based on his experiences incarcerated at Sing Sing after an armed robbery charge. Robert M. Young (ALAMBRISTA!) shot the film on location in the infamous Tombs, on White Street, while the prison was fully operational; the plot follows a gang of Black and Puerto Rican inmates figuring out what to do with a bourgeois white inmate named Clark (Bruce Davidson, making his big screen debut) who has been accused of raping an underage girl. "Short Eyes" is the in-prison nickname for pederasts, and Piñero's screenplay doesn't hold back in dissecting the dog-eat-dog culture among the inmates – several of whom have designs on Clark, who they consider the lowest of the low. A flawlessly executed ensemble piece buttressed by a silky-yet-menacing Curtis Mayfield soundtrack, SHORT EYES is a gripping and surprisingly even-handed look at life behind bars, widely considered one of the greatest prison films ever made. Young's compassionate realism and focus on authenticity is a perfect match for Piñero, who also acts in the film (as do Mayfield and Freddy Fender, in bit parts), and whose run-ins with law enforcement would continue during and after production.
(SHORT EYES will screen with a 17-minute clip of Miguel Piñero reading at Magic Gallery in 1984, preserved and digitized thanks to XFR Collective.)
NATAS ES SATAN
dir. Miguel Ángel Álvarez, 1977
89 mins. United States.
In Spanish with English subtitles.
WEDNESDAY, SEPTEMBER 11 – 10 PM
SATURDAY, SEPTEMBER 21 – MIDNIGHT
SATURDAY, SEPTEMBER 28 – MIDNIGHT
Best known for his comic persona "El Men" back in Puerto Rico, Miguel Ángel Álvarez delivers a blood-curdling performance in the lurid 1977 exploitation thriller NATAS ES SATAN, as an NYPD officer who is literally the devil (re)incarnate. (Screenwriter Joe Zayas based his sordid tale of blackmail and murder on true events.) Despite being Satan, Natás is also a surprisingly plausible supervillain, at one point enacting vengeance on his enemy, a businessman named Victor (Frank Moro), by hiring a "double" (played by Moro again) to put him in a compromising position. Like LA TIGRESA, this film was shot entirely en español on location in Manhattan; while the dramatic stakes are small, NATAS ES SATAN succeeds as both a crime procedural and a hysterical psychodrama. Long before Natas has invited three transgender assassins over to his place to murder Victor during a DIY porn screening, you'll agree the end product also feels not unlike an artifact from an alternate universe. Stay alert…. Natas may return!
NATAS ES SATAN is screening with English subtitles for the first time in the United States, translated by Aida Garrido and timed by Garret Linn.
LA BODEGA SOLD DREAMS: SHORTS 1968-1980
dirs. Various
approx. 90 mins.
In English and Spanish with English subtitles.
SUNDAY, SEPTEMBER 22 – 7:30 PM w/THE DEVIL IS A CONDITION filmmaker Carlos de Jesus in person for Q&A!
FRIDAY, SEPTEMBER 27 – 10 PM
Bracketed by two short TV documentaries – PUERTO RICO: A COLONY THE AMERICAN WAY, and THE DEVIL IS A CONDITION – this program looks at depictions of both Puerto Rican and Nuyorican culture regarding the island's de facto status as an outpost of American imperialism. The material screened will include interviews with Ruben Berrios, leader of the Independence party, Rafael Hernández Colón, governor candidate for the Popular Democratic Party, and Carlos Romero Barceló, governor of the islands, known murderer, and darling of the Pro-Statehood party, the PNP. (Today, the PNP is the same political party incriminated in the recent upheavals over the #rickygate, #rickyrenuncia, #wandarenuncia, etcetera.)