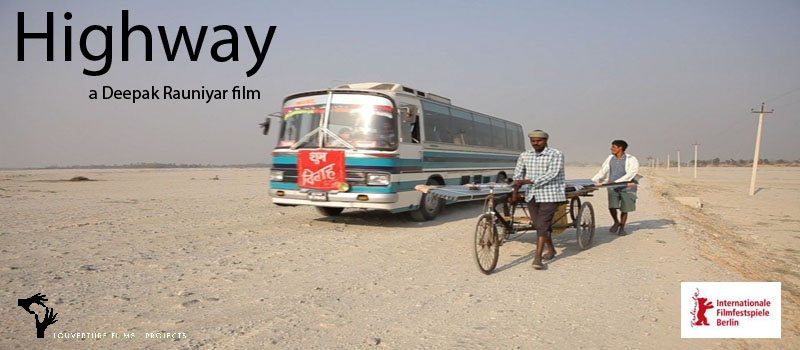 HIGHWAY
Dir: Deepak Rauniyar, 2012.
Nepal. 80 min.
In Nepali with English subtitles.
FRIDAY, MAY 10 – 10:00 PM
TUESDAY, MAY 14 – 7:30 PM
FRIDAY, MAY 31 – 10:00 PM
Highway tells many stories at the same time: a man and his wife have been trying unsuccessfully to have a child.  The man travels to a healer who gives him a special drink and tells him he must make love to his wife within 36 hours for it to work. This seems simple enough, and then the bandh.  A bandh, or general strike, usually consists of a group of people in a particular region or village of Nepal stopping traffic and blocking roads as a form of protest, for many apparent and not so apparent reasons.  A woman wants to visit her family but can't pass.  Every aspect of life can be shut down or affected by the bandhs and is emblematic of Nepal's many problems.  Highway moves between stories past and present, all different stories, unrelated. The only thing in common is that everyone needs to desperately get to Kathmandu.
An Official Selection at the Berlin Film Festival (2012), Highway is the debut film by Nepalese filmmaker Deepak Rauniyar who MOMA calls 'a filmmaker of great ability and visual imagination' and is the first Nepalese film to ever screen at a major international film festival.
 "MUST SEE: HIGHWAY" | Nepali Times
"Love It or Hate It, Daring Nepali Film Makes Waves" | NY Daily News
"BBC Man Stars in Nepali Feature Film" | BBC News Asia