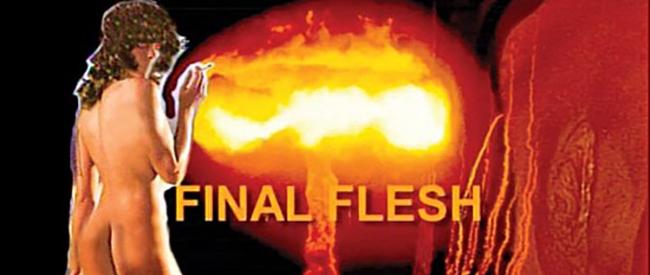 FINAL FLESH
Dir. Vernon Chatman
USA, 71 min.
TUESDAY, MARCH 8 – 10:00 PM
WEDNESDAY, MARCH 16 – 10:00 PM
FRIDAY, MARCH 25 – MIDNIGHT
SUNDAY, MARCH 27 – 7:30 PM
Writer/director Vernon Chatman of PFFR (WONDER SHOWZEN, XAVIER: RENEGADE ANGEL) discovered the existence of "websites whereupon one can hire professional porn production companies to do the sick and custom bidding of your panting loins' darkest yearn." He chose four different custom-porn-making sites, and submitted segments of a highly detailed script, or as he called it, his "purest truths", to each of them. The results form the "8-part prepocolyptic triptych in D minor" (or perhaps the 4-part "cinematic exquisite corpse") that is FINAL FLESH.
This epic and disturbing saga cannot be adequately explained or summarized, but by way of an attempt, it concerns the Pollard family (who shape-shift in their representation by the four different smutmakers).
The family is calmly discussing their impending death by atom bomb when Mrs. Pollard recounts a dream in which she sensually bathes herself in the "Tears of Neglected Children". Daughter Pam goes to the Psycho Sexual Burn-Ward (the bathroom) and reads the Koran on the toilet: "Yahweh ordered a double-latte. When the barista handed it to him, it was too hot, so Yahweh threw it in the janitor's face. The end." Pam then gives birth to an egg ("this is so hot") and a piece of raw steak which she names Mr. Peterson and breastfeeds. Mrs. Pollard and Pam then hatch a plan to convince their patriarch to return to the womb ("get up in there"), before Mrs. Peterson recounts her life's regret: "I didn't want to have a family, I wanted to murder the president. I wanted to use his blood to oil the machinery of capitalism." The atom bomb drops but the adventure continues as they re-emerge in God's womb, reincarnated as a different set of amateur porn actors…
If FINAL FLESH is not the greatest film of the 21st century, then I just creamed in my demon. "It's the same thing every Thanksgiving. Remember?"