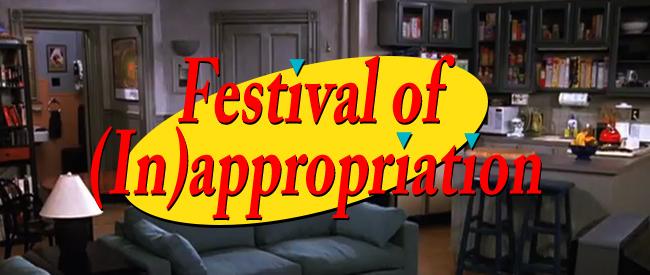 FESTIVAL OF (IN)APPROPRIATION: CONTEMPORARY FOUND FOOTAGE FILMMAKING
Dir. Various, 2010-2014
USA, Hungary, UK, Tajikistan, Sweden, Australia, 90 min.
THURSDAY, APRIL 16 – 8 PM & 10 PM
Spectacle is pleased to bring back the FESTIVAL OF (IN)APPROPRIATION for its seventh edition – ONE NIGHT ONLY!
Whether you call it collage, compilation, found footage, détournement, or recycled cinema, the incorporation of previously shot materials into new artworks is a practice that has generated novel juxtapositions of elements which have produced new meanings and ideas that may not have been intended by the original makers, that are, in other words "inappropriate." Founded in 2009, the Festival of (In)appropriation is a yearly showcase of contemporary short audiovisual works that appropriate film or video footage and repurpose it in "inappropriate" and inventive ways. This year's show is curated by Jaimie Baron, Greg Cohen, and Lauren Berliner. Sponsored by Los Angeles Filmforum.
ASTRO BLACK: RACE FOR SPACE by Soda_Jerk (Australia, video, 2010, 6:06)
DEMOLISHED EVERY SECOND by John Davis (US/Tajikistan, 16mm-to-video, 2014, 4:25)
SARA NOKOMIS WEIR by Brian L. Frye (US, video, 2014, 20:00)
LEXICON by Celeste Fichter (US, video, 2014, 2:36)
THE BAGS, PROBABLY 1971 by Joshua Yates (US, hand-processed 16mm-to-video, 5:11)
NO SIGNAL DETECTED by Péter Lichter (Hungary, video, 2013, 2:33)
TOHO by Sellotape Cinema (UK, video, 2013, 9:30)
NOTHING by LJ Frezza (US, video, 2014, 6:27)
ARRAY by Ben Balcom (US, video, 2013, 7:18)
MY CLOTHES WERE DRAGGING ME BACK by Maria Magnusson (Sweden, video, 2012, 4:53)
FALLING IN LOVE…WITH CHRIS AND GREG: WORK OF ART! REALITY TV SPECIAL by Chris E. Vargas and Greg Youmans (US, video, 2012, 14:00)
ITERATIONS by Gregg Biermann (US, video, 2014, 5:37)
Full program notes can be found on the Festival of (In)appropriation website.