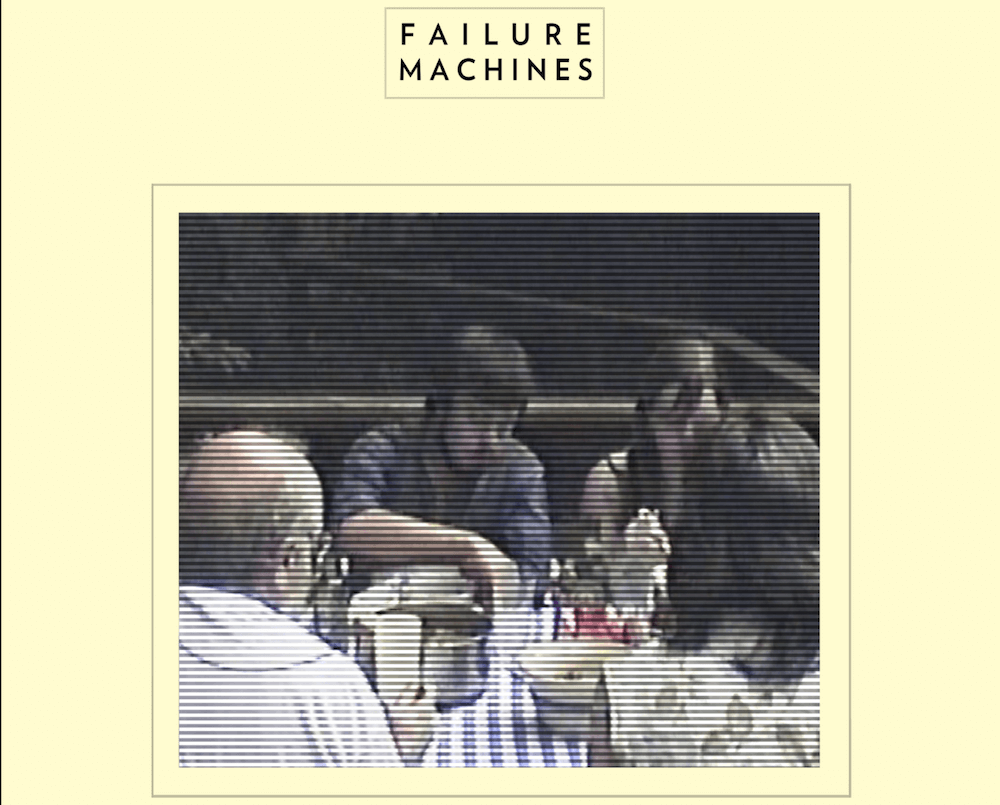 FAILURE MACHINES
Dirs. Nick Flessa, Karissa Hahn, Ilana Harris-Babou,
Ren Ebel, and Weston Lyon, 2019
58 min.
THURSDAY, DECEMBER 12 – 7:30 PM
failure machines is a collection of 5 shorts produced by 5 different directors that is touring out of Los Angeles.
FAILURE MACHINES is five films by five artists: Nick Flessa, Karissa Hahn, Ilana Harris-Babou, Ren Ebel, and Weston Lyon. The total run time of the program is 58 minutes. Its headliner is Nick Flessa's long unavailable thesis film, IF I FORGET YOU, JERUSALEM, made during his graduate studies at Cal Arts. The film has recently been reacquired and re-mastered, and is ready to be shown for the first time. Grounded in a depiction of his former home in the East Side exurbs of Cincinnati, Ohio, Flessa's film is a return to a land of new housing, humid overgrowth, and restless youth. Its generational hauntings and terse connections between parent and child engage a conversation around home movie aesthetics of the past, through Hi8 drenched framing and locked-off moments of lonely familial coexistence. Its characters proceed through time without immediacy but remain fixed together along a bloodline.
As a collection, the program looks to clear the boundaries of the "origin story", a form commonly deployed for the development of character within narrative. Here, the focus is much more on a kind of technological failure. The origin story, as a concept, is tied to Nick Flessa's return to Cincinnati, Ren Ebel's attempts to locate a coyote in his home city, Ilana Harris-Babou's domestic critique, Karissa Hahn's media layering in the woods, and Weston Lyon's journey down a river traversing the history of animation. All put forth sizable amounts of filmic play and biography. Each artist has their individual pursuits yet they all cohere along a line of recording that which escapes its beginnings. This, aided by a reverence for obsolete pictures, locates the program in a contemporary, rapidly aging moment.
History, in the form of a long and disjointed past of video technologies, is highly present in the program. It is its principle subject in ways less about a conventional origin story and more about the mechanized means of filming or representing the chosen worlds of each artist. All four artists happen to be millennials. And specific to this generation is cheap video, media distribution and home entertainment, all seemingly expanding without limit from the late part of the last century forward. This expansion, in all of its sociological crush, is taken quite literally for long sections of the program and continually calls attention to itself both in photography and script, at the surface and in performance. During key moments, the artists look to this history to catalyze sensations of perpetuity, distress, and the sublime.
All four films' biographical leanings raise questions around disconnectedness, Saturday Morning Cartoons, matriarchy, and arguably, growing up. IF I FORGET YOU, JERUSALEM's experiments in verisimilitude gradually sink deeper into narrative and ultimately bind together a historical moment in image making with the loss of one's mother. The throwback camcorder positioned to quietly observe Flessa's elegy on teenage disintegration; the soft buzz and delay of sound that predates its sources; the sitcom-like television set that never shuts off in his father's living room…you can't help but place the program's concluding film in a time of neoliberal verve, where the promise of expanded middle class American life is outlived by its tools of preservation.