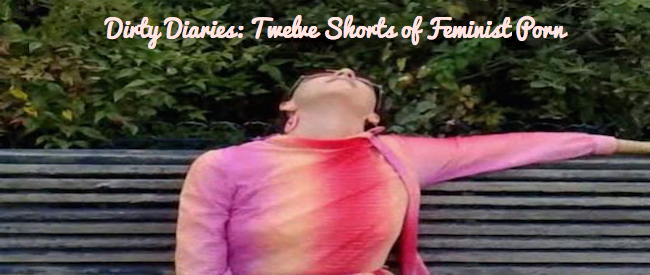 DIRTY DIARIES
Various Directors, 2009
Sweden, 98 min.
Silent/In Swedish with English subtitles
SATURDAY, MARCH 14 – 8 PM
ONE NIGHT ONLY!
Tired of airbrushed, male gaze porn with no personality, no panache, no pizzazz? Spectacle's got you covered. For one night only, Spectacle presents DIRTY DIARIES, a collection of Swedish feminist porn shorts sure to put the vim and vigor back into your love life!
Put together by director Mia Engberg, DIRTY DIARIES is a collection of 12 short films, each directed by a woman, and each dealing with a different aspect of sexuality. These shorts are raw, with every day people as performers, and nearly every proclivity and orientation represented. From an exploration of online sexuality, to lovers cutting each other out of body suits, to an animated short, DIRTY DIARIES likely has something you're looking for — and just as likely, will make you reconsider what porn is, and what porn can be. Joining us for the night is Rachel Kramer Bussel, sex columnist, editor, and expert on sex and pop culture, to discuss the films and the issues they raise. With a manifesto that includes such points as "Fight for your right to be horny" and "Smash capitalism and patriarchy," DIRTY DIARIES is porn with a message (don't be scared away, it's still hot, too).
Rachel Kramer Bussel is the author of Sex & Cupcakes: A Juicy Collection of Essays and the editor of over 50 anthologies, including Come Again: Sex Toy Erotica, Best Bondage Erotica 2015, The Big Book of Orgasms, The Big Book of Submission, Fast Girls, Gotta Have It and Cheeky Spanking Stories. She is a sex columnist for Philadelphia City Paper and DAME, teaches erotic writing workshops, writes widely about sex, dating, books and pop culture and Tweets @raquelita.
[Trigger Warning: This is hardcore pornography, including bondage, exhibitionism, fisting, and pretty much everything else you can think of.]
Special thanks to Njutafilms and Rachel Kramer Bussel.