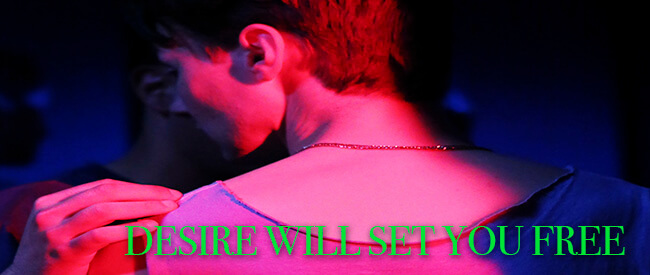 DESIRE WILL SET YOU FREE
dir. Yony Leyser, 2016.
Germany. 92 min.
2/24 7:30 PM
2/25 5 PM
2/26 7:30 PM
New York Premiere Weekend
Q&A with Special Guests
The second film from director Yony Leyser, DESIRE WILL SET YOU FREE is a dizzying, vibrant guided tour contemporary Berlin seen from the point of view of two immigrants — an America writer and a Russian escort. DESIRE unravels the history of Berlin's hedonistic queer underground, prodding into the unique subcultures of the landscape as the two travel through the perennial nightlife.
Featuring an über-large cast including Nina Hagen, Rosa von Praunheim, Peaches, and Blood Orange's Dev Hynes (who also contributed music), this richly-detailed sensory overload made its US debut at Outfest last year.
Special thanks to Wavelength Pictures and Altered Innocence.