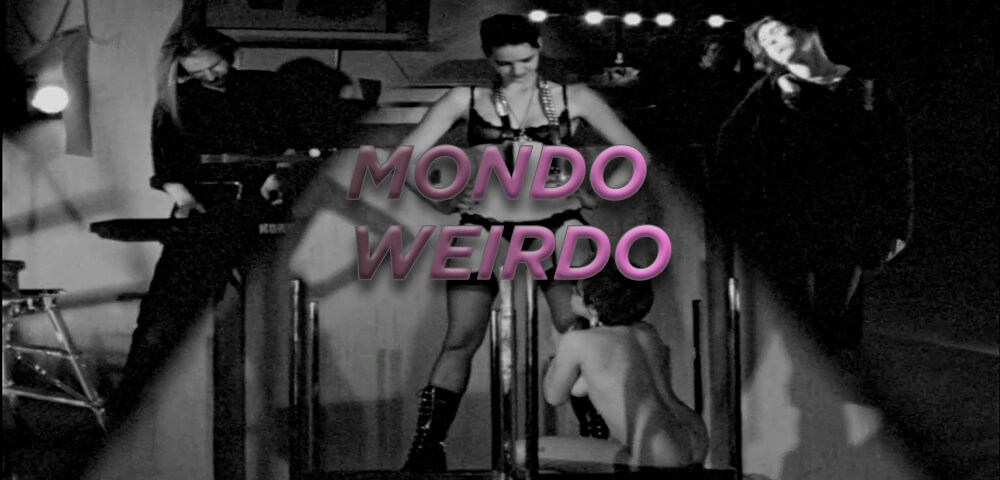 MONDO WEIRDO: A TRIP TO PARANOIA PARADISE
Dir. Carl Andersen, 1990
Germany, 56 min.
In German with English Subtitles
FRIDAY, APRIL 5 – MIDNIGHT
SATURDAY, APRIL 13 – MIDNIGHT
THURSDAY, APRIL 18 – 7:30 PM
MONDAY, APRIL 22 – 7:30 PM
FRIDAY, APRIL 26 – MIDNIGHT

"I will warn the audience because the story of the motion picture you are going to see now really has happened. It is one of the most bizarre cases in history of distorted sexuality. […] The following things will shock some of you. Should you seem to have problems to share this world of nightmares and bodily cruel events, please leave the auditorium. Leave the auditorium now."
Dedicated to Jess Franco and Jean-Luc Godard, MONDO WEIRDO is the post-punk lesbian vampire flick to end them all. A sort of German response to New York's Cinema of Transgression movement, the film trades plot for some morosely erotic ambience and a killer electronic music soundtrack provided by Modell D'oo. The scant plot follows a teenage girl, Ilona, who starts getting strange urges after witnessing two women ravenously going at it during a rock concert. Cut to the next day and it's not long before Ilona herself is shacking up with fellow vampiresses and killing every man she sees. Echoing Murnau in its use of silent movie intertitles and moody black and white photography, MONDO WEIRDO is the kinky silent vampire movie to rule them all.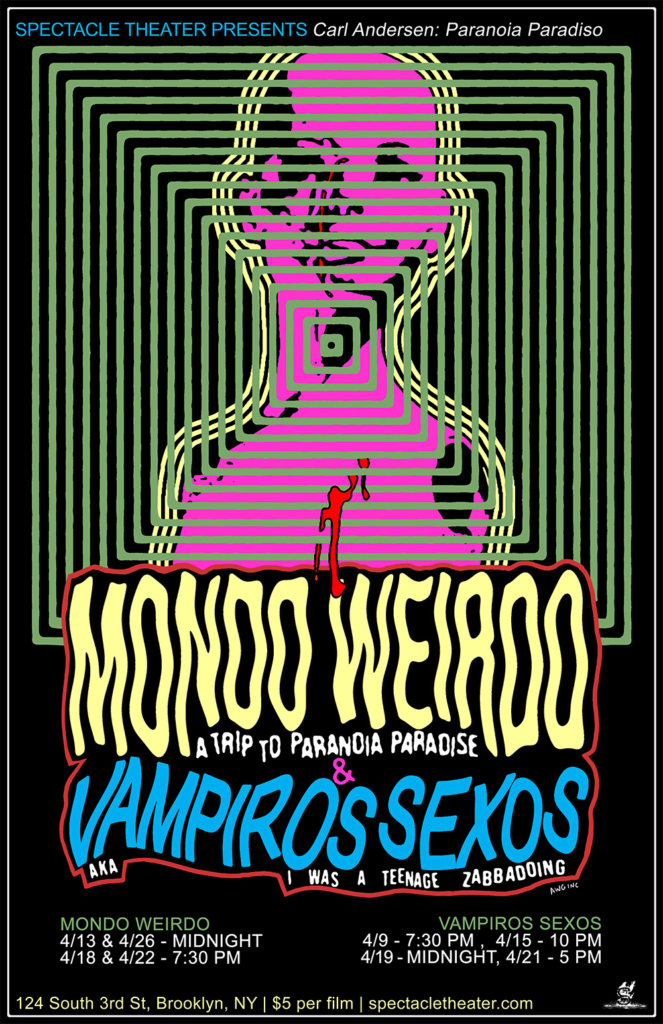 ( poster by Glenn Stefani )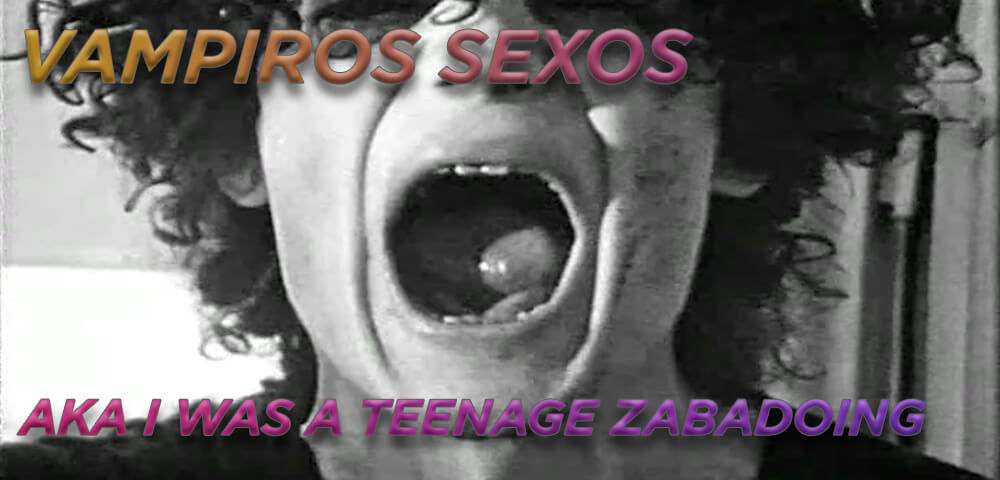 VAMPIROS SEXOS (aka I WAS A TEENAGE ZABBADOING…)
Dir. Carl Andersen, 1988
Germany, 68 min.
In German with English Subtitles
TUESDAY, APRIL 9 – 7:30 PM
MONDAY, APRIL 15 – 10 PM
FRIDAY, APRIL 19 – MIDNIGHT
SUNDAY APRIL 21 – 5 PM
ONLINE TICKETS
FACEBOOK EVENT
Queer vampire Jasmine Strange is on the hunt for a poisoned bottle of olive oil which represents perhaps the only line of defense against the evil Dr. Fun Helsing and his malicious consumer goods in Carl Andersen's delirious debut feature. Stuffed with bar room brawls, gratuitous amounts of unsimulated sex, vampire hunters gleefully singing Joy Division, and one killer guitar-wielding space god dressed like a caveman – Andersen's lo-fi gonzo romp is a must-be-seen-to-be-believed relic from the german underground cinema of the 90's. And – to top it off – the full title is easily in the running for greatest of all time: I WAS A TEENAGE ZABBADOING AND THE INCREDIBLE LUSTY DUST-WHIP FROM OUTER SPACE CONQUERS THE EARTH VERSUS THE 3 PSYCHEDELIC STOOGES OF DR. FUN HELSING AND FIGHTING AGAINST SURF-VAMPIRES AND SEX-NAZIS AND HAVE TROUBLES WITH THIS ENDLESS TITTILATION TITLE.