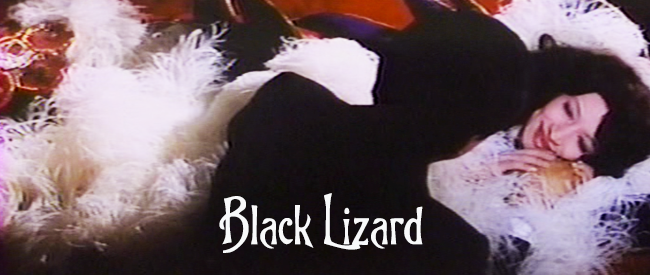 BLACK LIZARD (KUROTOKAGE) 黒蜥蜴
Dir. Kinji Fukasaku, 1968
Japan, 112 min.
MONDAY, FEBRUARY 10 – 7:30 PM
FRIDAY, FEBRUARY 28 – 10:00 PM
"Black Lizard, you are an old-fashioned romanticist. In this age, soiled by corruption and murder, you believe that crime should wear a gorgeous gown, with a train fifteen feet long."
From the infamous 1969 pinku film HORRORS OF MALFORMED MEN, to Koji Wakamatsu's 2010 film CATEPILLAR, legendary pulp novelist Ranpo Edogawa's demented works have inspired Japanese artists and directors for the better part of a century.
One of his enduring creations is BLACK LIZARD, a femme fatale jewel thief who appeared in a detective serial in the 30s. In the 60s, Yukio Mishima wrote a stage adaptation of her story, and his interpretation in turn became the basis of Kinji Fukasaku's film. In its fixation on the relationship between death and beauty, Mishima's hand is evident—even before he makes a cameo as a human taxidermy specimen.
Akihiro Miwa, a celebrated female impersonator and Mishima's close friend, plays the lead role fairly straight, even with a kind of queenly grace. The film itself is refreshingly sincere in its weirdness, never inviting laughter at its bewigged star, or even at its objectively wacked-out plot. Which is not to say that it isn't funny, just that it probably wasn't conceived as the campy marvel it is.