January 2017 at Spectacle is a curated selection of all the best in 2016 that you may have missed or need to see again. No need to pick and choose; all of the best is right here.
---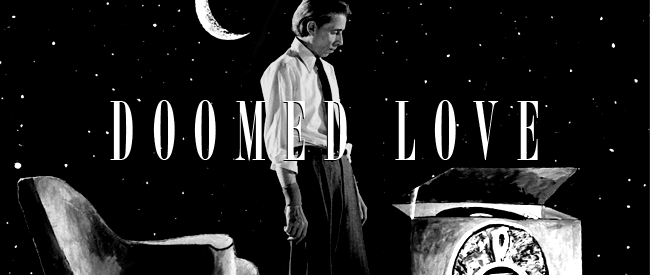 DOOMED LOVE
Dir. Andrew Horn, 1984.
USA, 70 mins.
FRIDAY, JANUARY 6 – 7:30 PM
THURSDAY, JANUARY 12 – 10 PM
SATURDAY, JANUARY 21 – 10 PM
Made in piecemeal payments while director Andrew Horn (THE NOMI SONG) was working as a graphic artist in Koch-era Manhattan, DOOMED LOVE is a delectable hunk of sunken downtown treasure ripe for rediscovery. Painter Bill Rice (SUBWAY RIDERS, THE VINEYARD) stars as Andre, an aging professor of romantic literature who decides, in the film's doleful introductory passage, to commit suicide after losing the love of his life. Andre is tragicomically unsuccessful, but the attempt leads to a new acquaintance with a psychiatric nurse named Lois (Rosemary Moore), with whom he uncorks a kind of under-acknowledged romance of the soul. Whatever margins that once separated Andre's work as an academic and his reasons for going on (or not) have completely dissolved; Rice's monologues – scripted by the great playwright Jim Neu – set a tone of droll monotony and piercing repetition.
"Life goes on, so to speak:" Horn's vignettes from Andre and Lois' – trapped in a state of paralyzing reverie, and newly married to Bob (Allen Frame), respectively – play against jawdropping 2-D backdrops mounted in the Lower East Side's Millennium Film Workshop where DOOMED LOVE was filmed. Amy Sillman and Pamela Wilson's muslin and cardboard "sets" make Horn's film a dourly sweet exercise in epic theatre, a self-reflexive essay on Western amativeness, buttressed by an sparkling minimalist score from Evan Lurie (of The Lounge Lizards.), with original songs by Lenny Pickett. Spectacle is pleased to resuscitate this no-wave classic for its first NYC repertory run in years-if-not-decades.
---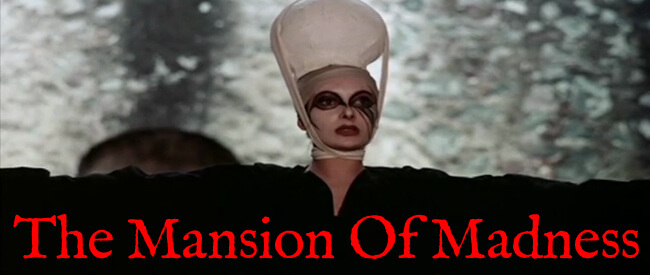 LA MANSION DE LA LOCURA (THE MANSION OF MADNESS)
Dir. Juan López Moctezuma, 1973.
Mexico, 99 min.
In English
FRIDAY, JANUARY 6 – 10 PM
WEDNESDAY, JANUARY 11 – 7:30 PM
SUNDAY, JANUARY 22 – 5:00 PM
Based on Poe's story The System Of Doctor Tarr and Professor Fether, in which a reporter visits an asylum to discover the system by which the roles of the insane and the caregivers have become a bit muddled, we enter into a film where political satire and surrealist horror blend into a truly astonishing mixture, a place out of time where a man becomes a chicken, the body becomes a musical instrument, and nothing is ever as it seems. Director Juan Lopez Moctezuma (ALUCARDA, MARY MARY BLOODY MARY) was a member of Mexico's Panic movement alongside Alejandro Jodorowski and Fernando Arrabal: the three worked together on FANDO Y LIS, which should give you some idea of what you're in for. With a cast led by the great Claudio Brook (CRONOS, THE EXTERMINATING ANGEL) in a dual role as the mad Dr. Maillard as well as Raoul Fragonard, the film is as a dream, a ritual, a series of living tableaux. Describing the plot would be to cheapen the film, but it's worth noting no less than Leonora Carrington served as art director. We are honored to present this film in its longest known cut, with the original English dialogue, miles from public domain cuts. Those expecting cheap horror will be disappointed; those expecting clarity will be confused, those with eyes to see will behold a revelation.
---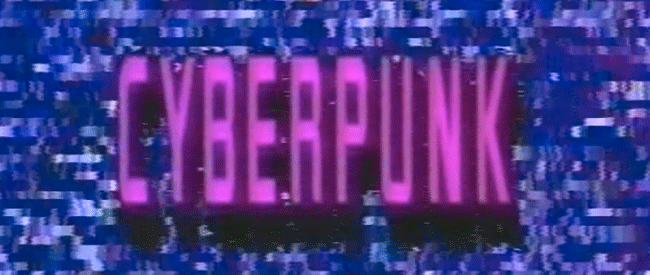 CYBERPUNK
Dir. Marianne Trench, 1990
USA. 60 min.
FRIDAY, JANUARY 6 – MIDNIGHT
SUNDAY, JANUARY 8 – 7:30PM
TUESDAY, JANUARY 24 – 7:30PM
FRIDAY, JANUARY 27 – MIDNIGHT
Itself an artifact of the time and aesthetic being documented, CYBERPUNK is a fun, highly stylized sampler capturing its eponymous subculture still coalescing. Featuring interviews with William Gibson, Timothy Leary, founder of VPL Research/inventor of the Data Glove Jason Lanier, and encompassing musicians, animators, plastic surgeons, crafters, and self-proclaimed hackers, the movie shows and tells simultaneously with talking-head interviews overlaid and interspersed with then-cutting-edge CG animation and graphic effects. Reflecting the range of its subjects' motivations, sometimes this is practical, masking coders casually chatting about illegal data access, and sometimes it's purely for visual flair.
The documentary's timing places it at a unique juncture – there's talk of phone phreaking, VR potential and research, body modification, warez trading, database hacking, but no concrete mention of the internet as we know and use it today. AOL for DOS was released February 1991, Windows in 1992; CYBERPUNK just missed the radical breakthrough that was readily accessible dial-up, existing in a world where text-based intranets with node points were the closest equivalent. Of all people it's a computer theorist outlining the blind spot most clearly; speaking to the (assumed) main fear of technology being how small and powerless it makes the average person feel and citing the military-industrial complex as example, the idea of complete personal connectivity and power doesn't even occur. And yet the possibility is present in the film – one hacker tells how a 14-year-old poking around an AT&T database for kicks had the FBI knocking on his door after he'd inadvertently nudged a satellite out of orbit. In a present with unlimited texting on readily available handheld computers, it's tempting to giggle at one hacker bragging "I make free phone calls…everywhere. You name it…Europe, Asia…..The United States…", but hindsight's 20/20 – CYBERPUNK is a snapshot of those excited for a future they nearly saw coming.
---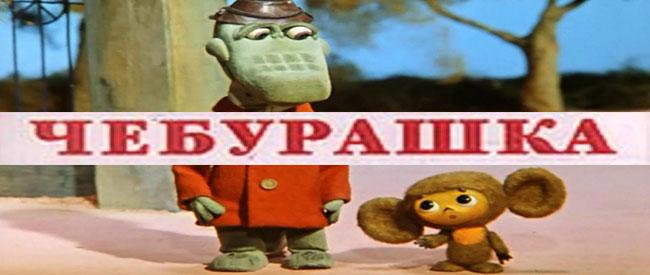 CHEBARUSKA, GENA THE CROCODILE and SHAPOKLYAK
Dir. Eduard Uspensky, 1969, 1971, and 1974.
USSR, 69 min (total).
SATURDAY, JANUARY 7 – 5 PM
FRIDAY, JANUARY 13 – 10 PM
SATURDAY, JANUARY 21 – 7:30 PM
MONDAY, JANUARY 30 – 10 PM
Just a regular story of a pipe-smoking, besuited Crocodile who posts a "seeking roommate" ad and pairs up with a unknown creature that came out of a crate of oranges. The friendship of Cheburaska and Krokodil Gena flourishes into connections with other lonely souls, and the misfits have adventures both poignant and adorably funny. Based on children's stories by Uspensky, this puppet-animation from Soyuzmultfilm Studios had a wide appeal with kids growing up throughout the Soviet empire. It is something of a timeless artifact, having a foundation of subtle humor and painstaking craft. The crocodile has a lovely singing voice, and at the end of the third episode he croons: "even if giving up on the past is a bit sad, everything the best is still to come – like a carpet, like a carpet, a long road unrolls ahead".
---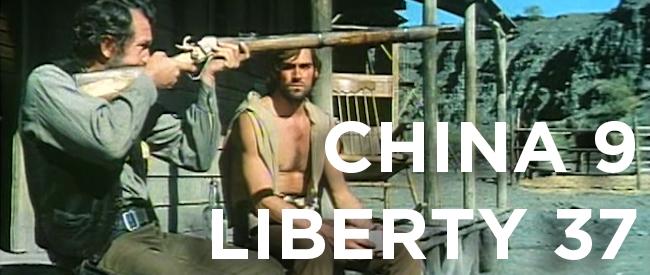 CHINA 9, LIBERTY 37
Dir. Monte Hellman, 1978.
Italy/Spain, 102 min.
In English.
SATURDAY, JANUARY 7 – 7:30 PM
WEDNESDAY, JANUARY 11 – 10 PM
TUESDAY, JANUARY 17 – 7:30 PM
Fabio Testi plays Clayton Drumm, on his way to the gallows when he's offered a chance to live in exchange for killing Matthew Sebanek (Warren Oates), a miner who refuses to sell his land to the railroad. The arrangement becomes complicated when Clayton and Matthew become friends, and more complicated still when Clayton and Matthew's wife Cather (Jenny Auguttter), fall for each other. With the railroad's gunmen hot their heels, enemies become friends, then enemies again, then uneasy friends again, then ambiguous frenemies in this western from Monte Hellman, director of TWO-LANE BLACKTOP, COCKFIGHTER, THE SHOOTING and RIDE IN THE WHIRLWIND. Featuring a rare acting role for WILD BUNCH director Sam Peckinpah.
---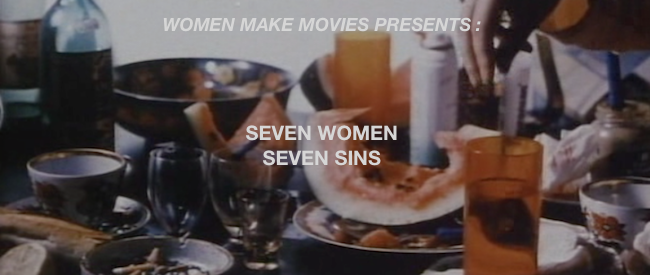 SEVEN WOMEN SEVEN SINS
Dirs. various. 1987.
Various. 101 min.
SATURDAY, JANUARY 7 – 10 PM
FRIDAY, JANUARY 13 – 7:30 PM
MONDAY, JANUARY 16 – 10 PM
As wide-ranging an omnibus film as there has ever been, a group of some of the most important international filmmakers of the last few decades – all of them female – take on each of the biblical vices. Bette Gordon, Chantal Akerman, VALIE EXPORT, Maxi Cohen, Laurence Gavron and more contribute a contemporary celluloid sin. The result is a thoroughly unpredictable introduction to each filmmaker's work; encapsulating devious narratives and experimental collages, film and video.
Special thanks to Women Make Movies.
---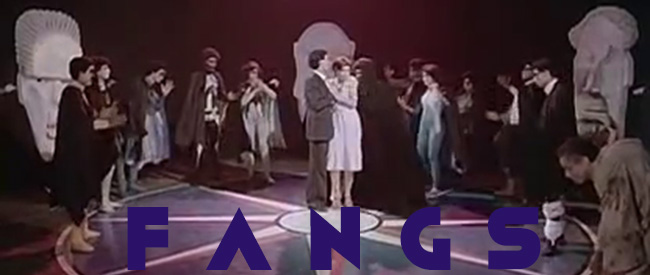 FANGS a.k.a. Anyab
Dir. Mohammed Shebl, 1981.
Egypt. 100 min.
In Arabic with English subtitles.
SATURDAY, JANUARY 7 – MIDNIGHT
FRIDAY, JANUARY 13 – MIDNIGHT
SATURDAY, JANUARY 21 – MIDNIGHT
The Arab Spring and aftermath has yielded an accompanying wave of essential social realist film documents. But where, you ask, are all the Middle Eastern disco vampires now? Those occupied a special part of the early 80s — namely the exhilarating Egyptian ultra-camp triumph that is FANGS.
The premise — a young couple attempt to shelter from a storm at a creepy castle only to have their lives changed forever — may have been lifted straight from THE ROCKY HORROR PICTURE SHOW (along with the dance numbers, professorial framing device, and disembodied lips intro sequence). But however much director Mohammed Shebl may have worn his love of that cult icon on his sleeve, his ambitious and wildly imaginative attempt to transcribe it into contemporary 1981 Egypt makes for something wholly his own. Black magic, singing vampires in spangles, Egyptian pop cameos, awkward climbing Dracula sequence, implausible fog machine deployment, a shockingly banging original electrofunk soundtrack by the film's co-writer (fleshed out with bizarre soundtrack cues lifted directly from American movies of the time), kinetic on-screen animation effects — it's all here.
---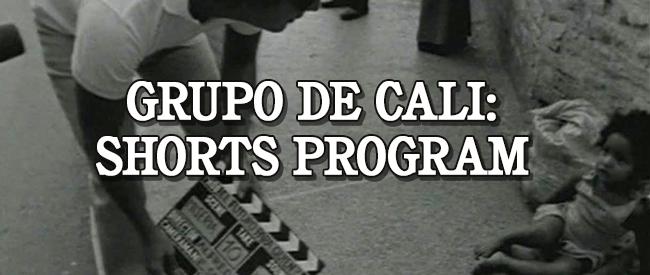 GRUPO DE CALI: 1971–1978
Total running time: 68 minutes

SUNDAY, JANUARY 8 – 5 PM
MONDAY, JANUARY 16 – 7:30 PM
THURSDAY, JANUARY 26 – 10 PM
OIGA, VEA!
aka See, Hear!
Co-directed by Carlos Mayolo.
1971. 27 min.
Made in the style of a straight-shooting As The World Turns… style mini-documentary, OIGA, VEA! serves as psychic exposé of Cali upon the arrival of the 6th annual Panamerican Games in 1971. Shooting with a handheld 16mm camera "borrowed" from Carlos Mayolo's ad agency workplace, the film finds wobbly panoramas on spectacular assemblages, but always from the outside – an exteriority which defines itself fuller in the film's cockeyed dissection of the Games' pomp and circumstance. Rallies of military might serve only to demonstrate their planners' unmistakable Cold War anxieties, and proprietary feats of infrastructural know-how – like a new railroad track, received by some shantytowns like manna from heaven – exposed for the limited-time-only publicity perks they are. Ospina and Mayolo steal glimpses at once officially decorative and incisively marginal; by the film's end, the bitterness engendered by the project has been transferred in total from the shantytowns outside the Games' encampment, and directly into the audience.
CALI: LA PELICULA
aka Cali: The Movie
1973. 13 min.
The frantic, colorful CALI DE PELICULA is antithesis to the sort of pedantic 'misery porn' Mayolo and Ospina would mock in AGARRANDO PUEBLO. Like a Mondo movie without the voiceover, Ospina and Mayolo frame bullfighting as silent slapstick, turn voyeuristic girl-watching ominous with a horror heartbeat, and capture life at street level, a pagan carnival churning by. Dancing, so vital to social life in the area, is shown in all its movement and color, but capturing faces without smiles or real joy – even enjoying themselves Cali's citizens are cautious.
AGARRANDO PUEBLO
aka The Vampires of Poverty
Co-directed by Carlos Mayolo.
1978. 28 min.
This program concludes with AGARRANDO PUEBLO, widely recognized as the Group's masterpiece. Mayolo and Ospina star as effigies of themselves, wielding Bolexes and Nagras on a mission to make the perfect cine de sobreprecio ("surcharge film") for German television – skewering a then-commonplace of Colombian cinema dictated by the Committee for Quality Control, a government-supported bureau intended to help foster a national cinema but a de facto organ of censorship. Retitled THE VAMPIRES OF POVERTY in English, "Agarrando Pueblo" mistranslates a number of ways along the lines of "the clutching of poverty" and "the tricking of the people" – Ospina described it as a popular regional phrase at the time. The certainly film gives away as much (if not more) of its antiheroes' sleazy postcolonial errand as it does the poverty they seek. Who is clutching whom? While the filmmakers are obviously the supposed vampires, the film is also explicit in the way their exposure to an impoverished zone gets their minds going about the potential windfall for their own careers (aided, inevitably, by a few lines of blow back at the hotel.)
---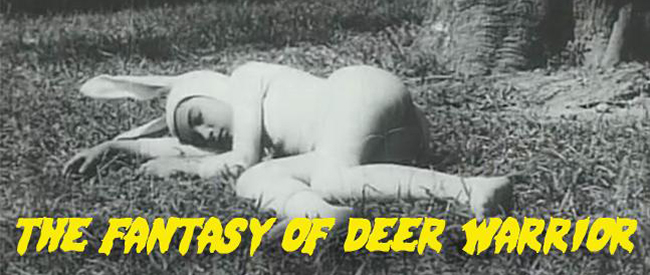 The Fantasy of Deer Warrior
Dir. Ying Chang, 1961.
Taiwan, 87 min.
In Min Nan with English subtitles.
MONDAY, JANUARY 9 – 7:30PM
SATURDAY, JANUARY 14 – MIDNIGHT
FRIDAY, JANUARY 20 – MIDNIGHT
MONDAY, JANUARY 23 – 10:00PM
THE FANTASY OF DEER WARRIOR is best described in this 2014 post over at Die, Danger, Die, Die, Kill!
---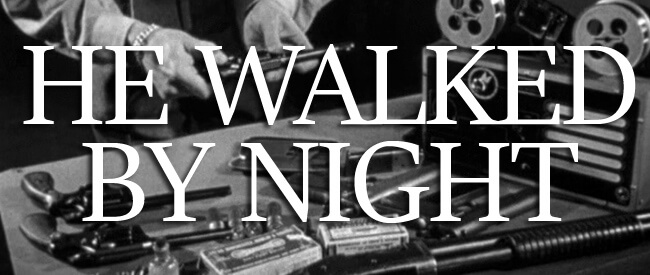 HE WALKED BY NIGHT
Dir. Alfred Werker (credited) and Anthony Mann (uncredited), 1948.
USA, 79 min.
MONDAY, JANUARY 9 – 10 PM
THURSDAY, JANUARY 26 – 7:30 PM
SUNDAY, JANUARY 29 – 5 PM
The template for Dragnet and a direct inspiration for dozens of police procedurals, HE WALKED BY NIGHT is based on the story of Erwin "Machine Gun" Walker, a WWII vet who began a series of burglaries which resulted in multiple gunfights with police, leading to his arrest in 1946. That role is played in the film by a young Richard Basehart, whose ice-cold performance became his breakout role. Charming at times, brilliant at others, but with a deep sociopathic core, Basehart's move from vet to safecracker to mad-dog killer prevents the docudrama angle from bogging down. Hunted down by Scott Brady (SHOTGUN SLADE, a million westerns, and a final role as the sheriff in GREMLINS!) and Roy Roberts (basically *every* tv show in the late 50s-60s), we get a look at the details of detective work more in line with Homicide/L&O/CSI than most films of the time, from false leads to confused witnesses.
It's Alfred Werker's name as director, but most film historians put the bulk of the work on the shoulders of Anthony Mann (EL CID, WINCHESTER '73. THE FAR COUNTRY), and fans of his earlier docudramas RAW DEAL and T-MEN will be able to see his influence right away. Fans of LA noir will find a lot to love here, with a dramatic chase through the Los Angeles sewers (later a key location for the film THEM! among a million others), absolutely stunning lighting by cinematographer John Alton, and none other than Jack Webb as lab tech Lee Whitey. Overlooked by too many for too long as an early film with "promise", HE WALKED BY NIGHT is actually as deeply tense, dark and ambiguous a noir as one could ask for. If that doesn't sell you, note that chunks of this film were later used in the Lon Chaney Jr. sleeper creeper THE INDESTRUCTIBLE MAN!
---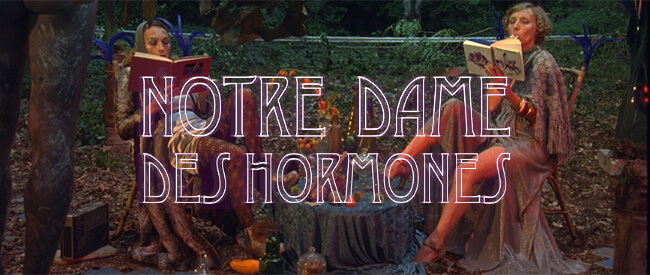 Bertrand Mandico has outlined his filmmaking aims in his "Incoherence Manifesto": artifice, irrationality, and the inherent magic of aging film stock and analog effects. But a certain affinity for genre, plot, and character, at least as starting points for distortion and unpredictable development, keeps most of his works oddly engaging. Take his most elaborate to date, Our Lady of the Hormones, in which two aging actresses take a long weekend in the countryside to practice their latest roles, but become side-tracked when they fall into a violent love triangle with a purring oozing organ discovered in the woods. Here the familiar, the imagined, and the wildly hallucinatory merge into a cinema resolutely true to its own logic alone.
TUESDAY, JANUARY 10 – 7:30 PM
SUNDAY, JANUARY 15 – 7:30 PM
SATURDAY, JANUARY 28 – 10 PM
DEPRESSIVE COP
2015, Scotland / France, 13 min.
A noir: on a remote Scottish island, a mask-visaged police officer helps a mother seek a vanished teen daughter. But both mother and daughter — or conceivably even all three principles — are played by Löwensohn, pointing the film into an absurdist maelstrom of eyes, sex, and confused identities. Genre conventions, here, provide just enough of a spine for film to mutate at will.
OUR LADY OF THE HORMONES
AKA Notre-Dame des Hormones 
2015, France, 31 min.
Two aging actresses take a long weekend in the countryside to practice their latest roles, but become side-tracked when they discover a purring oozing organ alone in the woods. This organism quickly becomes the object of their games and fascinations, and an inevitable love triangle develops. But among actresses, can even the grand guignol confrontation that awaits be taken at face value? Narrated by Michel Piccoli, whose words of explanation just add another layer to the increasing disorientation, and shot in dazzling color photography whereby every bit of artificial nature, human furniture, and deer-with-breasts explodes hallucinatorily onto the screen.
PREHISTORIC CABARET
2014, Iceland / France, 10 min
Somewhere in Iceland a surrealist, colonoscopic nightclub act offers a biological portal into the past.
SALAMMBÔ 
2014, France, 8 min
Against a stark and empty landscape a young women taunts one much older, through gorgeously overlaid 16mm film. Could these apparitions be those of memory, of her own past, or of something more arcane?
TRT: 62 minutes.
---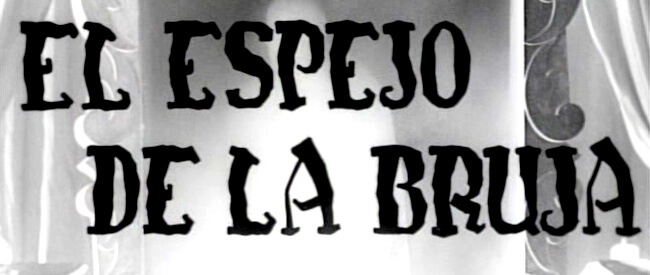 The Witch's Mirror
Dir. Chano Urueta, 1962.
USA. 72 min.
TUESDAY, JANUARY 10 – 10 PM
WEDNESDAY, JANUARY 18 – 10 PM
SUNDAY, JANUARY 29 – 7:30 PM
"A melody straight from hell!"
THE WITCH'S MIRROR is one of those films whose imagery will crawl deep into a crevice of your mind and live there forever. Every tempestuous night, billowing night gown and thick swell of fog will remind you of Sara and her goddaughter Elena. The film begins with the plight of Sara who through a pact with the devil has found out that her goddaughter will be murdered by her husband Eduardo. After pleading with the devil to intervene, she is told that destiny must run its course, but that doesn't mean that Sara cannot avenge the death of her goddaughter.
THE WITCH'S MIRROR benefits from the talents of Carlos Enrique Taboada (THE BOOK OF STONE) and Alfredo Ruanova (THE CURSE OF NOSTRADAMUS) who both are prolific horror screenwriters, and the direction of Chano Urueta who is responsible for many other Gothic Horror films such as THE BRAINIAC (1961) and THE WITCH (1954). Their collaboration endues the film with a very soft nightmarish quality that resembles early surrealist film.
What makes THE WITCH'S MIRROR a unique entry into the Mexican Horror genre or for that matter the Horror genre in general is that unlike many other films concerning the occult there is no "rectifying" moral ending. An example is the 1962 film ESPIRITISM which tells the story of a woman who turns to the occult to help her family. By the end of the tale her alliance with the occult has caused the destruction of her family. Right before the end credits begin to roll the camera pans over to a closeup shot of Christ on the cross and a voiceover begins
to say that if this film can turn just one soul away from the occult the makers of the film have done their duty. Taking this into account it is absolutely fantastic that a
film like THE WITCH'S MIRROR exists. Throughout the entire film it is made very
clear that Sara and Elena are dealing with the devil. Whether favorable or unfavorable certain events take place and in the end both Sara and Elena are vindicated. There is absolutely no punishment element except for that individual who should be punished i.e. Elena's husband. Long live the infernal powers!
---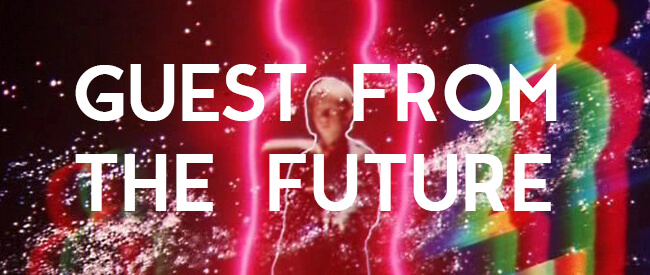 GUEST FROM THE FUTURE
Dir. Pavel Arsyonov
USSR, 1985
SATURDAY, JANUARY 14 – 6PM-11PM
**SPECIAL EVENT! ALL EPISODES BACK TO BACK!**
A Young Pioneer (mandatory, Communist version of a Boy Scout) named Kolya is waylaid by his curiosity while on his way to pick up buttermilk. His concern for spilled cultured milk are soon replaced by a sense of wonder, as he time travels from the 1980s to a world of optically printed special effects, and beautifully Soviet era retro-future sci-fi sets. While exploring the future, he meets Alisa Seleznyeva who is being pursued by space pirates. Alisa attempts to evade the pirates by blending in as a schoolchild back in Kolya's time. The series was wildly popular in the USSR and inspired loads of spin offs, including "Mystery Of The Third Planet", as well as dirty, folksy versions of the theme song.
---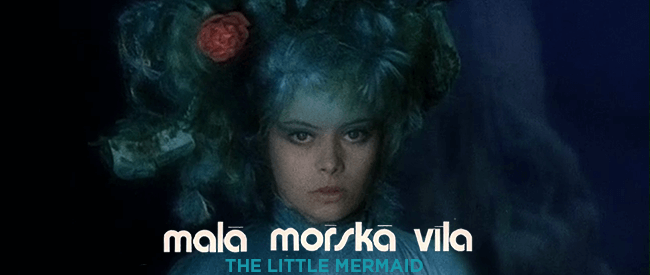 THE LITTLE MERMAID
aka Malá morská víla
Dir. Karel Kachyňa, 1976
Czechoslovakia, 86 min.
In Czech with English subtitles
BRAND NEW HD RESTORATION!
SUNDAY, JANUARY 15 – 5 PM
SATURDAY, JANUARY 21 – 5 PM
FRIDAY, JANUARY 27 – 10 PM
Two daughters of the Sea King are playing in the depths of the sea – the little mermaid and her elder sister. The Sea King has just sunk a ship as a birthday gift for his elder daughter. The little mermaid rescues a prince from drowning and falls for him. She makes a trade with an evil sorceress: her voice for a chance to live on land…
Featuring a captivating orchestral / electronic score, psychedelic swirls, and tech assists from Czech New Wave regulars like cinematographer Jaroslav Kucera (DAISIES, MORGIANA, FRUITS OF PARADISE), editor Miroslav Hájek (LOVES OF A BLONDE, THE FIREMAN'S BALL) and set decorator Ester Krumbachová (VALERIE & HER WEEK OF WONDERS), Karel Kachyna's adaptation of Hans C. Anderson's classic is a vision that could've only come from 70s Czechoslovakia.
---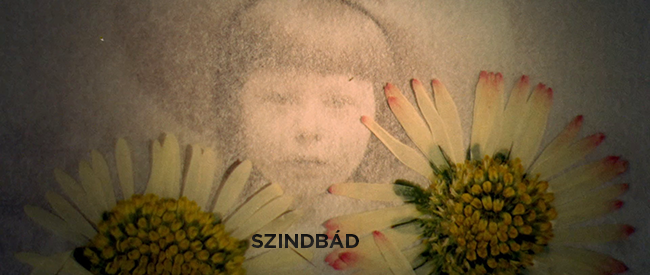 SZINDBÁD
Dir. Zoltán Huszárik, 1971.
Hungary, 90 min.
In Hungarian with English subtitles.
WEDNESDAY, JANUARY 18 – 7:30 PM
SUNDAY, JANUARY 22 – 7:30 PM
MONDAY, JANUARY 30 – 7:30 PM
"SZINDBÁD is a wildly sensuous reverie, justly regarded as one of the great movies of the Hungarian Sixties." —J. Hoberman, The New York Review of Books
A singular work of unparalleled, intoxicating beauty, SZINDBÁD is one of cinema's greatest hidden gifts.
The titular character is a charming, dying casanova reflecting on his romantic escapades with various women. As he inches closer and closer to the oblivion, every past love ignites a different memory.
Driven more by atmosphere than a linear narrative, the film is told through a series of flashbacks that interweave and overlap in a gorgeous tapestry of colors, seasons, and moods. Utilizing his experimental film background, Huszárik creates something wholly original in narrative cinema that effectively predates the elliptical editing of Nicholas Roeg and the ornate visual romanticism of Terrence Malick. Indeed, the film is loaded with so much rich symbolism and lush imagery that it takes several viewings to unpack its mysteries and majesty.
Above everything, though, SZINDBÁD taps into a deeply romantic, deeply personal sensibility that simply envelops the viewer into its own unique universe.
The phrase 'lost masterpiece' tends to get thrown around a lot in repertory film circles, but we're going to go out on a limb here and proclaim SZINDBÁD a lost masterpiece. We think you'll agree. Hyperbole be damned.
---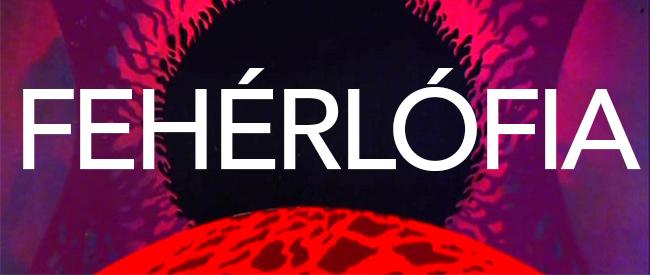 FEHÉRLÓFIA (SON OF THE WHITE MARE)
Dir. Marcell Jankovics, 1981
Hungary. 81 min.
In Hungarian with English subtitles.
TUESDAY, JANUARY 17 – 10 PM
SATURDAY, JANUARY 28 – 5 PM
TUESDAY, JANUARY 31 – 10 PM
A glorious work of unparalleled brilliance, FEHÉRLÓFIA melds ancient legends of the Steppe people into a kaleidoscopic rumination on the cyclical nature of time and space. Originally combining several existing folktales on time's recurrence, Jankovics was forced to write an original story after his first script was deemed anti-Marxist (according to Marxism, time is irreversible). Raised hidden by his mare mother in the World Tree, immensely strong Fehérlófia must venture forth to find the Underworld's entrance and, with his brothers' help, defeat the dragons who seized power from the ancient Forefather and Progenitrix. The constantly morphing concentric images, looping back on and mirroring each other, perfectly fit a film dedicated to the early nomads. Only the second film to come out of Pannónia Studios, FEHÉRLÓFIA is a masterwork of color and story.
---
PURPLE RAIN: TERROR BEYOND BELIEF
dir. John Wiese, 2014.
USA, 90 min.
English
FRIDAY JANUARY 27 – 7:30 PM
Having brought to our audience such spectacular single-work détournements like THE SHINING FORWARDS AND BACKWARDS and TOUGH GUYS, we are now pleased to premiere Los Angeles-based artist John Wiese's 2014 effort PURPLE RAIN: TERROR BEYOND BELIEF.
Described by Wiese himself as "a new edit of PURPLE RAIN where Prince murders Apollonia and gets away with it," PR:TBB shines a darker shade of purple on the "greatest music movie of them all." If "Darling Nikki" was all it took for Tipper Gore to start the PMRC, one wonders what PR:TBB might have done for the MPAA.
Unlike other works of appropriation which selectively reorganize "bites" into a new decontexualized construct, PR:TBB pushes an existing, diegetic act of violence a few cinematic degrees further, and then lets the third act play through (albeit without Apollonia's presence). This is PURPLE RAIN as you have seen it before (yet not).
BIO:
An artist and composer living in Los Angeles, John Wiese is a highly respected figure, both in contemporary sound art as well as the international experimental music underground. Wiese is also known for his influential grind/noisecore band Sissy Spacek, extreme electronics unit LHD, and for numerous collaborations. He is also an accomplished visual and graphic artist, with a long list of international exhibitions and printed materials.
---

DON'T LET THE DEVIL IN (NY Premiere!)
dir. Courtney Fathom Sell, 2016
80 min, USA
In English
SATURDAY, JANUARY 28 – MIDNIGHT
https://www.youtube.com/watch?v=CAr9eiiSqf0
After suffering a miscarriage, Newlyweds John and Samantha Harris relocate from New York City to a small Appalachian town where they become wrapped up in a nightmarish tapestry of evil.
Sell's film eschews conventional genre and instead hops gleefully around – owing as much to the backwoods horrors of last years standout MIDNIGHT as it does to Satanic Panic mainstays like ROSEMARY'S BABY. Aided by the rolling hills and picturesque backdrop of rural West Virginia, the film lures the viewer into an expansive wilderness and then manages to trap you in it. Also featuring Ed Wood/Mark Pirro player Conrad Brooks!
---