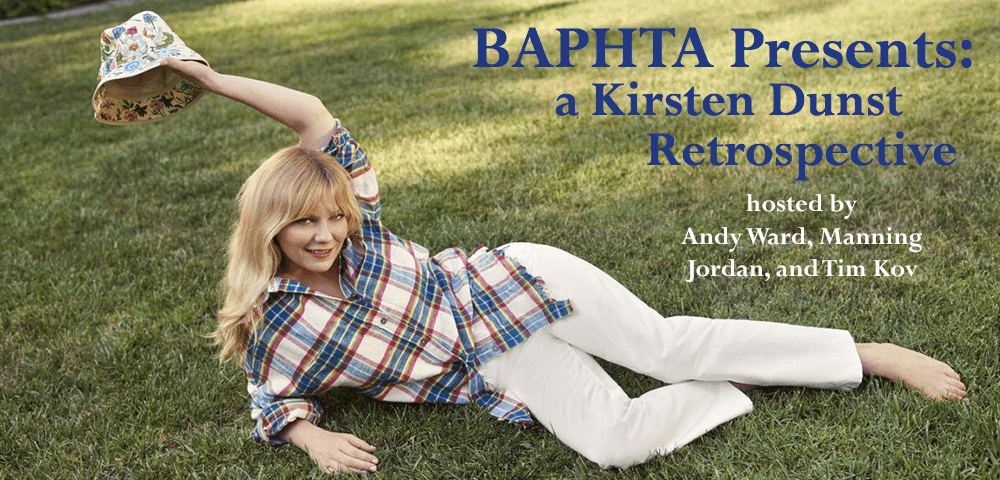 THURSDAY, DECEMBER 19 – 7:30 PM
ONE NIGHT ONLY!
BAPHTA is a bi-monthly multimedia comedy show that celebrates legendary cinematic artists. Hosted by Andy Ward, Manning Jordan, and Tim Kov, BAPHTA is anchored by original monologues, characters, and videos inspired by the honoree's body of work. In addition, special guests are invited to put their spin on these visionaries of the seventh art.
Our December installment will focus on an actor about to make her directorial debut in 2020, the consummate Kirsten Dunst.
Arguably one of the most versatile performers working today, Dunst has lent her talents to a variety of projects including INTERVIEW WITH THE VAMPIRE, DICK, MONA LISA SMILE, THE VIRGIN SUICIDES, BRING IT ON and MELANCHOLIA.
Join BAPHTA as we survey Dunst's body of work and envision what the future holds for her and her upcoming adaptation of Sylvia Plath's The Bell Jar.
Although Hollywood has been overlooking Dunst's artistry in recent years, all eyes will be on her at this edition of BAPHTA, as we proclaim "DUNST IS CINEMA!"
Celebrate December with your favorite blonde ingenue-turned-auteur whose mischievous snaggletoothed smile has inspired a generation!
TIM KOV is a writer and performer whose work has appeared all over New York. He hosts and produces Hail Mary: Our Queer Saints, a Kennedy Center Honors-style ceremony honoring gay icons, Power Broker, a Robert Caro themed standup show, and My Little Tonys, a theater history podcast. Last summer, he completed an artist residency at Mall of Found in New Lebanon, NY, where he developed two plays, Peg and Rubbed the Wrong Way: A Prostate Play.
ANDY WARD is a Brooklyn queer comedian and writer.Andy is a recent New York transplant from Phoenix, Arizona where he hosted a monthly storytelling show "SHOW&TELL." He hosts a monthly comedy variety show RED FLAGS. He has performed at Union Hall, Littlefield, Bellhouse, Club Cumming and has been featured in Buzzfeed.
MANNING JORDAN is a lesbian comedian/playwright. You can see her do stand up around Brooklyn, or on MNN public access network on her variety show called, HEY NOTHING. She has a monthly show at Brooklyn Comedy Collective called Monologues with Manning. As a playwright, Manning has self produced four plays, three of which were in Fringe's FRIGID festivals for three consecutive years (2017, 2018, 2019). On July 11th her latest play, "Les Museums" premiered at Dixon Place. Her work has been shown at Dixon Place, The Kraine Theater, Manhattan Rep, Theater Under St. Marks, Vital Joint, The Footlight and more. Her short film THOSE WHO CAN'T has been named an Official Selection of the Reel 13 Short Film Contest, and her pilot SUNNY & 70 was accepted as a Fastidious Official Selection.