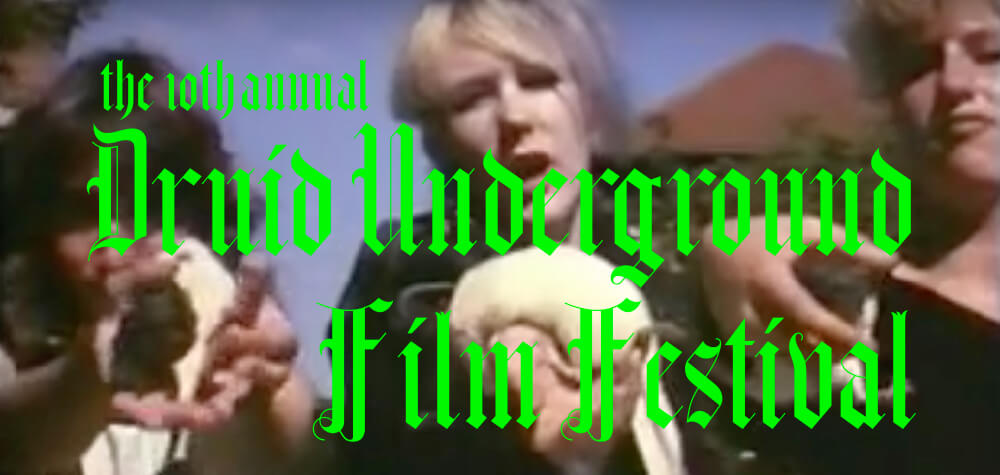 THE TENTH ANNUAL DRUID UNDERGROUND FILM FESTIVAL
various directors, various years
80 min, USA
SUNDAY, NOVEMBER 5 – 7:30 PM
ONE NIGHT ONLY! $10!
Showcasing the best of a decade of unique programming, the 10th annual Druid Underground is a high-powered blast of rebellious cinema hosted by Billy Burgess!
A spectacle unlike any other, Druid Underground champions subversive techniques that advance the language of cinema, challenge pre-conceived notions of underground art and simultaniously blow your mind out of your skull!
JOIN US for a break-kneck barrage of creative cinema both on and off the underground film radar that Flavorpill says doesn't so much "defy convention as mow it down, douse it in kerosene, and flick a Zippo at it!"
This years line up:

Brent Weinbach "My Buddy Commercial"
Ancient Reality "You Wouldn't Steal a Meme"
Thanks Computer "Shithead"
Tavet Gillson "Placenta"
Adriel Garcia "Turbo Tom" and "Turbo Tom 2: Electric Boogaloo"
Aimee Goguen "Bug Show"
Anthony Cerniello "Danielle"
Brennan Hill "Hero/Psycho"
Brent Weinbach "Gangster Party Line"
Cecelia Condit "Possibly in Michigan"
Damon Packard "SKATEBANG"
Danny Plotnick "Skate Witches"
Dave Kidd "Tell-a-Vision"
Garret Davis and Kirsten Lepore "Story From North America"
Dylan Hausthor "You Don't Go Fucking Killing People"
Ignacio Genzon "Handy Man"
Jason Eisener "Treevenge"
John Geary "Devil's Arrest"
Kid Mankowitz "TV Sabotage"
Kids & Explosions "Swear Words"
Matthew Silver "Heartpocalypse"
Max Winston "I Live in the Woods"
Ancient Reality "Major League Can Can"
Richard Roth "Stump: A Yahi Story"
Rodney Ascher "Visions of Terror"
Teemong "Psychle"
Winona Regan "Haunted Heart"
Vitamin Wig C "Tear Light"
TELL YOUR FRIENDS!  FREE Prize Raffle at EVERY SHOW!