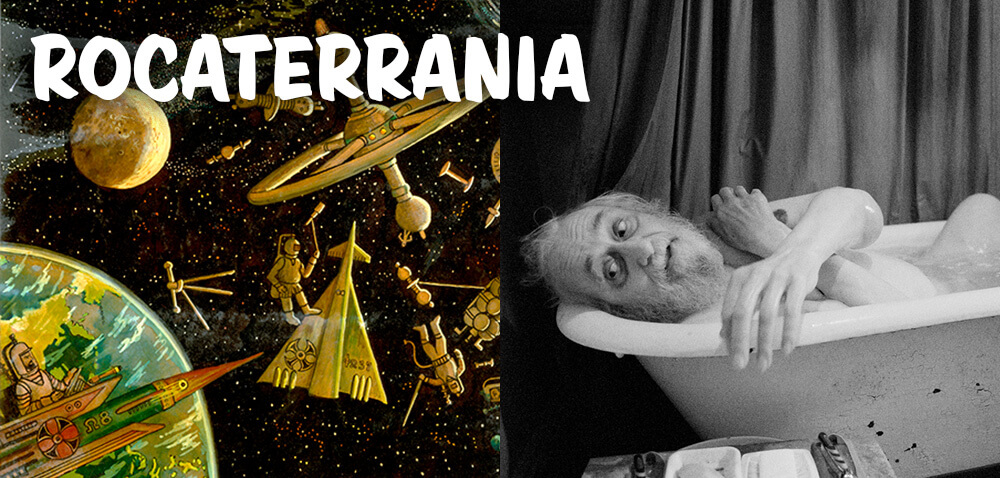 ROCATERRANIA
Dir. Brett Ingram, 2009
USA. 74 min
SUNDAY, OCTOBER 14th – 6:30 PM *BRETT INGRAM Q&A*
ONLINE TICKETS • FB EVENT (This event is $10.)
also:
WEDNESDAY, OCTOBER 17TH – 7:30 PM
MONDAY, OCTOBER 22ND – 10:00 PM
MONDAY, OCTOBER 29TH – 7:30 PM

A documentary feature exploring the secret world of scientific illustrator and self-taught artist Renaldo Kuhler (American, 1931–2013). For thirty years, Kuhler created hundreds of plates for the North Carolina Museum of Natural Sciences, illustrating diverse flora and fauna for scientific journals, reference books, and exhibits. Unbeknownst to family, friends, and coworkers, Renaldo was also a prolific self-taught artist.
The son of Otto Kuhler, a renowned industrial designer, Renaldo was bullied and ridiculed by classmates, teachers, and headmasters simply for being different. When Otto moved the family from upstate New York to a remote cattle ranch in the Colorado Rockies, teenaged Renaldo found the isolation unbearable. He escaped to the private fantasy world of his notebooks, inventing an imaginary country he called Rocaterrania. For the next 60 years, Renaldo illustrated the nation's history, a coded, metaphoric account of his own life. Situated on the border of New York and Canada, populated mostly by European immigrants, Rocaterrania has a unique government, language, religion, railroad infrastructure, movie industry, prison system, and a fully mapped geography of cities, mountains, lakes, rivers, and farmlands. It also has a political history fraught with turmoil, one that mirrors Renaldo's own struggle for independence and freedom.
Featuring an eclectic original score by Merge Records recording artists Shark Quest, Rocaterrania unveils Kuhler's stunning creation, intricately dovetailed with the powerful story of his life. —brettingram.com
---


MONSTER ROAD
Dir. Brett Ingram, 2004
USA. 80 min
SUNDAY, OCTOBER 14TH – 9:00 PM *BRETT INGRAM Q&A*
ONLINE TICKETS • FB EVENT (This event is $10.)
also:
THURSDAY, OCTOBER 18TH – 7:30 PM
TUESDAY, OCTOBER 23RD – 10:00 PM
MONSTER ROAD is a documentary feature exploring the wildly fantastic worlds of legendary animator Bruce Bickford. Bickford's collaborations with rock musician Frank Zappa in the 1970s established him as an international cult artist. Decades later, the reclusive animator works alone in a basement studio near Seattle, producing films for no apparent audience. Enchanted forests, maniacal torture chambers, hamburgers that morph into mythical monsters, and epic battles between giants, fairies, and anachronistic historical figures populate just a small corner of Bickford's animated universe.
Bruce is the sole caretaker of his father George, a retired aerospace engineer of the Cold War era who faces the tragic onset of Alzheimer's disease. Struggling to pierce the fog of his painful memories, George considers the suffering of a life spent disengaged from his family and centered on the imperfections in those around him. His wondrous musings on the mysteries of the universe reflect a deep admiration for the implicit architect of such splendor while atheism prevents him from admitting the possibility of a God.
While the Bickfords lived a normal suburban life by all outward appearances, the brutality of Bruce's obsessive childhood drawings and subsequent animations hints at a darker underbelly. Questions are raised for which there are no easy answers. MONSTER ROAD untangles myriad personal, artistic, and philosophical strands from the Bickfords' lives to reveal an intricate web of motivations and influences fueling Bruce's cinematic visions. —brettingram.com
---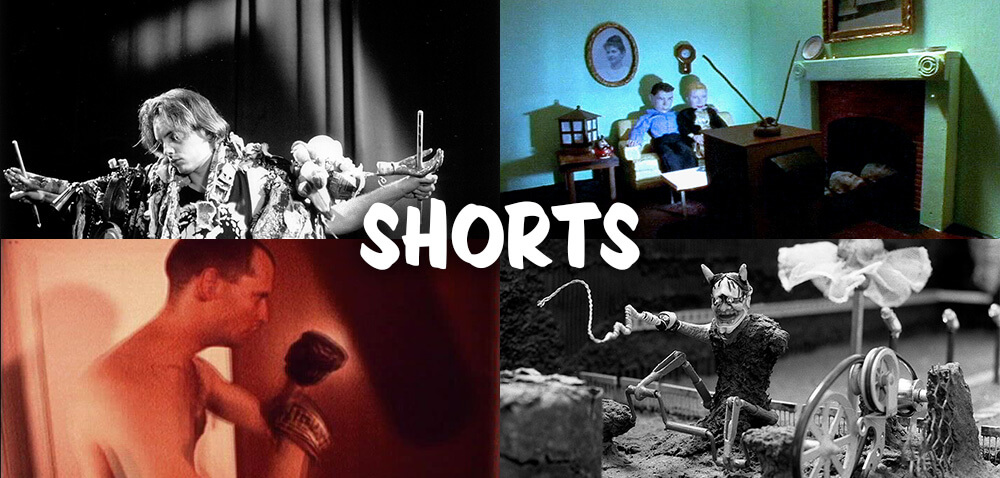 SUNDAY, OCTOBER 14 – 4:00 PM *Q&A WITH BRETT INGRAM*
ONLINE TICKETS • FB EVENT (This event is $10.)
also:
SUNDAY, OCTOBER 21ST – 5:00 PM
WEDNESDAY, OCTOBER 24TH – 10:00 PM
SHORTS PROGRAM:
SPENT
Dir. Brett Ingram and Christina Clum, 1994
USA. 7 min
SPENT is a dark stop-motion tableau about chaos, control, and destiny featuring an unlikely cast of puppets. Set to a mantra-like score resembling a self-help tape from hell, trapped demons and prisoners of monotony populate a craggy subterranean purgatory, each driven to its own course of destiny by an apocalyptic cyclist. —brettingram.com
PANIC ATTACK
Dir. Brett Ingram, 2000
USA. 13 minutes
"Imagine your body telling your brain it doesn't want it in there anymore," says Reade Whinnem, "and then doing everything it can to try and make it leave." Whinnem suffers from Panic Anxiety Disorder, and in Panic Attack, we are taken full-throttle into Whinnem's living nightmare. Juxtaposing stark monochromatic interviews with colorful home movies, stop-motion animation, and hyperkinetic time lapse cinematography, this short film illustrates with expressionistic force the physical and emotional roller-coaster ride Whinnem calls daily life, affirming the courage and determination it takes to survive battles no one else can witness. —brettingram.com
FREAK BOX
Dir. Brett Ingram, 1999
USA. 1 min
What do an organ grinder monkey, camera-headed robot, and two numbed out teenagers have in common? The symbiotic processes of the idiot box, as it turns out. Freak Box is a stop-motion satire of the lulling effects of television, an insidious electromechanical circus where viewers project – and find – themselves in the deceivingly homogenous pixel array. —brettingram.com
MOON PLOW
Dir. Brett Ingram, 1992
USA. 1 min
Moon Plow is an abstract experiment in line animation, loosely inspired by Native American creation myths with a dark, contemporary twist. —brettingram.com
MARS 1 & MARS 2
Dir. Brett Ingram, 1996
USA, 7 min
Short film pieces originally designed to run as loops as part of a large multimedia installation in a gallery environment, repurposed and combined for the Spectacle's screen.
ARMOR OF GOD
Dir. Brett Ingram and Jim Haverkamp, 2001
USA. 13 min
Ear-splitting improvisational noise sculpture and Christianity are rarely mentioned in the same breath, but for percussionist Scotty Irving these twin passions form the core of his one-man act, Clang Quartet. Inspired by biblical verse and utilizing homemade instruments, costumes, and found objects, Irving serves up dramatic aural and visual symbolism at unfathomable volumes, challenging his audience to rethink traditional ideas of music and spirituality. When Irving's motivations for walking so far out on musical and theological limbs are revealed, "the armor of God" becomes a metaphor for the courage to create and the power to silence one's inner critic. —brettingram.com
LUCK OF A FOGHORN
Dir. Brett Ingram, 2008
USA. 28 min
Luck of a Foghorn is a documentary featurette about Seattle underground animator Bruce Bickford, former collaborator of musician Frank Zappa and creator of Prometheus' Garden, one of the most original stop-motion films in animation history. Interweaving Bickford's pulsing, violent, magical, and mesmerizing clay animation with atmospheric 16mm and Super 8mm cinematography, home movies, and sparse interviews, Luck of a Foghorn takes viewers behind the scenes and deep into the garden of Prometheus. —brettingram.com