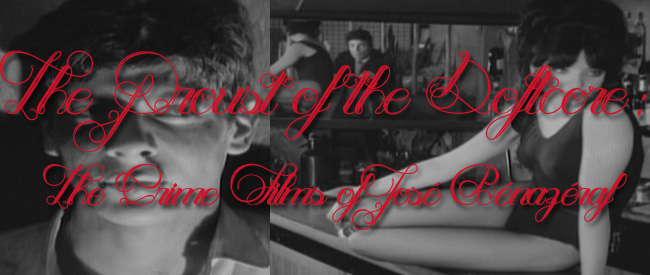 If John Ford is Homer, then José Bénazéraf is… Marcel Proust.
-Tagline for JOË CALIGULA
If cinephiles speak about Moroccan-born, French filmmaker José Bénazéraf today, he's remembered mostly for his prolific direct-to-video, increasingly hardcore output from the 1970s and 1980s. Not a terrible legacy, but few people remember that Bénazéraf started out on the fringes of the French New Wave: a cameo in Breathless is one of his first screen credits. This July, Spectacle is proud to present two under-appreciated 1960s crime films from Bénazéraf that straddle the line between French New Wave and sexploitation: NIGHT OF LUST and JOË CALIGULA.
---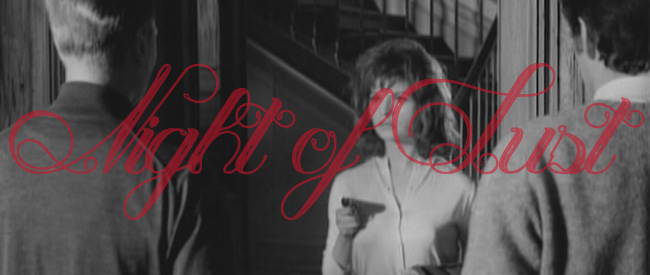 NIGHT OF LUST
AKA Le concerto de la peur
Dir. José Bénazéraf, 1963
France, 71 min.
In French with English subtitles.
TUESDAY, JULY 1 – 7:30 PM
SUNDAY, JULY 6 – 7:30 PM
SATURDAY, JULY 26 – 7:30 PM
MONDAY, JULY 29 – 10:00 PM
Less salty than its title might suggest, NIGHT OF LUST is a New Wave noir set at a string of Parisian strip clubs. Hans Verner and Jean-Pierre Kalfon star as two rival gang leaders, both fighting to rule the Parisian drug trade. Laboratory assistant Nora (Yvonne Monlaur) comes between the two gangs, and pays the price by getting kidnapped and held as a hostage in the war. The stakes are high, and the consequences become higher and higher until tragedy cannot be avoided.
A striking mix between a melodrama, a film noir potboiler, and a sexploitation film, NIGHT OF LUST was a hit upon its release in France in 1963, and was subsequently advertised in the United States as "Banned in over half the world!" The hazy, sometimes disjointed storytelling style echo the heroin-soaked plot, with dancers aplenty rolling around under the influence. There's plenty of eye-candy, but it's not for the trench coat crowd; a free jazz score by Chet Baker and Bénazéraf's gorgeous shadowy photography that recalls Fritz Lang's Hollywood best, make this film a curious, uncategorizable spin on the traditional gangster film.
Special thanks to Seth Sonstein at Independent International Films.
---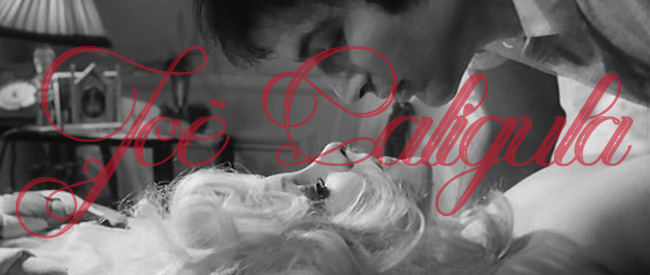 JOË CALIGULA
Dir. José Bénazéraf, 1966
France, 88 min.
In French with English subtitles.
SUNDAY, JULY 6 – 5:00 PM
WEDNESDAY, JULY 9 – 10:00 PM
FRIDAY, JULY 18 – 10:00 PM
MONDAY, JULY 28 – 7:30 PM
Called by Bénazéraf a story of "intellectual incest" between a brother and sister, JOË CALIGULA starts with a brilliantly tongue-in-cheel scene: a prostitute lures a man into her brothel by exhorting him, "Come, I'll tell you about the New Wave!…You'll see, Godard, Chabrol…it's exhilarating!" This woman stands in for Bénazéraf, bringing the highbrow New Wave and the softcore genre audiences together for an experience that was sure to confuse both.
Joë Caligula himself is a small-time Parisian gangster who longs to make a name for himself in the Paris crime world, so pulls a series of heists with his small gang, which includes his sister. Eventually, the gang kills members of a powerful rival gang, and brings its leader to his knees, causing an all-out war.
Predating BONNIE AND CLYDE by two years, with the same moody stylistic flair, JOË CALIGULA was again banned by French censors because of Bénazéraf's "apology for violence," a decision that crushed Bénazéraf, as he considered it his finest film. The kinetic energy during the gang's exploits is a loud, disruptive scream against the old guard, which, in 1966, was not quite ready to hear. The time is right for a rediscovery of this rebellious, ambitious softcore crime classic.