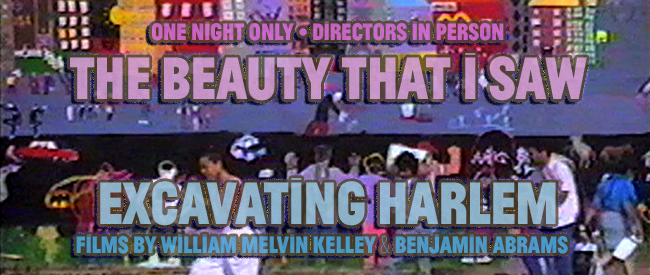 THE BEAUTY THAT I SAW
Dir. Benjamin Abrams, 2014
USA, 53 min.
EXCAVATING HARLEM
Dir. William Melvin Kelley, 1989
USA, 27 min.
SUNDAY APRIL 10 – 7:30 PM
ONE NIGHT ONLY – Directors Kelley and Abrams in person!
What makes up a living neighborhood?
In 1989, writer William Melvin Kelley began a video diary as a way to capture the beauty of living in Harlem, as well as times that are better seen than described in words. THE BEAUTY THAT I SAW is a document made with these tapes, showing life in an African-American community in the fleeting moment between the crack wars and today's rent hikes.
Reflecting from the twenty-first century, Kelley's voice riffs on Harlem, life in America, the myth of race, and raising an artistic family by your own values.
BEAUTY will screen with Kelley's 1989 satirical short EXCAVATING HARLEM, which "documents" a 24th century anthropologist's discovery and excavation of a long-forgotten Harlem, theorizing the lives of her 20th century inhabitants.
Born in the the Bronx, William Melvin Kelley has published four novels; A Different Drummer, A Drop of Patience, Dem, and Dunfords Travels Everywheres. His short stories and essays have appeared in The Saturday Evening Post, The New Yorker, Playboy and most recently Harper's Magazine. He also has appeared in numerous textbooks and anthologies of African American Writers. Kelley is currently a professor of creative writing at Sarah Lawrence College and lives in Harlem.