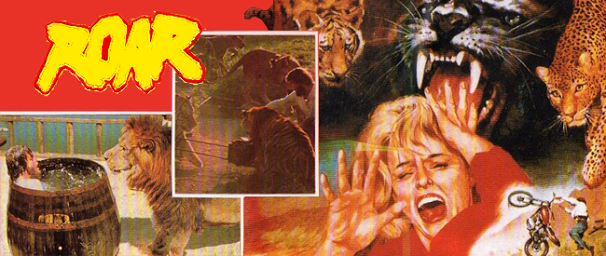 ROAR
Dir. Noel Marshall, 1981
USA, 102 min.
SATURDAY, AUGUST 9 – 7:30 PM
WEDNESDAY, AUGUST 13 – 7:30 PM
FRIDAY, AUGUST 29 – 7:30 PM
!!!BACK BY POPULAR DEMAND!!!

Made over the course of 10 years and with a reported 70 crew injuries – most notably a tiger mauling that resulted in what was perhaps Melanie Griffith's first (and certainly not last) plastic surgery — ROAR emerges in hindsight as one of history's most expensive home movies, a Hollywood albatross never released theatrically in the US.
Tippi Hedrin (THE BIRDS) and husband/producer Noel Marshall were at the time noted animal rights activists with a menagerie of cheetahs and tigers kept in waiting at their Acton, California ranch, "The Shambala Preserve". They doubled the Golden State location as exotic Africa and cast themselves as an animal researcher and estranged wife, respectively, who reconnect against a backdrop of escaped tigers and evil game hunters, pouring $17 million dollars into a still-unrecovered black hole in the process.
But of course none of that counts in a film where Tippi Hedrin gets flipped upside down by an elephant en route to a would-be heartwarmer of an ending that lands closer to perverse surrealism. The notorious production had trouble corralling its fauna, and it shows all over: everything and everyone is out of control here. Perhaps most important is that however dunderheaded it may be, ROAR is exactly what it purports to be: a naïve safari picture in the tradition of Trader Horn and Hatari! whose raw encounter with the animal species triumphs over narrative, ethical, and – yes, hygienic – concerns.