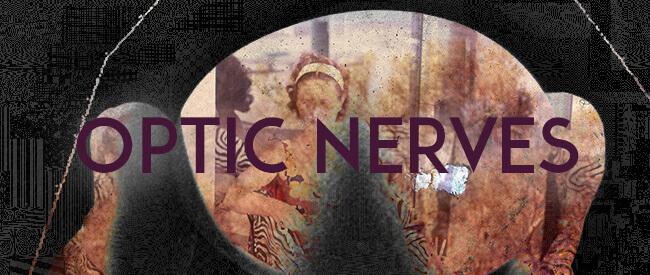 The Imagine Science Film Festival, now on its 9th year, exists to go beyond the expectations of either the traditional science documentary or the conventions of genre sci-fi, by merging art and science in films that astound, dazzle, and provoke thought across many genres and styles. In ISFF programs, innovative new research and stunning data visualizations exist alongside surreal scientific stories and sci-inspired experimental film.
Even within these ideas, some of the most exciting and unique works received each year are those which most resolutely defy categorization or definition as a "science film". For these films, difficult to find a spot for, yet essential to show, we've created Optic Nerves: sometimes disorienting, often visually arresting, always surprising. Join us for a one-night program of mysterious optical experiments, traumatic medical experiences, and sci-fi avant-garde reflections on identity in a post-digital age.
WEDNESDAY, OCTOBER 19 – 10PM
Full Program:
We Know We Are Just Pixels, Laure Prouvost, UK, 2015, 5 min
Attributing human characteristics to inanimate objects, this video work finds Laure Prouvost's images forming a conversation amongst themselves.
The Mess, Peter Burr, USA, 2016, 14 min
A journey to the threshold of a utopian labyrinth. We follow the perspective of Aria End, a custodian with cyborg guts, tasked with cleaning up this feral structure.
The Betrayal, Susan Young, UK, 2015, 6 min
A patient, trapped in a terrifying relationship with her megalomaniac doctor, resorts to desperate measures to escape.
Sigismond Imageless, Albéric Aurteneche, Canada, 2016, 14 min
Sigismond Langlois is submitted to a psychiatric evaluation on account of his violent behavior. He just turned 18, and pretends he was born with no image.
Feedback, Heidi Stokes, UK, 2016, 3 min
A series of short, sharp reactions to how the digital age is affecting the way we judge each other.
Recycled, Lei Lei, China, 2013, 6 min
The following images come from negatives salvaged from a recycling plant on the edge of Beijing, depicting the capital and the life of her inhabitants over the last thirty years, presenting an almost epic portrait of anonymous humanity.
Notes from the Interior, Ben Balcom, USA, 2015, 11 min
Wandering through the body puzzling out a system of symbols. The trouble is, affect resists signification outright. The inside and outside become muddled when you start to feel your body in relation to the image.
Towards the Colonies, Miryam Charles, Haiti / Canada, 2016, 5 min
When a young girl is found off the Venezuelan coast, a medical examiner will try to determine the cause of death before the body is repatriated.
Cloud Shadow, Anja Dornieden & Juan David González Monroy,
Germany, 2015, 17 min
In 1984, for three weeks in May, what appeared to be a giant cloud shrouded the small town of Hüllen-Hüllen in darkness. Later, the town was hastily abandoned, its residents vanished. This film, documenting the images of an inscrutable optic device found in cave nearby, offers the only evidence of their fate.
Deer Flower, Kangmin Kim, Korea, 2015, 7 min
In the summer of 1992, Dujung, an elementary student, goes to a farm in the suburbs with his parents. While his parents believe the expensive and rare specialty from the farm will strengthen their son's body, Dujung suffers side effects.