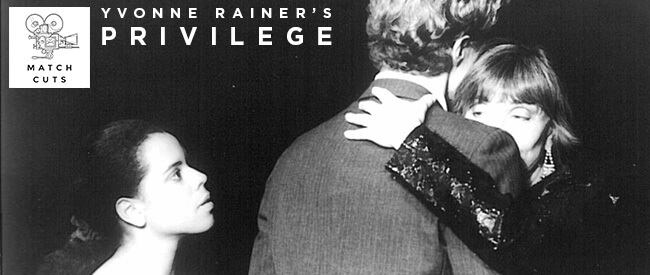 PRIVILEGE
dir. Yvonne Rainer, 1990.
USA, 103 min.
English
MONDAY, OCTOBER 24 – 8:00 PM
ONE NIGHT ONLY!
Presented by critic and curator Kari Rittenbach
SOLD OUT
Spectacle Theater is excited to collaborate with critical platform Match Cuts on a new series of screenings. This program will be our inaugural event. Scroll down for more information on Match Cuts.
PRIVILEGE, Yvonne Rainer's sixth feature is a genuinely subversive movie about menopause. Out of a subject that has been virtually invisible on film, Rainer has fashioned a witty, risky work about sexual identity and the unequal economies of race, gender and class.
PRIVILEGE is set in motion by clips from an old black and white educational film, facts and data shot off a Macintosh computer, and a cast of characters with varied, provocative, and often contrasting political critiques. Jenny, the white middle-aged protagonist, agrees to be interviewed by Yvonne, an African-American friend who is making a documentary on menopause. Her candid observations are punctuated by a "hot flashback" of RASHOMON-like intensity, which reveals an experience she has kept secret for 25 years.
"(Rainer's) most accessible film… Who else could spin hot flashes, Lenny Bruce, Carmen Miranda, and SOUL ON ICE into such a pungent brew?" – The Village Voice
"Fascinating and unpredictable… PRIVILEGE is a ride worth taking." – The Boston Globe
Match Cuts is a weekly podcast centered on video, film and the moving image. Match Cuts Presents is dedicated to presenting de-colonialized cinema, LGBTQI films, Marxist diatribes, video art, dance films, sex films, and activist documentaries with a rotating cast of presenters from all spectrums of the performing and plastic arts and surrounding humanities. Match Cuts is hosted by Nick Faust and Kachine Moore, and produced by Meg Murnane.
Kari Rittenbach is an art critic and curator based in Brooklyn. Her writing has appeared in Afterall, Artforum, Flash Art, Frieze, and Texte zur Kunst, among others. She has organized exhibitions and events at SculptureCenter, Triple Canopy, Artists Space, and at other non-profit institutions in New York, London, and Berlin.