FRIDAY, JULY 3: AMERICAN HUNTER
FRIDAY, JULY 10: GURU THE MAD MONK
SATURDAY, JULY 11: HORROR EXPRESS
FRIDAY, JULY 17: DON'T ANSWER THE PHONE!
SATURDAY, JULY 18: NEON CITY
FRIDAY, JULY 24: MALIBU BEACH
SATURDAY, JULY 25: THE POM POM GIRLS
FRIDAY, JULY 31: INSEMINOID
---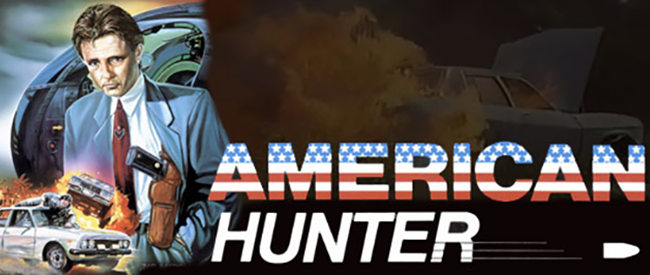 LETHAL HUNTER aka AMERICAN HUNTER
Dir. Arizal, 1988.
Indonesia. 92 min.
Indonesian dubbed into English with Japanese subtitles.
FRIDAY, JULY 3 – MIDNIGHT
"With the information in this study, the wrong people could start a panic on Wall Street that would bring the Western World to its knees…"
In mononymous Indonesian action maestro Arizal's star-spangled shoot-'em-up, Christopher Mitchum, former 2012 Republican candidate for California Congressional District 24's United States House of Representatives seat, stars as Jake Carver, an "agent" whose self-described occupation is to "fight bad guys." As the AMERICAN HUNTER, Carver battles a multifariously evil organization over a piece of microfilm to unspecified ends. Highlights include a jeep driving off the side of one skyscraper into the window of another, a three-way motorcycle/pick-up truck/train chase, a baby being run over by a car crashing through the side of a supermarket yet miraculously surviving, an eight minute helicopter chase, an awkwardly clothed shower sex scene, one house explosion, one castle explosion, dozens of car explosions, male bondage and electrocution, and a fist fight inside a dungeon full of what appears to be cardboard boxes overflowing with shredded paper. Bill "Super Foot" Wallace stars as the bad guy whose nefariousness is conveyed through his variously keeping pet falcons and monkeys on his shoulder, and RAMBU's Peter O'Brien drops in for an unlikely turn as a hench villain who gets the shit kicked out of him then has his legs run over then crashes through a brick wall on the hood of a car. Approximately ten of the 92 action-packed minutes have been described.
---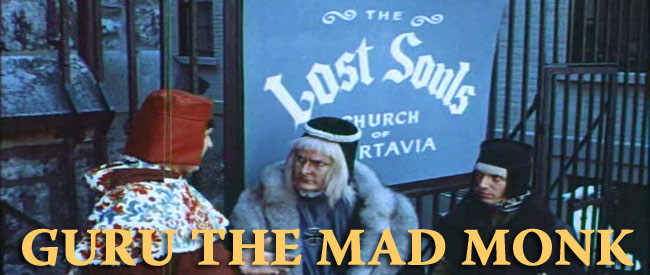 GURU THE MAD MONK
FRIDAY, JULY 10 – MIDNIGHT
---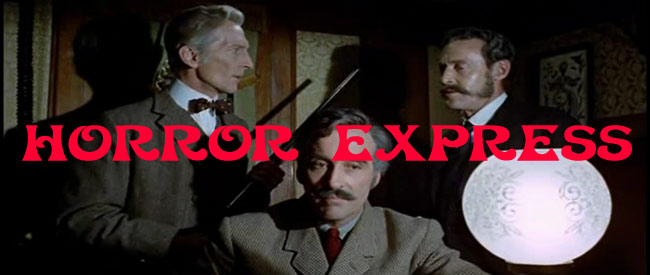 HORROR EXPRESS
Dir. Eugenio Martin, 1972.
90 min. Italy/UK.
In English
SATURDAY, JULY 11 – MIDNIGHT
In this essential Trans-Siberian classic, the great Christopher Lee and Peter Cushing are rival anthropologists aboard a train en route from China to Moscow housing a crate with an amazing discovery: a primitive humanoid creature. The problem is, the creature's body itself is the vessel for a shapeless, ancient alien entity hopping from body to body as hosts suck the memory, knowledge and brains from their victims. Lee and Cushing must combine their scientific expertise to understand and conqueror the otherworldly, demonic menace. In the meantime, Telly Savalas shows up as a domineering Cossack officer, and Argentinian spaghetti western star Alberto de Mendoza plays a nefarious, mad monk who renounces his faith and pledges his devotion to the ancient evil. Like THE THING re-written by Paul Theroux aboard a bullet train to hell and featuring creepy, eye-bleeding make-up effects, freaky blazing-eyed zombies and top-notch performances by Lee and Cushing, HORROR EXPRESS is a total classic!
---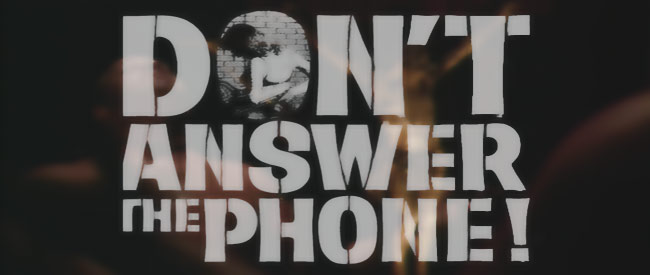 DON'T ANSWER THE PHONE!
FRIDAY, JULY 17 – MIDNIGHT
---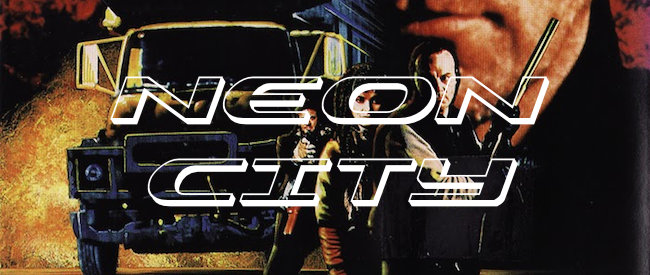 NEON CITY
Dir. Monte Markham, 1991
USA, 101 min.
SATURDAY, JULY 18 – MIDNIGHT
"Take a deep breath: it may be your last."
As the dust settles from Mad Max: Fury Road, some of us here at Spectacle figured it was time to blow the dust off of Monte Markham's high (but technically running-on-low) octane dystopian action disasterpiece NEON CITY, starring the one and only Michael Ironside. Tasked with transporting a gorgeous prisoner (Vanity – yes, that Vanity) across a frozen desert hellscape via overcrowded megabus, Ironside's flinty-eyed and ponytailed bounty hunter Stark gets bumped into by it all: motorcycle gangs of mutants, cannibals, gearheads, a pissed-off ex-wife and a bus driver nicknamed "Bulk" – played by Oakland Raider Lyle Alzado, who died a year after reaching Neon City – who he personally sent to prison for five years. Spellbinding chase sequences as needless post-oxygen hijinks ensue long before the inevitable Wizard of Oz-xeroxing conclusion.
---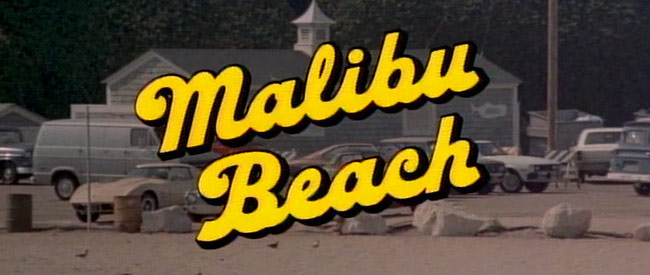 MALIBU BEACH
FRIDAY, JULY 24 – MIDNIGHT
---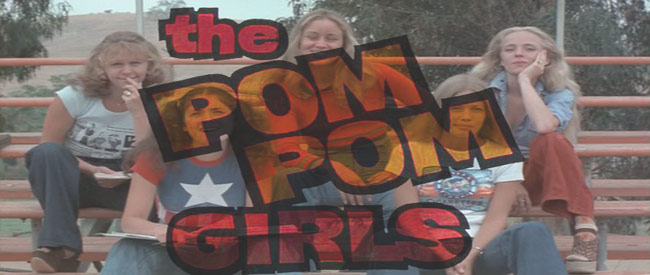 THE POM POM GIRLS
SATURDAY, JULY 25 – MIDNIGHT
---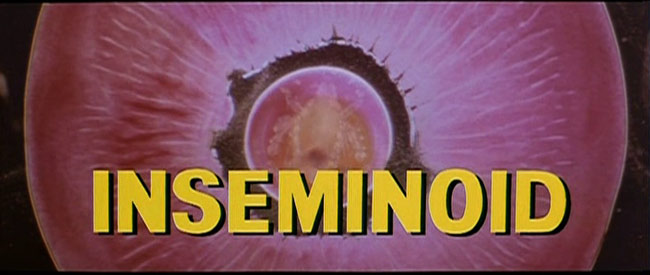 INSEMINOID
Dir. Norman Warren, 1981
UK, 93 min.
In English.
FRIDAY, JULY 31 – MIDNIGHT
Before we get into the whole gynonightmare of this film, there's a few things you need to know about INSEMINOID. It was partially financed by Run Run Shaw (If you've EVER been to Fist Church you know Shaw Bros.), it was written by Nick Maley (a make-up artist who'd later work on Krull and Lifeforce) and Gloria Maley (who did a series of British tv shows under the name Gloria Walker), the only script either would ever write, and was directed by Norman J. Warren, who brought us Satan's Slaves and Prey, all of whom try to put a twist on the tale told by Alien a few years earlier. There's a really nice synth score, a slew of actors any Hammer fan would happily recognize (Stephanie Beacham, Victoria Tennant, Judy Geeson), and some genuinely nice twists on the Ridley Scott/Dan O'Bannon model. That being said, you should take that title seriously: there is alien-on-astronaut non-consensual sex, and while it's not as freakish as Xtro it definitely makes this film a midnight special. But hold onto your Gender Studies textbooks, because our glowing mother, dewy in the radiance of the miracle of childbirth, has a hunger…FOR BLOOD! There's a bit of a The Thing/Body Snatchers twist here as well, but perhaps I've said too much…Playing one night only, one of the strangest Video Nasties, and definitely a film you'll be telling people about (if you dare), INSEMINOID is a film we've promised for a while and are proud to deliver midnight July 31!