---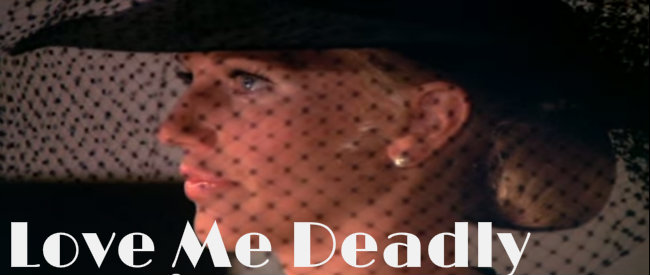 LOVE ME DEADLY
Dir. Jacque Lacerte, 1972
USA, 95 min.
FRIDAY, FEBRUARY 6 – MIDNIGHT
SATURDAY, FEBRUARY 14 – MIDNIGHT
"A beautiful child woman doomed to love only the dead!"
Before Karen Greenlee's mortuary escapades there was "Love Me Deadly" the story of Lindsay Finch and her lust for the dead! Ms. Finch is a beautiful California blonde who cruises funerals looking for her next lover. Alas, there are only so many funeral homes in LA, a beautiful woman in provocative mourning attire is sure to be noticed. Lucky for Lindsay she catches the eye of a funeral director who just happens to be the leader of a necrophiliac sex cult! Will Lindsay give into lust or will a chance reading of an obituary lead her to true love?
LOVE ME DEADLY is a sweet and gruesome film made delightfully perverse by its usage of romantic ballads and upbeat songs as a soundtrack. Its juxaposition of soap opera style flash-backs and embalming tables is absolutely sickening in the best possible way. Watch out for the extras in the first funeral scene, they were all members of the original Church of Satan.
---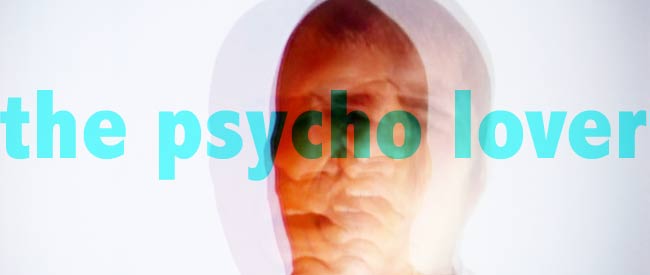 THE PSYCHO LOVER
Dir. Robert Vincent O'Neill, 1970
USA, 80 min.
SATURDAY, FEBRUARY 7 – MIDNIGHT
FRIDAY, FEBRUARY 13 – MIDNIGHT
"What did the voice say?" "Kill. Kill. Kill. Kill. Kill."
Robert Vincent O'Neill, the director who brought you Spectacle midnight classics Wonder Women and Blood Mania, offers his first and arguably weirdest film, THE PSYCHO LOVER (aka The Loving Touch). Psychiatrist Ken Alden, wants a divorce from his wife Valerie so he can spend his time with his topless girlfriend Stacy at the lake house, but Valerie refuses to give him one. Quite reasonably he decides to manipulate a patient Manchurian Candidate-style (they even mention this in the film!) into performing the murder for him. Marco, our hapless strangling necrophiliac, just may be a little too good as his job, however…
As a plot it may seem a little threadbare, but this basically opens up for some absolutely jaw-dropping visuals (our killer has a perfect O'Neill dream sequence freakout with an overdose of fuzz guitar!), the performance are all well above average, some great bitter repartee between Ken and his wife Valerie, some unexpected turns, and most notably, the actual murder scenes, both psychedelic and brutal. It'd probably be misleading to call THE PSYCHO LOVER an "American Giallo", but it definitely has both the stylish look and visceral impact of Brian de Palma's contemporary MURDER A LA MOD. Brainwashing, go-go dancers, home invasion: everything your Valentine's Day requires.
---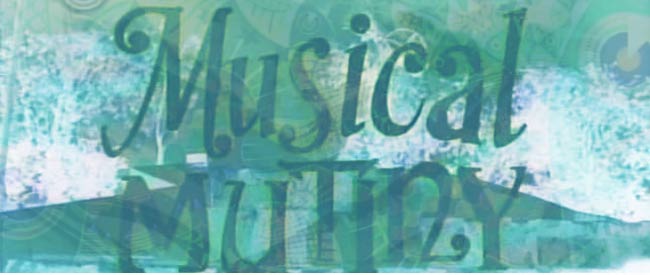 MUSICAL MUTINY
Dir. Barry Mahon, 1970
USA, 74 min.
FRIDAY, FEBRUARY 20 – MIDNIGHT
SATURDAY, FEBRUARY 28 – MIDNIGHT

OCCUPY PIRATE'S WORLD!
Hey, kid: do you like Iron Butterfly? Do you like pirates? Do you like incitements that the youth culture should, in fact, stage a mutiny? A MUSICAL MUTINY? Spokesman of the hippie generation Barry Mahon (director of dozens of nudie-cuties/roughies) had a sort of second act at the very end of his career, directing a series of deeply strange fairytale films (THUMBELINA, SANTA CLAUS AND THE ICE CREAM BUNNY) at/for a Florida amusement park called Pirate's World. As it happens, Pirate's World was a somewhat hot ticket at the time for touring bands (seriously: by the time this film was released Led Zeppelin, Black Sabbath, The Grateful Dead and Traffic all played there), so it was decided to release a concert film, starring Iron Butterfly and a bunch of local bands.
Add to this a storyline about a pirate who emerges from the sea and gets the young people together for a mutiny (ie a free show), a teen chemist who may or may not have invented a new hallucinogen, a subplot about how Iron Butterfly aren't going to play this cockydoody free show unless they get paid in full and all the footage of smiling groovy Florida pre-teens bopping along to In-A-Gadda-Da-Vida and it definitely a strange no-man's-land that covers both midnights and Rockuary! Without giving the plot away, fear not: the kids and the establishment find a way to work together and all was well at Pirate's World…for another year or so, until Walt Disney World opened and forced the park out of business. THE END.
---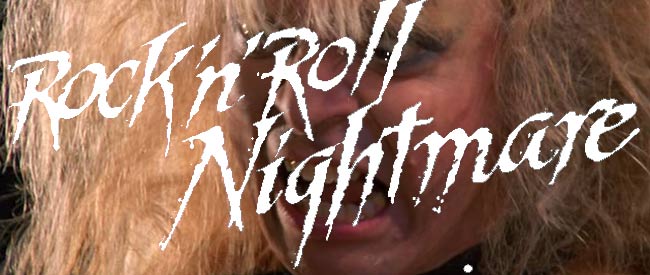 ROCK 'N' ROLL NIGHTMARE
Dir. John Fasano, 1987
Canada, 83 min.
SATURDAY, FEBRUARY 21 – MIDNIGHT
FRIDAY, FEBRUARY 27 – MIDNIGHT
"Toronto is where it's happening, man."
Fresh off his tour-de-force acting performance in Zombie Nightmare, Jon-Mikl Thor immediately set to work writing a screenplay titled The Edge Of Hell about a rock band who, while recording a new album at a remote farmhouse, discover it has been infested with demons. Together with the members of his band, a young director named John Fasano (1961-2014) and a lot of rubber puppets, Thor spent ten days shooting the film, a mix of hair metal, questionable effects, convoluted plotting and shirtless frenzy not seen since 1982's Boardinghouse. Retitled ROCK 'N' ROLL NIGHTMARE (you know, like the Spinal Tap song) and released on video, the film lurked in video stores, slowly gaining a fanbase of teenage stoners and delinquents.
It's easy to see how such a combination has since become the manna of "clever" "funny" "horror" "movie" "blogs", but it's the film's bizarre logic, culminating in a truly astonishing final fifteen minutes (of which we will say no more). We haven't even mentioned JMT's shower makeout scene, the adorable smoking cyclops demon, the sweet conversion van, the chest-bursting and all the great Thor tracks! Spectacle is proud to present, for the second time, ROCK 'N' ROLL NIGHTMARE!