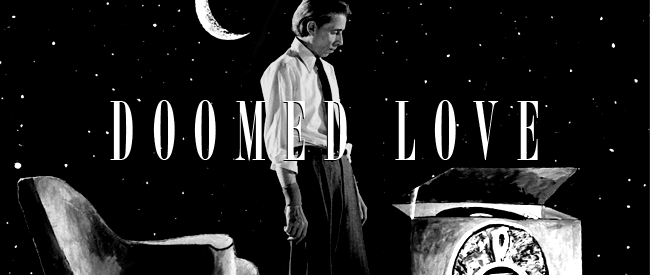 DOOMED LOVE
Dir. Andrew Horn, 1984.
USA, 70 mins. 
SUNDAY, JULY 3 – 7:30 PM
THURSDAY, JULY 14 – 10:00 PM
SATURDAY, JULY 16 – 10:00 PM
THURSDAY, JULY 21 – 10:00 PM
SUNDAY, JULY 24 – 5:00 PM – Stars Rosemary Moore & Allen Frame in person for Q&A!
Made in piecemeal payments while director Andrew Horn (THE NOMI SONG) was working as a graphic artist in Koch-era Manhattan, DOOMED LOVE is a delectable hunk of sunken downtown treasure ripe for rediscovery. Painter Bill Rice (SUBWAY RIDERS, THE VINEYARD) stars as Andre, an aging professor of romantic literature who decides, in the film's doleful introductory passage, to commit suicide after losing the love of his life. Andre is tragicomically unsuccessful, but the attempt leads to a new acquaintance with a psychiatric nurse named Lois (Rosemary Moore), with whom he uncorks a kind of under-acknowledged romance of the soul.
Whatever margins that once separated Andre's work as an academic and his reasons for going on (or not) have completely dissolved; Rice's monologues – scripted by the great playwright Jim Neu – set a tone of droll monotony and piercing repetition. During a slide show of pre-Raphaelite paintings, Andre provides a clue to what Horn and his collaborators are up to:
"You can say what you want about the past / I think that's true/ But, not to pay attention is not to be immune / I think that's true/ It may be finished / But it isn't over / Where have I seen that before?/ Believe me / Many of our most cherished dreams… / Believe me / Many of our most cherished dreams have a life of their own/ Where have I seen that before? Look around / Look around / Believe me / I could really let myself go / The world history of emotion / You don't know the names / But you remember the stories."
"Life goes on, so to speak:" Horn's vignettes from Andre and Lois' – trapped in a state of paralyzing reverie, and newly married to Bob (Allen Frame), respectively – play against jawdropping 2-D backdrops mounted in the Lower East Side's Millennium Film Workshop where DOOMED LOVE was filmed. Amy Sillman and Pamela Wilson's muslin and cardboard "sets" make Horn's film a dourly sweet exercise in epic theatre, a self-reflexive essay on Western amativeness, buttressed by an sparkling minimalist score from Evan Lurie (of The Lounge Lizards.), with original songs by Lenny Pickett. This summer, Spectacle is pleased to resuscitate this no-wave classic for its first NYC repertory run in years-if-not-decades.
"DOOMED LOVE was my first feature film. It was made in the midst of what was then New Wave Cinema, but instead of the East Village I was taking my cues from Daniel Schmid and Werner Schroeder. I wanted to make an opera – without much knowledge of what opera was – and it became a musical. I wanted to make something mythic and only later discovered just how personal it was. I wanted it to be on a grand scale, which could only play out in a confined and artificial space. In those days we perversely wanted to alienate the audience and dare them to leave. In that I (thankfully) failed miserably." – Andrew Horn