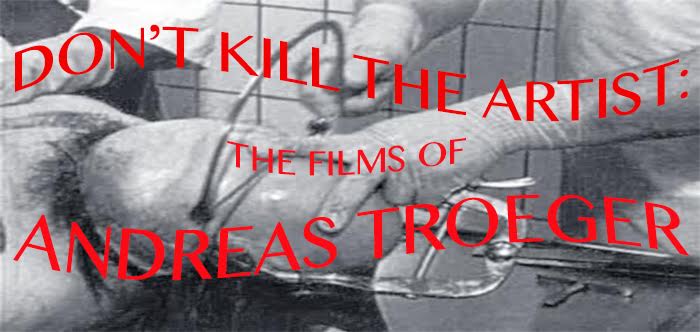 FRIDAY, NOVEMBER 17 – 10 PM
**WITH DIRECTOR Q AND A!!**
TUESDAY, NOVEMBER 28 – 7:30 PM
---
LIFEPAK
12 Min. 16mm
B&W, 1990
A night with an ambulance crew. A race between life and death.
"Lifepak" was chosen as one of ten works for the German Short Film Award.
---

PATH
13 Min. 16mm
B&W, 1991
A fixed brain is cut into slices like a ripe pineapple. Heads are opened and guts are prepared for the post-mortem examination. The preparator opens a body and a young female doctor dissects a fetus. The comments in the film are like guards, which lead you through the images. Early in their careers, the pathology workers reported having extreme fascination and at the same time emotional difficulty with their vocation. In many cases they lost their friend and were labeled "butchers" as a result of their chosen profession. The film gives a precise and clinical look behind the iron doors of a pathology lab. The pictures are shocking. They touch deep-set fears.
---
KILL THE ARTIST
40 Min. DV
Color, 2007
KILL THE ARTIST is a documentary about artists who got into trouble with the law because of their art-works.
Mike Diana was indicted in his home state of Florida for indecency. He was charged with three counts of obscenity in 1994, spent time in prison and was not allowed to draw for three years. In 2003, after fleeing to New York, Mike showed his artwork in a secret exhibition in Brooklyn. Diana says of the experience: "In a way it was almost flattering that they would feel so strongly. I felt that my artwork must have been effective.
In the film Richard Kern says, "We wanted it to be as hard as possible. The only restriction we had was, who would do what we wanted to be done."
While in the western world violent life like re-enactments of rape and death on film thrive, investigative Journalist and author Yaron Svoray, explains in the film that the reality of sex crimes show how cheap life really can be. His investigation of snuff-movies leads him into the war in Bosnia. As Svoray explains: "Eventually two or three girls are pulled into a classroom and there is a communal rape. When it's finished, one of the guys just says, 'kill the bitches.'"
Kill The Artist reveals the extreme measures lawmakers and critics go through to censure avant-garde artists who walk the fine line between art, perversion, religion and devious sexual behavior.
Using never before seen footage along with rare films from Richard Kern, Nick Zedd and German filmmakers Jörg Buttgereit and Olaf Ittenbach, Kill The Artist takes a look at the ultimate power play – Sex and Death.
---