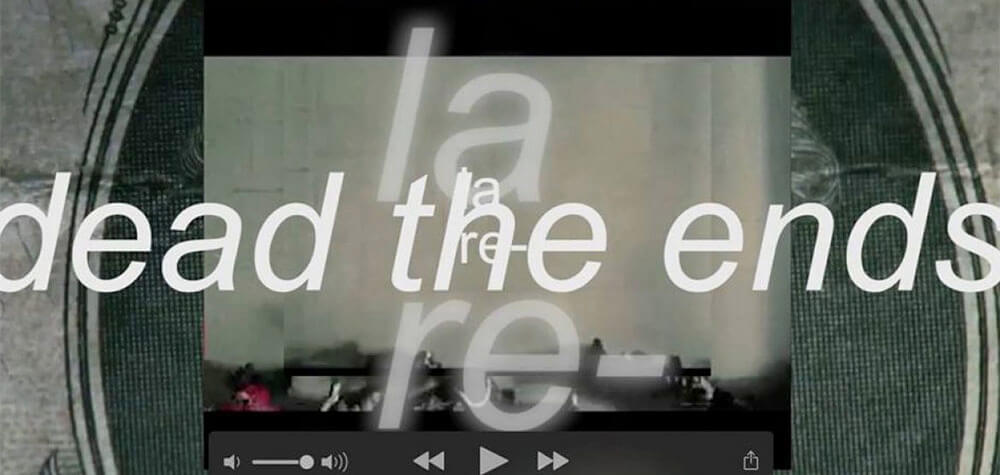 DEAD THE ENDS
Dir. Benedict Seymour, 2017
UK, 106 min
WEDNESDAY, OCTOBER 3 – 7:30 PM
ONE NIGHT ONLY! FILMMAKER Q&A!
(Tickets for this event are $10)
"Plagiarism is necessary, progress implies it. But is all looting progressive, are all copies an improvement on their originals? What if the future came to depend on the looting of the professional looters ‒ of the class that multiplies financial, legal, and cultural claims to capital ‒ by those with ever less to lose
Bookended by the London riots of 2011, DEAD THE ENDS is a dizzying, urgent retelling of the story at the heart of Chris Marker's La Jetee.
Deploying dystopian sci fi, animated gifs, emojis and La Jetee 'derivatives' such as 12 Monkeys and The Edge of Tomorrow, it creates a nervous montage inspired as much by Ponzi fraudster Bernie Madoff's forged trading receipts as Eisensteins's notes for a film version of Marx's Capital. Beginning in a future London ravaged by global war, the film time-travels back to the suspension of dollar-gold convertibility in 1971, and forward to the cop-infiltration of activist groups in the 1990s, ending with the urban insurrections that flamed the UK in August 2011. Recursive-convulsive, structure-busting-looping, Dead The Ends is militant cinema at its wildest."
BENEDICT SEYMOUR is a filmmaker, writer, and musician. His published work includes video, fiction, and criticism, as well as several film soundtracks with artists such as Melanie Gilligan and Maija Timonen. His (mostly collaborative) music projects include Petit Mal, Antifamily, Traum and 트G. He is a long-term member of the editorial collective of Mute Magazine and Lecturer on the Fine Art MFA at Goldsmiths. He lives and works in London. His feature-length film, Dead the Ends, premiered in LUX's Experimenta strand at the London Film Festival last year.