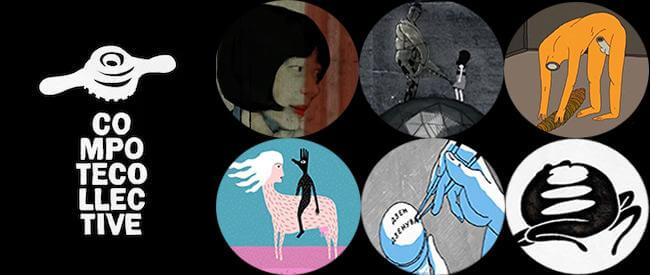 TUESDAY NOVEMBER 1 – 7:30PM
SATURDAY NOVEMBER 5 – 5PM
SUNDAY, NOVEMBER 6 – 5PM
THURSDAY, NOVEMBER 17 – 7:30PM
Compote Collective is an animation production company made up of twenty artists in Sofia, Bulgaria. They do both commercial work and creative narrative pieces, the latter receiving support from the Bulgarian National Film Center and going on to feature in festivals. In 2015, Compote Collective put together a series of six contemporary Bulgarian poems with accompanying animation called MARK & VERSE. The shorts in this series have a contemplative tempo combined with moments of wry humor, expressive human forms, and floating surrealistic creatures. MARK & VERSE is accompanied by six additional pieces from Compote Collective animators and composers. FATHER shows an impossible relationship between a child and a father in blue and gray toned landscapes rich with symbolism. ANNA BLUME is a journey of love and lust with a red gluttonous beast that uses material from Kurt Schwitter's poem, "An Anna Blume". Many thanks to Compote Collective, especially the kind help of Vessela Dantchev and Petya Zlatev. Total Run Time: 60 minutes.
"MARK & VERSE":
(All poems are in Bulgarian and English, with English Subtitles)
1. PETTY MORNING CRIME
dir. Asparuh Petrov, 04'00"
2. NATURAL NOVEL IN 8 CHAPTERS
dir. Milen Vitanov, 04'01"
3. ODEON
dir. Boris Despodov, 02'47"
4. MILKMAID
dir. Ivan Bogdanov, 2015, 02'25"
5. POSTINDUSTRIAL
dir. Boris Pramatarov, 2015, 03'20"
6. 100% MOOD
dir. Dmitry Yagodin, 04'05"
ALSO SHOWING:
FATHER
dir. Ivan Bogdanov, Moritz Mayerhofer, Asparuh Petrov, Veljko Popovic, Rositsa Raleva, Dmitry Yagodin, 2012, 16'30"
In English
ANNA BLUME
dir. Vessela Dantcheva, 2009, 9'01"
In German with English subtitles
GAME
dir. Ina Nikolova, 2015, 03'10"
TASTE OF COLOR
dir. Asparuh Petrov, 2011, 01'20"
ADAPTATION
dir. Petya Zlateva, 2011, 03'00"
EASY
dir. Vessela Dantcheva & Ivan Bogdanov, 2004, 03'20"
THE GAME
dir. Dalibor Rajninger, 2012, 03'00